Bangalore faces Covid-19 lockdown music
She has become an instant hit on social media after the wide circulation of a video clip of her speaking to and singing for the residents of a clutch of apartments in Richards Town on Tuesday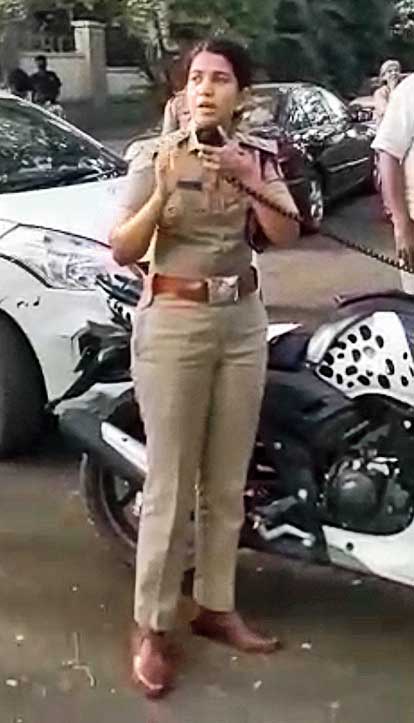 Tabarak Fathima
Sourced by Correspondent
---
Bangalore
|
Published 25.03.20, 08:50 PM
|
---
A few policemen danced in Kerala to teach people how to maintain hand hygiene to ward off the coronavirus. Now a young officer in neighbouring Karnataka is tapping into her communication and singing skills to educate people about the need to stay at home.
Tabarak Fathima, assistant commissioner of police Pulakeshinagar, has become an instant hit on social media after the wide circulation of a video clip of her speaking to and singing for the residents of a clutch of apartments in Richards Town on Tuesday.
Like the video of the Kerala police personnel dancing to a peppy film tune to display the hand-washing technique prescribed by WHO, Fathima has adopted a friendly approach to get the people's cooperation during the virus-induced lockdown.
After a brief on why it is important to stay at home and how there would be no shortage of edibles, Fathima, in the video, went on to sing "Hum honge kaamyab", the popular Hindi version of the American civil rights movement anthem "We shall overcome" and got the residents standing on the balconies to sing along.
After starting with the Hindi version, Fathima switched to her own lyrics in English, which went: "We shall stay at home, we shall sanitise, we shall wear face masks every day…."
The drive at Richards Town, an old Bangalore residential area populated by many elderly people and a cross-section of residents that also includes Anglo-Indians, Malayalis and Tamils, was conducted to enforce the lockdown announced by the Karnataka government in Bangalore and some other districts till March 31. Later at night, Prime Minister Narendra Modi announced a nationwide lockdown.
Speaking to The Telegraph on Wednesday, Fathima described herself as "just another common Bangalore girl", which perhaps helped her connect with the audience who sang along.
But not many know that the 2017-batch officer of the Karnataka State Police Service has a bachelor's degree in engineering and an MBA in executive management from IIM Bangalore.
That explained her communication skills when she addressed the residents in English, which has always been a link language among the Bangalore populace.
"If you can hear me please wave out. Hi… This side anybody? Hello, can you hear me? Thank you. Can you all hear me?" Fathima can be seen in the video calling out to the residents by asking them to come to their balconies.
Standing in the middle of the deserted road surrounded by apartments, Fathima communicated with the residents using a small public address system fitted on the motorbike of one of the policeman accompanying her.
The officer then went on to educate the residents on the importance of sitting at home through the lockdown period.
"I want you to know that (CrPC) Section 144 has come into force. That means three and more should not come out of your houses," she can be heard saying in the clip. Section 144 restricts gatherings of five or more persons.
Fathima assured them that there was no need to panic over essential commodities. "Everything is working like a normal day. Your milk, vegetables, your fruits, medical services… all your supermarkets' grocery sections are open. Pease don't go rushing to your grocery stores," Fathima can be seen comforting the people.
Fathima, who conducted a similar exercise on Wednesday as well, has proved that it would be better to break the barrier with people to achieve the goal of a complete lockdown without instilling unnecessary fears, many believe.
The young officer has been going around addressing people by asking them to come over to their balconies and explaining the dos and don'ts in an effort to seek complete cooperation from them.
"As far as I understand, there is a real need to change the perception of people who might be panicking because of the lockdown. So why not communicate with them and help them calm down?" Fathima told this newspaper.
She said she was trying to reach out through her own understanding of the people's fears. "I tried to convince them that everything would be fine if they stayed at home and did not step out without a proper reason. That way we would be able to do our job to protect the people," Fathima said.
The officer is fully aware that every difficult time had its advantages. "Why not pick up some skills? Why not do some online course to better their professional career? There is so much one can do with this kind of free time that doesn't come every day," she said.
"I see many people taking this lockdown in a negative way. But I am giving a different spin to tell them to utilise the time to learn some new skill or learn to sing or play a musical instrument," Fathima said highlighting the time factor.