BALAKOT
February 26, 2019:
India carries out "pre-emptive" air strikes inside Pakistan on "the biggest training camp of Jaish-e-Mohammad in Balakot". After Pakistan announced a "violation of its airspace" by India, the Modi government got then foreign secretary Vijay Gokhale to read out a detailed statement at a hurriedly convened media conference without questions on the operation that became the talking point for the Lok Sabha elections
Massive outreach:
The operation was followed up with a massive diplomatic outreach with briefings in the capital by the foreign ministry for diplomats based here and the Prime Minister himself working the phones to assuage fears of a further escalation of tensions between the two nuclear weapon countries.
Proof parade:
On February 28, three senior military officers — Air Vice-Marshal Ravi Kapoor, the assistant chief of air staff; the Indian Army's Major General S.S. Mahal and the Indian Navy's Rear Admiral Dalbir Singh Gujral, addressed a media conference on the lawns of the South Block. The officers presented three pieces of "evidence": the electronic signature of the aircraft that India had picked up, the debris of AMRAAM air-to-air missile fired by Pakistani planes in retaliation on February 27 and photographs of debris from Pakistan.
Casualty claims:
While the official statement did not give out the number of casualties — save for the claim that "a large number of JeM terrorists, trainers, senior commanders and groups of jihadis... were eliminated", senior ministers claimed in background briefings that around 350 terrorists had been taken out. Pakistan contested much of what India put out and it became yet another case of conflicting narratives.
Multiple versions:
Subsequently, the Indian narrative itself had several versions. On February 28, Air Vice-Marshal Ravi Kapoor said: "We hit the intended targets and caused the damage that was intended. It will be premature to say what is the number of casualties we have been able to inflict on those camps and the number of deaths."
On March 1, junior minister and BJP's Darjeeling MP S.S. Ahluwalia said: " There has been no damage because I have dropped a bomb next to your house to prove that I can destroy in this manner… It was necessary to send out this message. Despite your surveillance and security, I can reach your house, identify the location and can destroy it. We did not want to have any human casualty.''
On March 3, Amit Shah, the then BJP president who became Union home minister after the elections, said: "The Narendra Modi government did an airstrike and killed over 250 terrorists.''
On March 4, Air Chief Marshal B.S. Dhanoa said: "That statement (how many terrorists killed) will be made by the government.
The air force is not in a position to clarify how many people were inside.
We don't count human casualties. We count what targets have we hit or not hit. The bomb damage assessment that is done post a mission calculates the number of targets you have hit or you have not been able to hit. …We can't count how many people have died. That depends on how many people were there.''
April 9, 2019:
In the middle of the Lok Sabha elections, Modi told a poll rally in Latur, Maharashtra: "Can your first vote be dedicated to those who carried out the airstrike? I want to tell the first-time voters: can your first vote be dedicated to the veer jawans (valiant soldiers) who carried out the air strike in Pakistan? Can your first vote be dedicated to the veer shaheed (brave martyrs) of Pulwama (terror attack)?" The Election Commission later gave Modi a clean chit after a complaint was filed against his speech.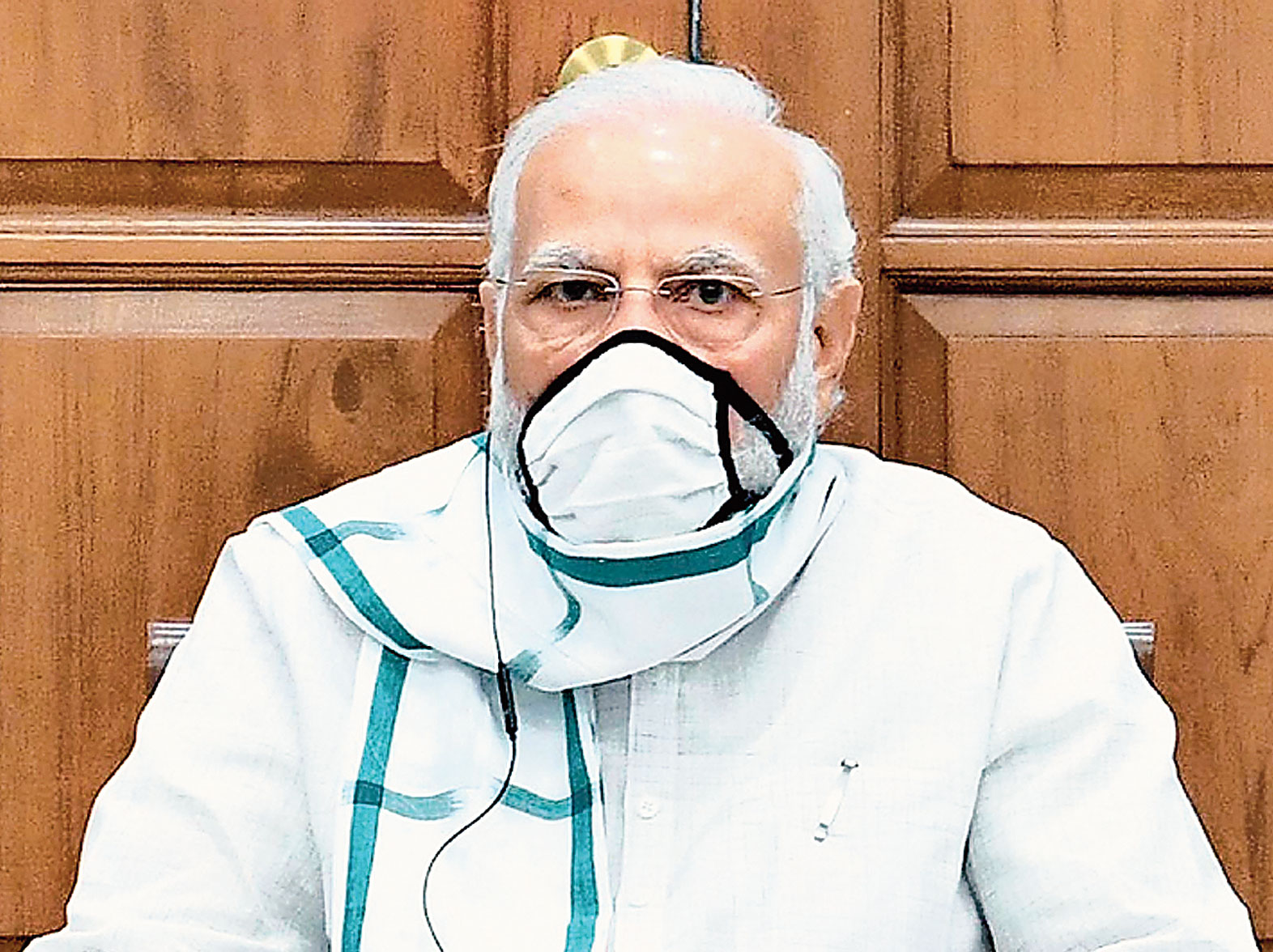 Prime Minister Narendra Modi chairs a cabinet meeting in New Delhi on June 3. (PTI)
THE CHINA FLARE-UP
May 5, 2020:
Scuffles break out between Indian soldiers and Chinese troops who allegedly cross into the Galwan river valley and another lot proceeds to cross the Indian claim line in Pangong Tso. But there has been very little information coming out of the government. Likewise, there was very little information coming out of Beijing.
'Nothing new':
Over a week later, as multiple media outlets reported on the incursions and the face-off in Eastern Ladakh and Sikkim, Indian Army chief M.M. Naravane did not address a media conference but spoke to the ANI news agency, the preferred choice for the government to make announcements: "The LAC (Line of Actual Control) is not very well defined. There are different perceptions on where the LAC runs. And, accordingly both sides patrol up to their accepted claim lines. Therefore, when patrols reach at the same place at the same time, such face-offs do occur. They have occurred in the past. There is nothing new in what has happened in the last week or 10 days. It is just a matter of chance that the face-offs in Eastern Ladakh and Sikkim happened during the same period but we should not read too much into this as part of some coordinated plan or anything like that. Nor have these incidents any connection with any domestic or international situation. We will deal with it as per the protocols which have been laid down between the two countries."
May 18:
The army chief's statement became the template for the next few days. The army issued a statement on May 18 in which it sought to dismiss whatever was happening along the LAC as routine. "Incidents of face-off and aggressive behaviour occur on LAC. Patrols disengage after local level interaction, dialogue. Temporary and short duration face-offs occur as boundary is not resolved. Troops resolve incidents mutually as per protocols."
May 21:
China accused India of crossing into its territory and blocking its patrols in an attempt to "unilaterally change the status'' on the LAC in Sikkim and Ladakh. The external affairs ministry countered, saying that it is the Chinese side that has recently undertaken activity hindering India's normal patrolling patterns.
May 27:
With satellite imagery and reports continuing to suggest a build-up along the LAC, in Ladakh, in particular, the prolonged face-off caught international attention to the extent that US President Donald Trump offered to mediate. Trump went on to suggest on May 29 that he had spoken to Prime Minister Narendra Modi. It was denied by Indian government sources.
June 2:
Trump and Modi had a telephone conversation in which they exchanged views on the situation along the LAC. This was the first time in recent memory when India said in an official read-out that such a discussion took place.
June 2:
The government appeared to realise the futility of denial. Defence minister Rajnath Singh admitted publicly in a television interview that
Chinese troops had "come in". Debate over whether he meant incursion or not. Again, the first official disclosure that something more than routine was taking place along the LAC came during an interview, not a media conference where multiple questions by a wider group of reporters would have been possible.
By this time there were enough indications coming out of both capitals that the two sides were engaged at different levels to de-escalate, resulting in the commanders' meeting at Moldo on the Chinese side in the Ladakh sector.
June 9:
The Modi government — but through sources — shared information beyond diplomatese on the goings-on along the LAC with China. "India and China disengage at multiple points in Eastern Ladakh. Troops and infantry combat vehicles moved back by 2.5 km by People's Liberation Army in Galwan area, Patrolling Point 15 and Hot Springs area. India has also moved some of its troops back," top government sources told ANI. Again, no media conference on the lawns of the South Block by the defence top brass, unlike post-Balakot.
In doing so, the government also admitted for the first time that the Chinese had made incursions in the Galwan and Hot Springs areas which were not part of the 23 contested areas identified by the two countries along the yet-to-be-demarcated LAC through the joint working group mechanism on the boundary question.
Since then, military-level talks have been going on.
The contrast:
When tragedy struck, the silence of the top leadership stood out. Prime Minister Modi and others who went out with publicity guns blazing after the Balakot strikes had not spoken on China till June 16 -– more than a month after matters soured on the LAC.