Bagan hope to end Durand wait
The sound of the bugle and the bagpiper gave a feeling of déjà vu at the Salt Lake Stadium on Friday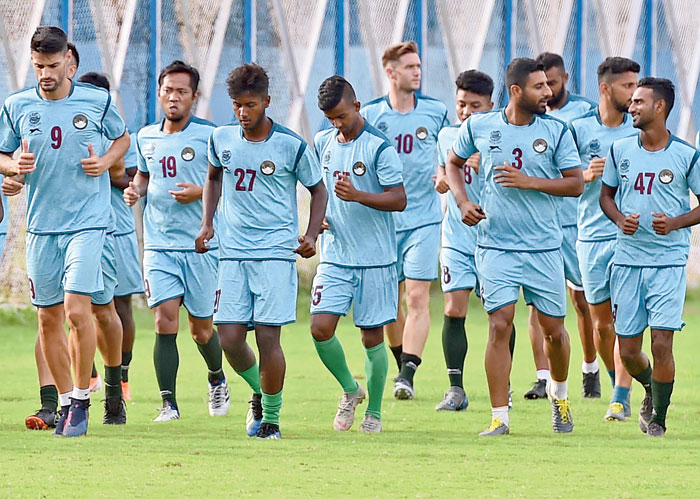 Mohun Bagan players on Friday
Picture by Santosh Ghosh
---
Calcutta
|
Published 23.08.19, 09:53 PM
|
---
The sound of the bugle and the bagpiper gave a feeling of déjà vu at the Salt Lake Stadium on Friday.
It's the sound one used to hear at the Ambedkar Stadium, on the eve of a Durand Cup final. Now with the tournament being held for the first time in this state, the Salt Lake Stadium resonated with a feel that Ambedkar Stadium had.
The Army band rehearsing inside the ground, Army personnel giving last-minute touches… everyone looked busy. After all, the final is on Saturday.
East Bengal are not there. That would have given us the season's first Derby and a full house at the stadium. Mohun Bagan, though, are not complaining. Because a win against Kerala FC will give them their first Durand Cup since 2000. That was in November of the new millennium. Nineteen years, almost, is quite a long time.
If you don't agree, then consider this… Those who were born that year have voted in this Lok Sabha elections and are now studying in colleges. Narendra Modi was still not Gujarat chief minister, red was still the colour of Bengal and social networking platforms were unheard of.
"It's a great feeling to play in the final of a tournament. It's a special feeling," Mohun Bagan coach Kibu Vicuna, who is on the threshold of winning a trophy in his very first tournament, said at the pre-match media conference.
And to make a winning debut for Vicuna, Joseba Beitia will have to deliver. The Spaniard is not yet ready for 90 minutes but in his brief spell he has shown what he is capable of. His accurate passing and sense of positioning will give Bagan rivals a lot of sleepless nights this season. "It's a team game. We have to stay focused and cautious. Individuals do not matter," was Beitia's take.
Since it's the early days of a new season, both Mohun Bagan and Kerala FC are in a way on an even keel. "We have to improve in every aspect of the game. In defence as well as in the attack. In set-pieces. We have a lot of things to improve. But we have just started the season and we are improving with every game," Vicuna said.
Both rivals played gruelling semi-finals on Wednesday and fatigue is something Vicuna is wary of. Vicuna suggested that in tournaments like the Durand Cup, which is now a pre-season meet, five changes should be allowed if the game goes to extra-time.
He also advised the organisers to scrap the extra-time after 90 minutes keeping in mind the humid conditions.
"It is going to be very tough. Both teams played 120 minutes in this heat," he said.
Salva Chamorro has scored three goals so far in the tournament.
"Not just Chamorro, we have to be cautious about Beitia also... So it will not be easy for us," Kerala FC coach Fernando Santiago said. Kerala FC's Marcus Joseph scored a glut of goals in the group stage but had an off-day against East Bengal. "One bad day doesn't define a player," the coach said.