Azharuddin reinvents himself as wizard of wit in Calcutta where his bat had spoken louder
Hit out of park: monosyllable. Then, the words flowed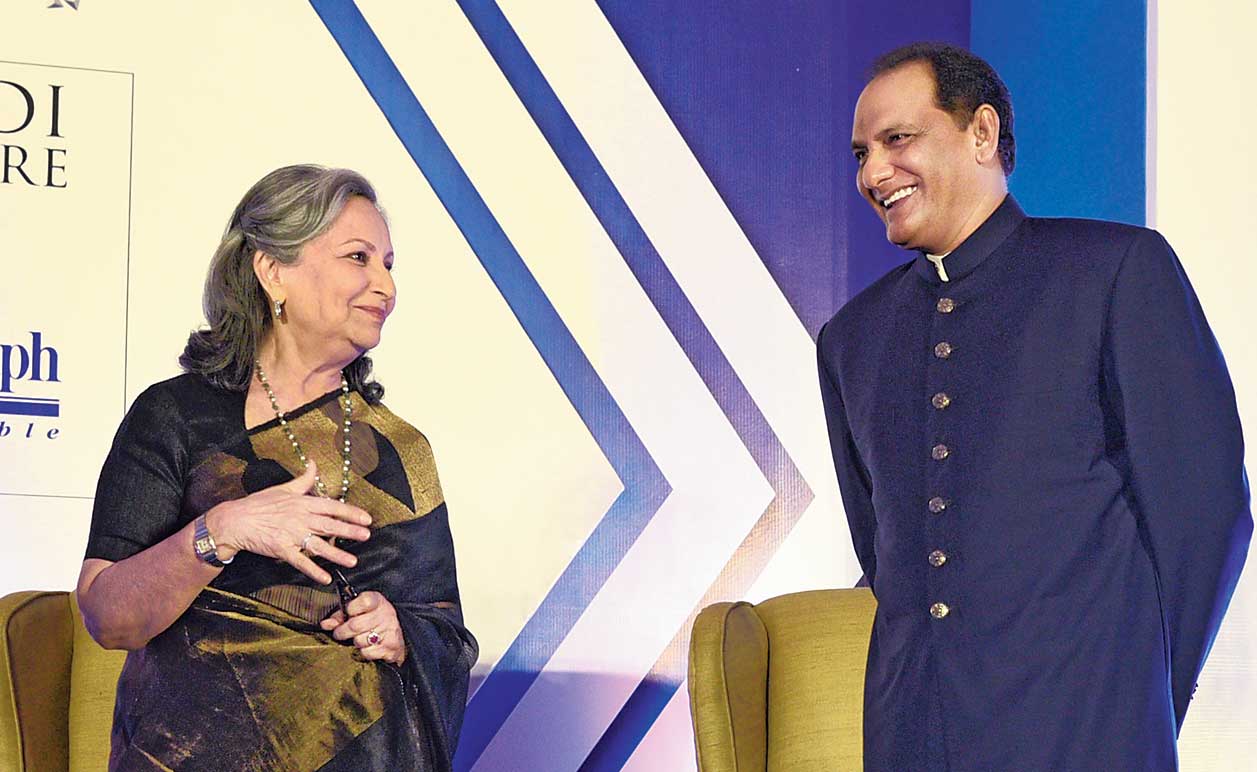 ---
Calcutta
|
Published 02.03.20, 09:41 PM
|
---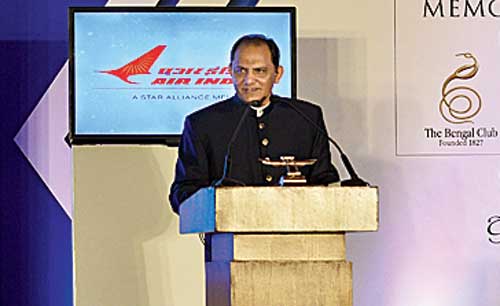 Mohammed Azharuddin became an unfortunate loss to the game of cricket a long time ago. On Monday, he became a gift of fortune to the ranks of raconteurs.
What happened in between? To this most reticent and monosyllabic of India skippers? What happened in between that he stood at the lectern nearly an hour and essayed a steady prattle that never loosened its leash on attention? You might be tempted to think an innings in politics.
You might be tempted to think that even more deeply when the man, having spoken, says: "I never knew I could speak for so long, but somehow.…"
He riffles through printed sheaves he's brought on stage, a bit befuddled. "You know they've given me all these things to read, but even as a politician I was always afraid when they gave me written speeches to read.… Best to speak from the heart."
And so Azhar did, from the heart and from memories that must be exclusive to him. Like catching a flight from Calcutta to Hyderabad with M.L. Jaisimha the morning after the senior Hyderabad great had been drinking until the wee hours.
"The moment we got on, Jaisimha sir said he wanted water, so I asked for water. But turns out he wanted tonic water. So I told him, 'Sir, you were drinking till very late', and he turned to me and said, 'You mind your own business'."
Another story from another flight. This time to Sharjah. On board beside Azhar, Mansur Ali Khan Pataudi. "He was such a big person, you know, Nawabsaheb, too much grace, too much style. I was very nervous; I did not know what to say, how to talk. So he turned to me and said, 'Don't worry, it is only a short flight, just two-and-a-half hours. Don't worry, I will not say anything to you."
Azhar was speaking at the Air India presents Tiger Pataudi Memorial Lecture, a joint initiative by The Bengal Club & The Telegraph in association with The Oberoi Grand Kolkata.
Among others in the packed hall was Sharmila Tagore, Tiger's partner for life.
He was to reveal to Sharmila a tale about the Tiger she may not have known. "You would not have heard this madam, but once we were all returning from a wedding in Udaipur and when we landed, I took Nawabsaheb aside and asked him why he was not re-entering politics. You were slightly away from us. He said, 'Why are you trying to drag me into that dal-dal (swamp) again?'"
Azhar would himself wade into the dal-dal later and make a bit of pish and a bit of pother with it. He would win the Moradabad Lok Sabha seat in 2009 and lose from Sawai Madhopur in 2014. He is still dabbling in a far and quiet corner of that dal-dal — would you believe it, he is working president of the Telangana Pradesh Congress Committee.
Understandably, he wasn't keen on saying what work that working job currently entails, the Congress in Telangana, and elsewhere, being what it is. Like Tiger Pataudi, the man in whose memory he had arrived to speak, Azhar could probably be described as a Congressman for no better choice.
Azhar made no secret of his awe of Tiger and his reputation, even suggesting that it seemed a blessing he was a reticent man. "He was a Tiger even in that sense, you know; he was a shy person, spoke very little. Like tigers in jungles, you know, you rarely see them. He was like that, reserved."
He regretted he had never really seen Tiger play — "He became the youngest captain of India even before I was born" — but had tales to tell of two of his nephews Azhar had shared the game with: Aamir Bin Jung and Saad Bin Jung.
Of Saad he said that it was unfortunate he never played for India. "He was a very talented batsman, lazy like Nawabsaheb — so lazy he would often come into the team bus on a match day with a toothbrush in his mouth. But he was very talented. And you know why he was not picked for India? They said he was not a good fielder. But what a reason: we know of several Indian players who were not good fielders, you know."
Of Aamir Bin Jung, the elder of the two, Azhar had this memory: "He used to bowl the doosra with a clean action, you know what I mean?"
Here was Azhar role-playing as spinmaster, letting go a wily sidewinder on all the later "doosra" bowlers whose action had to be called out. "I in fact asked Aamirbhai how he bowled his doosra clean and he said, 'You are watching me bowl it, so why are you asking?'"
Here was a Hyderabadi telling stories like Hyderabadi does: off the bat. "Cricket in Hyderabad used to be hilarious, you know. Now the game has become very disciplined and professional and all, which is good. But we used to have such fun, we had a jovial time, win or lose.
"Once, while I was away playing a county season in England, there was a Bombay-Hyderabad game. Bombay rattled up some 731 runs for three wickets. Arshad Ayub, then captain, was bowling, and Rajesh Yadav let go a couple of boundaries at square leg. During the break Arshad told Yadav, 'What are you doing, letting balls through?' Yadav said, 'Do you know the Bombay score?' Arshad said, 'Yes, 700-plus.' 'So,' Yadav said, 'how do a couple of boundaries matter?'"
The absence of fun in the game hurts, it would appear. "You know, nowadays you see players making a century or getting five wickets and using aggressive expletives? You can lip read, you know, you can see what they are saying. I cannot understand why. They should be happy; instead they are letting out abusive words. The board should act. In fact I am going to tell Sourav (Ganguly) — who I always call 'Dada' when I meet him — because he is now BCCI head. The board must act."
And should Azhar have his way, the board must act elsewhere too. "You know, all these people who travel with teams today. There is a bowling coach, a batting coach, a fielding coach. And then there is a coach. I mean...."
Deadpan Azhar, a hall rolling in laughter.
Spell cast. And then, closure as closure can most deftly be made. "You know one thing I learnt as a politician: when you start talking too much you begin to make mistakes.… The first few minutes are fine but after that, you know...."
Amen.