Ayush Chaturvedi: Boy who said what many men won't
His face is now familiar to many social media users, thanks to a speech the Class XI pupil delivered on Mahatma Gandhi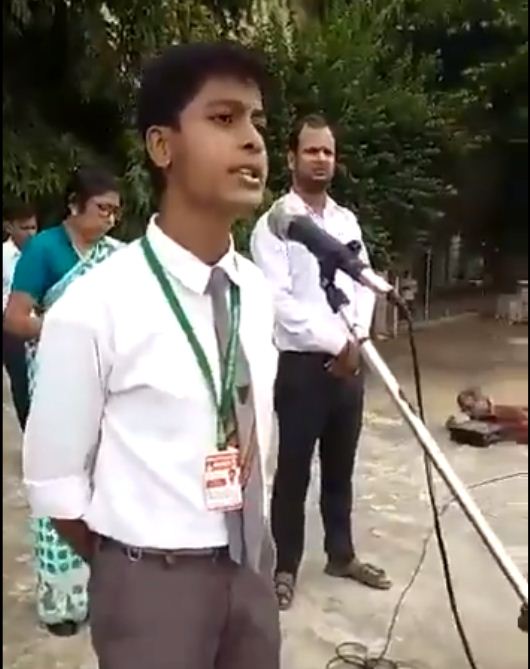 Ayush had begun with a bang but the opening lines are not on the clip that has been circulated widely on social media.
Twitter/ @KumariRukshmani
---
Lucknow
|
Published 18.09.19, 10:05 PM
|
---
If the Danish child who swam against the adult tide to speak the truth about the "Emperor's New Clothes" is reborn in India, he will probably look like Ayush Chaturvedi.
Ayush's face is now familiar to many social media users, thanks to a speech the Class XI pupil delivered at his school on September 9 on Mahatma Gandhi.
Among the lines that are making waves, two stand out: "I want to say that there was no bigger Hindu than Gandhi. But the people of other religions didn't fear his 'Hey Ram' because Gandhi was a symbol of secularism in India."
Ayush had begun with a bang but the opening lines are not on the clip that has been circulated widely on social media.
"Ye kisne kahaa aapse aandhi ke saath hun,
Main Godse ke daur me Gandhi ke saath hun.
(Who told you that I am swept up in the storm, I stand by Gandhi in the time of Godse)."
"Actually, the recording of my speech was started when I had already spoken this line," Ayush, 17, told The Telegraph from his home on the phone on Wednesday.
His home happens to be in Varanasi, represented in the Lok Sabha by Prime Minister Narendra Modi.
Ayush, a student of the Central Hindu Boys School in Varanasi, explained why he chose the couplet penned by Imran Pratapgarhi, an Urdu poet: "Kyonki kuchh takatwar log aaj kal Godse ki pooja kar rahe hain (It is because these days some powerful people are worshiping Godse)."
Told that some powerful people are also being compared with Mahatma Gandhi these days, Ayush said: "I know what exactly you mean. They know that rejecting Gandhi wouldn't be so easy and so they try to compare themselves with the Father of the Nation. Muh me Ram, bagal me chhoori (Ram on the lips, a dagger in the sleeve)."
When he delivered the speech at the school founded by Annie Besant in 1898, Ayush knew he was speaking against the tide. "Dekh lenge jo hoga," he said, asked whether he did not fear a backlash. "If you have to speak about Gandhi, you have to do so in a manner that leaves an impact."
Son of Ganesh Shankar Chaturvedi, who runs the Assi Nadi Bachao Sangharsh Samiti, Ayush says he has learnt good things from his father. "My mother is a homemaker and our backbone," he added. 
"Initially I was asked to speak on Kaka Hathrasi, a humorist poet. But the subject was changed to Gandhi because we were celebrating his 150th birth anniversary. So I spoke my heart out," Ayush said.
Neeru Wahal, the principal of the school, told this newspaper that the institution has been celebrating the 150th birth anniversary of Gandhi on the direction of the CBSE.
"I try to involve every student in personality development. We have four houses in our school — Shivaji, Tagore, Ashoka and Raman. Ayush is in Tagore house," she said.
"Ours is a little-known school but we have very talented students. They are asked to deliver a speech in the morning session and they speak brilliantly," Wahal added.