Cong prez poll: Gehlot 'presents' himself as official candidate
Rajasthan chief minister argues that he is abiding by Sonia Gandhi's instruction as he is loyal to the party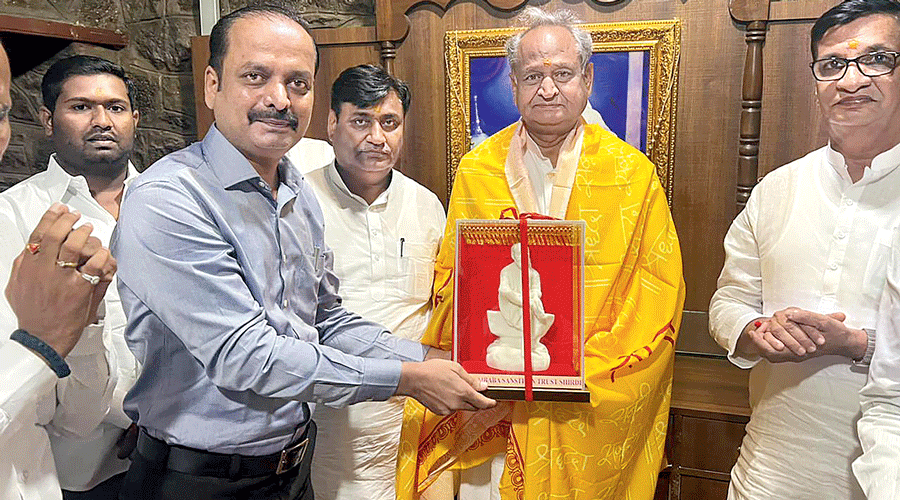 Ashok Gehlot in Shirdi on Friday.
PTI picture
---
New Delhi
|
Published 24.09.22, 12:53 AM
|
---
Rajasthan chief minister Ashok Gehlot has subtly presented himself as the official candidate for the Congress president's post by arguing that he is abiding by Sonia Gandhi's instruction as he is loyal to the party, which had given him so much over the past 40 years.
Speaking to the media after visiting the Sai Baba temple at Shirdi in Maharashtra, Gehlot said: "I have got everything from the party over the past 40 years, including the post of chief minister for three terms. Ab agar Sonia Gandhi ji ya Congress high command mujhe kahe toh mujhe karna hai, karna bhi chahiye (If Sonia Gandhi or the Congress high command tells me something, I have to do. I should do.)" 
When an impression was created that Shashi Tharoor got the nod from Sonia to contest the election, Congress communications chief Jairam Ramesh responded by saying "no permission is required from Sonia Gandhi or Rahul Gandhi to contest the election. Anybody who has the support of 10 PCC delegates can file nomination".
Gehlot is now giving an impression that he was only obeying Sonia's wish.
Gehlot added: "If I had to decide for myself, I would have relinquished all posts and positions and joined Rahul Gandhi in the Bharat Jodo Yatra. There is a need to issue an appeal to the people to realise what is happening in the country."
This is another message to the party workers and the 9,000 PCC delegates who will vote in the election for president that he was with Rahul in all intent and purposes and was responding to the call of duty by agreeing to contest.
This is in contrast with the portrayal of Tharoor as a challenger, being a member of the rebellious G-23, who was not part of Rahul's inner circle. Tharoor has tried to repair that disadvantage by arguing that the G-23 wasn't any antagonistic group with a separate existence and leadership and there were more than 100 leaders who felt some issues needed to be raised and hence a letter was sent to Sonai.
Tharoor tried to dilute the perception about him being an outsider who challenged the supremacy of the Nehru-Gandhi family by insisting in an interview to PTI that Rahul was the best person to lead at this juncture. Tharoor said he decided to enter the fray only because Rahul was unwilling to change his mind and claimed that a transparent, democratic process to elect the leader was good for the party.
Gehlot too said everybody should work together after the election to strengthen the party. Gehlot revealed that Rahul told him he respected the sentiment of the party workers who wanted him to lead but had decided that nobody from the family would contest.
Gehlot dismissed the controversy about his reluctance to relinquish the chief minister's position in Rajasthan, arguing that the media's "misinterpretation" created confusion because he couldn't have announced his exit till his decision to contest was final. 
Gehlot is a seasoned politician and has positioned himself as Sonia's choice despite the family's decision to stay neutral.
Indicating the Gandhis' wish for neutrality, Ramesh has instructed party spokespersons not to speak against or in favour of any candidate.
This was probably necessitated by Gourav Vallabh's tweets supporting Gehlot on Thursday.
Ramesh said: "I would strongly urge all spokespersons and office-bearers of the communications department to refrain from making any comment of any kind on any colleague of ours contesting the elections for the post of Congress president. We all have our individual preferences but our job is to highlight that the Congress is the only political party to have a democratic and transparent system in place for election to the post of its president. The Congress is the only political party in India to have an independent election authority to conduct organisational elections."