As North India chokes, Union health minister Harsh Vardhan tweets on everything but pollution
The minister, an ENT surgeon, took the time to extol the virtues of winter carrots, among other things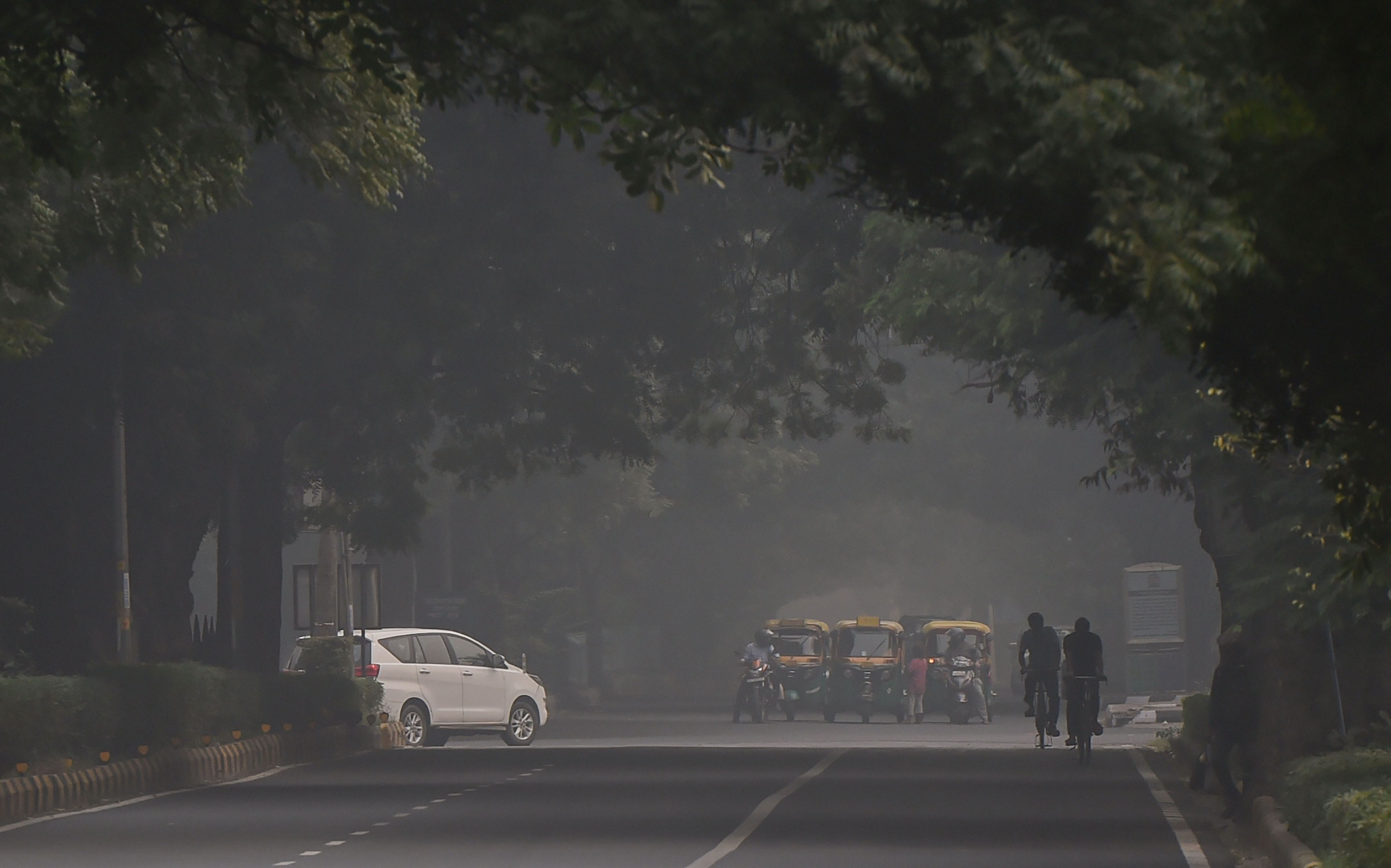 A view of Lodhi road shrouded in smog in New Delhi, Saturday, November 2, 2019.
PTI
---
New Delhi
|
Published 03.11.19, 10:48 AM
|
---
Even as Delhi and the National Capital Region are engulfed in a hazardous smog, Union health minister Dr Harsh Vardhan - who also happens to be an ear, nose and throat surgeon - has other issues on his mind.
In the past 24 hours, his tweets have been focused, among other things, on Prime Minister Narendra Modi's visit to Bangkok, an Iskcon yatra, Chhatth Puja, robotic surgery, a world Sanskrit conference, the benefits of eating carrots, the late actor Prithviraj Kapoor, and the first Param Vir Chakra recipient Major Somnath Sharma.

The Union minister also took the time to retweet and post a series of remarks on Modi's visit to Bangkok and the silver jubilee celebrations of National Institute of Ocean Technology, where he was a guest. No tweets could be found in his Twitter feed in the past day referring to the alarming pollution levels in the national capital.
भारत-थाईलैंड के रिश्ते सिर्फ सरकारों के बीच के नही हैं। इतिहास के हर पल ने, इतिहास की हर घटना ने, हमारे संबंधों को विकसित, विस्तृत किया है और नई ऊंचाइयों तक पहुंचाया। ये रिश्ते दिल के हैं, आत्मा के हैं,आस्था के हैं,आध्यात्म के हैं: PM श्री @narendramodi जी #SawasdeePMModi pic.twitter.com/tNrbQuJXtc

— Dr Harsh Vardhan (@drharshvardhan) November 2, 2019
It was a pleasure to have attended the Silver Jubilee Celebrations of @MoesNiot at Chennai today along with VP Sh @MVenkaiahNaidu Ji, TN Gov Sh Banwarilal Purohit Ji & Dy CM @OfficeOfOPS Ji. @PMOIndia @moesgoi @MoesNiot pic.twitter.com/d4qsGm4nr9

— Dr Harsh Vardhan (@drharshvardhan) November 3, 2019
However, only one tweet relating to the health hazard caused by spiking level of pollution in the Delhi-NCR region could be found. And that too talked about eating carrots, under the hashtag #EatRightIndia.
#EatRightIndia_34

Eating carrots helps the body get Vitamin A, potassium, & antioxidants which protect against night blindness common in India. Carrots also help against other pollution-related harm to health.#EatRightIndia @PMOIndia @MoHFW_INDIA @fssaiindia pic.twitter.com/VPjVfiMpR8

— Dr Harsh Vardhan (@drharshvardhan) November 3, 2019
The health minister also posted about the birth anniversary of actor Prithviraj Kapoor, Chhath Puja, and a conference on the Sanskrit language.
ॐ सूर्य देवं नमस्ते स्तु गृहाणं करूणा करं।
अर्घ्यं च फ़लं संयुक्त गन्ध माल्याक्षतै युतम्॥

आज मैंने महापर्व छठ के संध्या अर्घ्य की पावन बेला पर अस्ताचलगामी सूर्यनारायण की आराधना करी, छठी मैया की कृपा आप सब पर बनी रहे।#chhathpuja #chhathpuja2019 pic.twitter.com/k3CkFVW8iJ

— Dr Harsh Vardhan (@drharshvardhan) November 2, 2019
दादा साहब फाल्के पुरस्कार से सम्मानित, हिंदी फ़िल्म और रंगमंच अभिनय के इतिहास के महापुरुष श्री पृथ्वीराज कपूर जी की जयंती पर कोटिशः नमन्।
आपने गांधी जी के द्वारा चलाए गए 'भारत छोड़ो' आंदोलन के दौरान पृथ्वी थिएटर में नौजवानों को आंदोलन से जोड़ने के लिए कई नाटकों का मंचन किया। pic.twitter.com/H1FupnPbZS

— Dr Harsh Vardhan (@drharshvardhan) November 3, 2019
पत्रकार वार्ता में एक सवाल के जवाब में मैंने कहा कि संस्कृत के प्रचार-प्रसार को सिर्फ कमर्शियल नज़रिए से नहीं देखा जाना चाहिए। संस्कृत सीखना आत्मीय भाव का प्रतीक है ।@sb_bharatiya @PMOIndia @RSSorg pic.twitter.com/3fpMp0kJGp

— Dr Harsh Vardhan (@drharshvardhan) November 2, 2019
Several Delhi government officials, including chief minister Arvind Kejriwal, have been posting about the air pollution crisis.
Pollution has rched unbearable levels across N India. Del govt taken many steps. Delhiites hv made many sacrifices. Del suffering for no fault of theirs. Punjab CM also expressd concern. Centre shud take immediate steps 2 provide relief. V will support Centre in all initiatives https://t.co/Vx85xYlDId

— Arvind Kejriwal (@ArvindKejriwal) November 3, 2019
Other politicians and celebrities too have shared their concern.

Delhi, the home to the most powerful ministers & politicians, has become a gas chamber. Despite this, the lack of policy action & apathy by the political class is deeply disturbing. Its high time we organise & agitate for the sake of our own well-being.#DelhiAirEmergency pic.twitter.com/t76z2jTWGP

— Jignesh Mevani (@jigneshmevani80) November 3, 2019
Become aware. Demand action. Participate in driving solutions 🙏🏻 #BeatAirPollution #AirPollution #DelhiAirEmergency #ActNow #SDGs pic.twitter.com/1b005GNEFJ

— Dia Mirza (@deespeak) November 3, 2019
Satellite images show almost half of India is reeling under a poisonous smog. It is time that @PrakashJavdekar tells all of us:
1. What are the steps you have taken in last 6 months to prevent this?
2. What are the steps you are going to take to ensure this never happens again? pic.twitter.com/YP65iqe0BQ

— Atishi (@AtishiAAP) November 3, 2019
The apathy of Govt of India to #DelhiAirEmergency shows how little they are concerned about the people.

Didn't ever think we will see a day so grim when we would have to fight for our Right to Breathe. It is time to mask ourselves & unmask the apathy of our govt. #CantBreathe pic.twitter.com/pLCU5PnPbE

— Umar Khalid (@UmarKhalidJNU) November 3, 2019
Pollution levels in Delhi shot up on Sunday again. A public health emergency was announced two days ago, with a ban on construction work. Schools have been declared shut until November 5.
Thirty-two flights were diverted as of Sunday morning, due to low visibility caused by the pollution.