Kejriwal clears haze after PM speech
Kejriwal's government has been providing free meals at 234 urban shelters for up to 10,000 people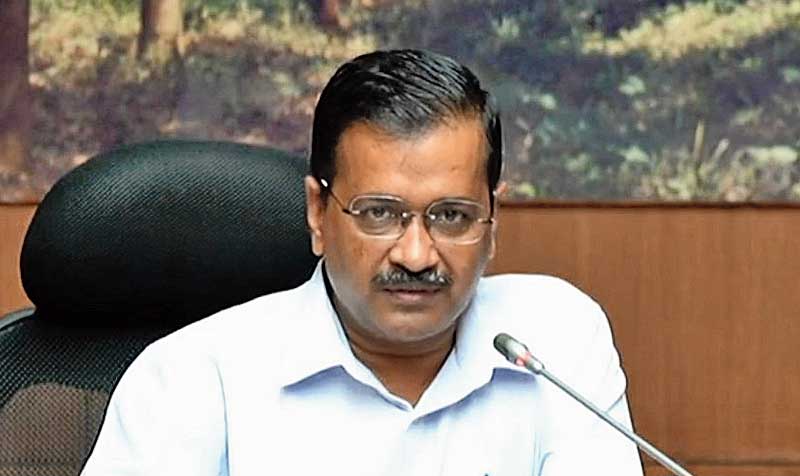 ---
New Delhi
|
Published 25.03.20, 08:51 PM
|
---
Chief minister Arvind Kejriwal on Wednesday asked people to refrain from "panic buying" and said curfew passes would be given to also those within the capital city who provide essential services but don't have identity cards to prove their nature of employment.
Passes have so far been issued for those who don't have identity documents needed to enter Delhi from outside the city.
Kejriwal's comments, at a joint press conference with lieutenant-governor Anil Baijal, came a day after Prime Minister Narendra Modi announced a 21-day countrywide lockdown as part of efforts to battle the Covid-19 pandemic.
Immediately after Modi's televised address, the Union home ministry had issued guidelines making it clear that essential supplies would continue. Modi too had tweeted the English notification. However, most people would not have access to these.
Customers had crowded shops after the speech that did not mention the lockdown exemptions for food stores, pharmacies and food delivery services.
"After the PM's speech at 8pm, last night, we saw queues outside shops. That defeats the purpose of the lockdown.… Corona will spread through transmission.… Please do not indulge in panic buying. It is our responsibility to ensure that shops are open in your area...," Kejriwal told the media conference.
"Those who provide essential services... we are preparing to give them passes.… Those who don't have I-cards, like shopkeepers and vegetable vendors, we are starting a helpline by this evening. Call that and you will get an e-pass."
Kejriwal announced a helpline number in the police commissioner's office where people can call if they face harassment by police.
Many Delhi residents have accused the police of beating them up or bullying them in the name of enforcing the lockdown, harassing even those who had stepped out to buy essential items.
Several neighbourhoods in Delhi did not get newspapers on Wednesday morning, after many newsagents — also exempt from the lockdown — did not pick up papers from depots because of logistical hurdles and a fall in demand over false rumours that the virus might spread through newsprint.
Food delivery agents were stopped outside several residential areas, especially the gated ones, after residents' welfare associations — many under instructions from local police and municipal officials — decided to restrict the entry of people from outside the localities.
Several e-commerce firms curtailed services and companies like Big Basket, Zomato and FreshToHome tweeted about hurdles they were facing in delivery of services although the guidelines exempt them too from the lockdown.
Delhi police later held talks with some of these firms before announcing they were working to restore access to delivery agents. Commissioner S.N. Shrivastava sent out an audio message to personnel to allow deliveries and essential services to function smoothly.
"I had a meeting with e-commerce website representatives, they shared the problems faced by them in the movement of essential goods. We have issued passes to them and assured that their delivery agents will be helped by the police," Delhi police PRO M.S. Randhawa told news agency ANI.
"We have set up a platform for e-commerce websites where they can share with us the problems they are facing, so we can solve them."
The police Twitter handle tweeted several times through the day that food delivery was a permitted essential service and those doing so need to carry identity documents.
Kejriwal addressed several concerns at another press conference later in the evening. "When it comes to those who are not associated with these (essential) services, there is no pass needed. You can walk to your neighbourhood store and purchase what you need to, no one will stop you from doing so.… We will take very strict action against those landlords who are harassing or misbehaving with doctors, nurses, hospital staff dealing with corona patients based only on suspicion; orders to this effect have been issued," he said.
"I appeal to you again, the Navratras are also on, take a pledge that you will ensure that anyone around you will not go to sleep hungry. This is real worship, this is real service for the nation."
Kejriwal's government has been providing free meals at 234 urban shelters for up to 10,000 people.