Arrests to foil Congress march for girl
Chinmayanand has been charged not with rape but also with molestation, criminal intimidation and sexual exploitation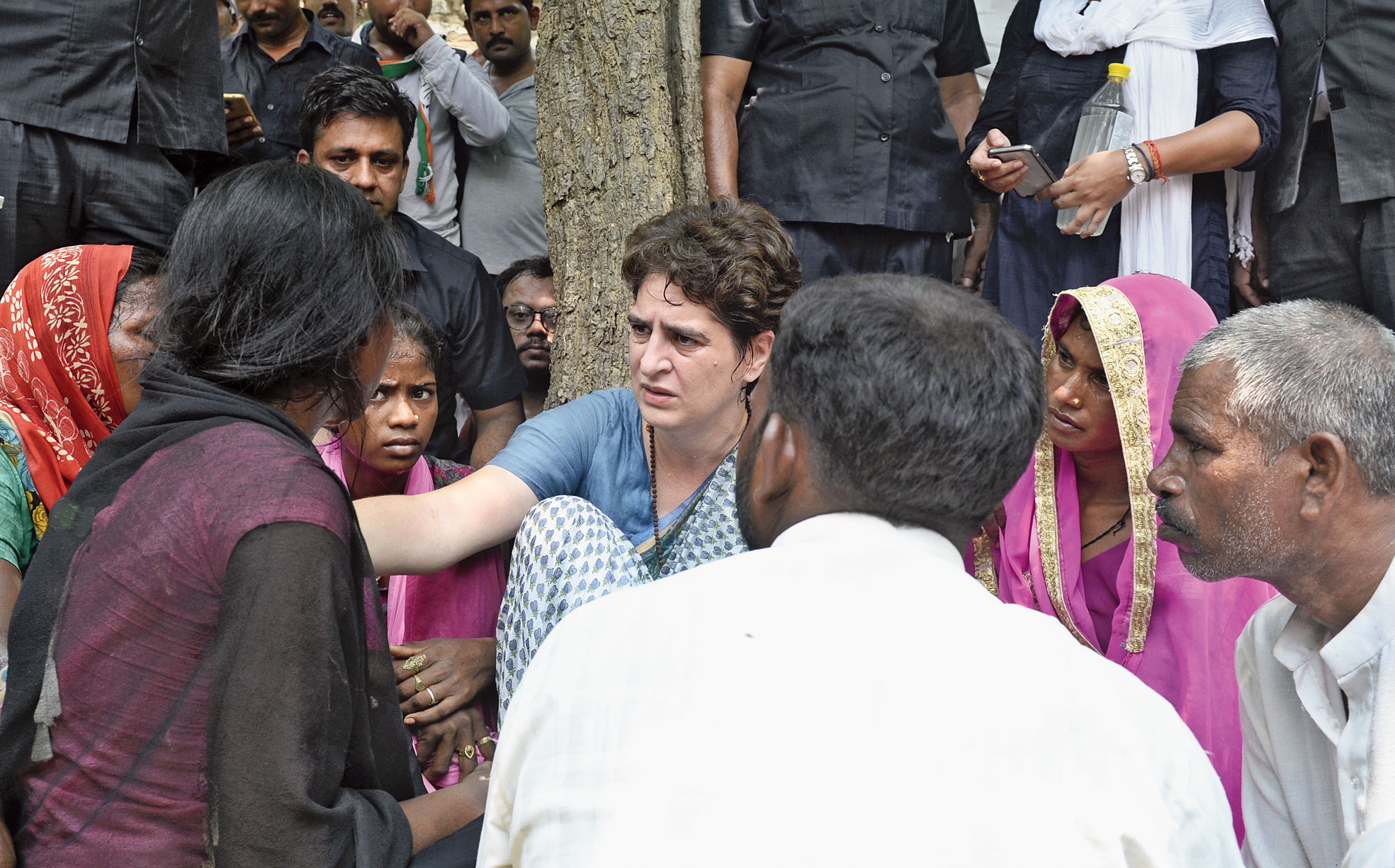 ---
|
Lucknow
|
Published 30.09.19, 08:44 PM
---
Shajahanpur district authorities on Monday detained or arrested several Congress leaders and more than 2,000 party workers to prevent a "march for justice" against the arrest of the woman who has accused former BJP Union minister Swami Chinmayanand of rape.
Jitin Prasada, former Union minister of state for home affairs, was put under house arrest while he was holding a meeting of Congress workers at his Shahjahanpur home in preparation for the march.
State Congress legislature party leader Ajay Singh Lallu and party secretary Sachin Naik, who had arrived from Lucknow, were detained and taken to the police lines from a meeting at the district party office.
A large number of state Congress leaders and workers travelling to Shahjahanpur from Lucknow and Kanpur were either arrested or detained in Hardoi and taken to several local police stations.
Later, Congress spokesperson P.L. Punia told a news conference in Lucknow the party would organise dharnas at all the district headquarters on Tuesday to protest "the protection given to a rape accused BJP leader".
District Congress president Kaushal Mishra said: "We had informed the Shahjahanpur district magistrate about (Monday's) padayatra and sought permission. But he decided to suppress the voices raised in support of a rape victim."
District magistrate Indra Vikram Singh denied having been informed. "Keeping in view the festivals, Section 144 of the CrPC (which bans gatherings) has been imposed in the district. The Congress had not informed us about their protest."
An angry Priyanka Gandhi Vadra coined a new slogan on Twitter: "BJP bhagao beti bachao (Oust the BJP, save daughters)."
Tweeting in Hindi, she accused the state government of "suppressing the voices of justice raised for the daughter of Shahjahanpur".
"Our procession was stopped. Our workers have been arrested. What are they afraid of?" she asked. "The power-drunk BJP government is shredding the Constitution. It can stoop to any low to save a rape accused and suppress the voice of the daughter of Shahjahanpur."
Priyanka also appeared to allude to the Unnao woman who has accused BJP lawmaker Kuldeep Singh Sengar and his associates of gang rape. The woman survived a massive road accident that killed two of her aunts in July and is at AIIMS, New Delhi.
"The Uttar Pradesh government is protecting criminals so they can threaten and intimidate a rape victim," the Congress general secretary tweeted.
Prasada released an audiotape on social media in which he said: "The government fears the Congress's peaceful movement and is trying to shut our mouth. But our fight for justice for the rape victim will continue till she is released from jail…."
The complainant, a 23-year-old student at a law college Chinmayanand operates from his Shahjahanpur ashram, has alleged the monk filmed her bathing in her hostel and blackmailed her into submitting to rape for over a year. She says he threatened to kill her when she decided to resist.
Chinmayanand has, however, been charged not with rape but only with molestation, criminal intimidation and sexual exploitation.
The woman has been charged with blackmailing the monk with sex videos, allegedly threatening to circulate them if he did not pay up Rs 5 crore. Three of her male college mates too have been arrested on the same charge.