Made to sit under a fan without woollens
Arrested journalist Mandeep Punia says farmers he shared jail with are bigger victims
He also hopes that people would be as vocal for imprisoned journalists like Siddique Kappan as they were for his release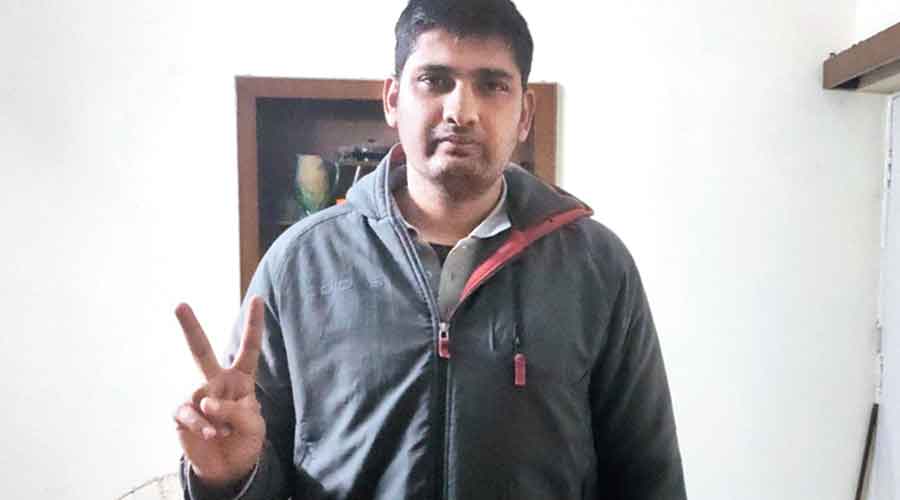 Mandeep Punia
Sourced by The Telegraph
---
New Delhi
|
Published 05.02.21, 03:58 AM
|
---
Mandeep Punia says he was beaten and forced by police to sit under a fan without woollens on a winter night, but the journalist's takeaway from his spell in custody was that the farmers he shared the jail with were bigger victims than him.
A day after being freed on bail from Tihar jail, Punia told The Telegraph on Thursday he wanted to write about the farmers — from notes he had scribbled in jail on his legs, which were injured from the alleged police beating.
He also expressed the hope that people would be as vocal for imprisoned journalists like Siddique Kappan as they were for his release.
Kappan, a reporter for Malayalam news portal Azhimukam, faces terrorism charges in Uttar Pradesh after being arrested in October while travelling to cover the aftermath of the gang rape and murder of a Dalit teen.
Punia, a 26-year-old freelancer, told this newspaper he intended to complete his investigation into the alleged involvement of BJP activists in an attack on the protesting farmers at Singhu on January 29 — the investigation that apparently got him arrested.
Recounting his arrest, he said: "I was at the Singhu border (on January 30) around 6pm-7pm to attend a press conference of the Kisan Mazdoor Sangharsh Committee when
I saw police abuse some workers who were passing by and send them back (from the barricades that flank the protest site). I took out my video camera.
"Another journalist, Dharmendra (Singh, from YouTube channel Online News India) was also filming. They suddenly grabbed him. When I said, 'What you are doing is wrong', they turned towards me and said, 'Yeh raha (This is) Mandeep Punia!' Then they began to cane me."
Dharmendra was released later that night. Punia says the cops — Delhi police and the CRPF — recognised him as he had interviewed many of them that day and the previous day and had uploaded a video on Facebook describing the events of January 29.
Forty-four agitating farmers had been arrested on the charge of injuring six policemen during the January 29 clash, which took place between the farmers and people the police describe as "local villagers" but who Punia and many others suspect were BJP workers. Delhi's ruling Aam Aadmi Party has identified three of these "local villagers" as BJP activists from other parts of the capital.
"They (policemen) took me to a tent and hit me on my leg. They broke my mirror-less Canon camera on which I was recording (scenes and conversations)," Punia said.
Punia added: "They deleted videos from my phone and continuously hit me. They said, 'Zyada reporter ban raha hai; hum banate hain tere ko reporter (Trying to be too much of a reporter? We'll make you one)'.
"They also broke my phone and threw away my wallet with my old ID cards (from previous employers), which were proof that I am a journalist.… They took me in a white Scorpio into Delhi after 8pm and beat me up in transit, stopping in three different buildings."
Punia's bail order, issued on February 2, quotes the prosecution as saying that he "had pushed Ct. (police constable) Rajkumar towards the protesting place, therefore, the police called the minimal force to control the situation. Thereafter, the protesters went away backside and the accused/ applicant fell in the drain, upon which he was overpowered and arrested."
The police say this took place at 6.30pm on January 30 when a group of protesters tried to break the barricades. The FIR against Punia was filed at 1.21am the next day.
Punia says he was at the site to complete his investigative report for The Caravan, a magazine facing police investigation in Delhi and Uttar Pradesh for reporting on the mysterious death of protester Navreet Singh during the January 26 tractor rally.
"They (police) took me to an old building, removed my jacket and made me sit under a fan at midnight. They again hit me and threatened to frame serious charges against me," Punia said.
"During that time, a policeman came in and said, 'His video has gone viral'. After that they left me for half an hour and then took me to Ambedkar Hospital (in northwest Delhi) for a medical check-up (mandatory after an arrest) at 2am."
Delhi recorded temperatures between 5 and 8 degrees Celsius at the time.
Punia was held at Samaypur Badli police station after that. He was sent to a fortnight's judicial custody on January 31 afternoon in the absence of his lawyers, who he says were misled by the police about the time he was to be produced before a magistrate.
Till Thursday night, the police had not responded to an email and WhatsApp messages to senior officers from The Telegraph seeking their comments on Punia's account.
Punia says the chill of the previous night melted away in the warmth of the jail, where he was treated well.
"The prisoners knew my name; they cheered me on. The realisation dawned on me that there are other journalists like Siddique Kappan who are incarcerated like I was for reporting from the ground," he said.
"Initially I felt like a victim, but when I spoke to the farmers I realised they were greater victims than I was, and their plight should be reported. That's why I made notes of my conversations with them." Although writing material was available in jail, Punia chose to write notes of his conversations with the inmates on his legs — his way of coming to terms with the trauma he had been through.
"I felt I should write my notes on the place where I was injured, and that's why I wrote them on my legs…. There were two farmers from Punjab in my cell. In total, I spoke to seven or eight farmers, all of whom said they had been arrested while they were out on personal errands in the markets near the protest sites, such as in Narela," Punia said.
"They had all been thrashed during arrest, and they don't know what they are charged with. I could step out of my ward to get water, etc, which is when I spoke to them. The ones I spoke to were from Punjab and Haryana, and there was one shopkeeper from Delhi who got bail yesterday.
"They were worried and confused why this was happening to them, but they say that even if they remained in jail or were sent to kalapani they would go on protesting until the three farm laws were repealed."
"Kalapani" used to denote long sentences in the dreaded Cellular Jail in the Andamans during the freedom struggle, and continues to be used figuratively to refer to lengthy prison terms.
On Thursday night, Punia was to reach his village in Haryana's Jhajjar district. The Internet shutdown there to curb the agitation has been extended till Friday evening.
"Villages that I have reported from have had panchayats (congregations) where they have declared their support for me. They say that I'm their boy, and that the farmers stand with me because I have written for them," Punia said.
"Farmer leaders have condemned my arrest. My friends in my village have told them to also speak up for other journalists who are in jail, and resume the work stalled by the State."
According to the Free Speech Collective, 67 journalists in India were arrested, detained or questioned by the police for their work last year. Since 2010, a total of 154 journalists in India have faced such police action, 103 of them in NDA-ruled states. Delhi police report to the Centre.
On Wednesday, the Delhi government recalled its buses leased to the police after several of them were damaged when they were turned into barricades.