Apple growers across states unite to fight for their rights
Several organisations representing the farmers from Kashmir, Himachal Pradesh and Uttarakhand announced a joint platform against 'Iranian' imports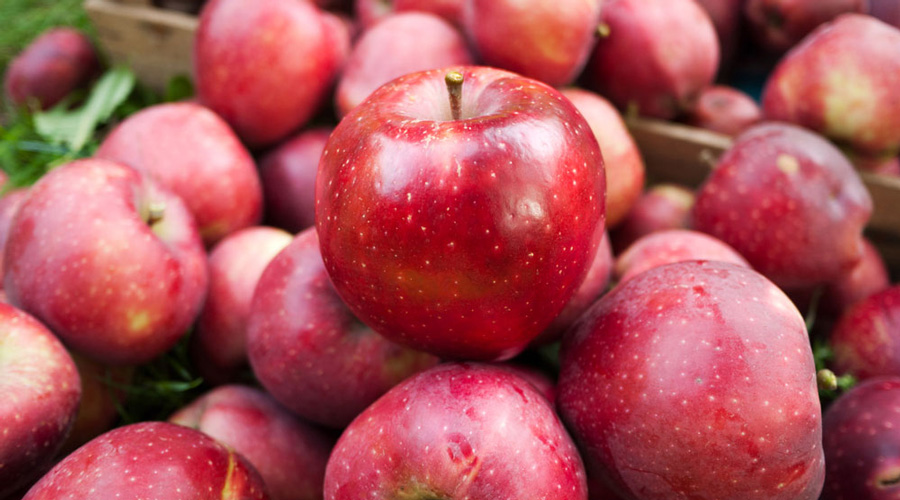 ---
Srinagar
|
Published 08.03.21, 01:36 AM
|
---
An invasion by "Iranian" apples has hit the apple growers of Kashmir and their long-time rivals from mainland India equally, prompting them to unite to fight for their rights.
These farmers say the countrywide farmer protests inspired them to come together, and that they would eventually join the wider movement against the "corporate threat" to farmers.
Several organisations representing apple farmers from Kashmir, Himachal Pradesh and Uttarakhand on Friday announced a joint platform, the Hill States' Horticulture Forum.
The farmers allege that some private players are importing Iranian apples and selling them illegally as "Afghan apples" to avoid paying duties, thus selling them cheap and hurting Indian apple growers.
"Afghan apples are exempt from taxes under the Saarc free trade agreement, but Afghanistan has a very small volume of export-quality apples," Mohammad Ashraf Wani, president of the Shopian Apple Growers' Association, told The Telegraph.
"We believe that what we are getting here are Iranian apples. They sell for Rs 60 a kilo against our price of, say, Rs 100 a kilo. We are losing a few hundred rupees for every box of apple we sell."
While this is the farmers' immediate concern, they would eventually look beyond apples and fight for "small and marginal farmers" against the "imminent threat" of "corporate farming", said Sanjay Chouhan, a farmer leader from Himachal who is here to help with the unity bid.
"The ongoing farm crisis in the country has played a key role in convincing us to join hands with other states to fight for our rights," he added.
Wani said: "Kashmir's apple growers invited them (their counterparts from Himachal and Uttarakhand) to fight for our rights and they readily accepted."
He said some 20 thousand tonnes of Iranian apples had already arrived in India.
"Afghanistan's total apple production is not more than one lakh tonnes, of which a very small percentage is export-quality. Afghanistan harvests apples in September and October and has no cold storages. How can its apples hit the markets here in February and March?" he said.
A team of six farmer leaders – Sanjay Chouhan, Harish Chouhan, Sunil Chouhan and Sandeep Chouhan from Himachal and Swarika Prasad and Praveen Sharma from Uttarakhand – had come to the Valley to help float the joint forum.
Some of them are visiting the Valley for the first time and appeared awed by Kashmiri hospitality.
"It's like what we experience at home, and is contrary to what we had heard about Kashmir," Sanjay, general secretary of the Himachal Kissan Sabha, told this newspaper.
He said the "Iranian apples" were a big concern for Himachal's farmers too.
"Our state earns Rs 5,000 crore annually from the apple crop – our biggest source of earning. Some 2.73 lakh families rely on the apple harvest," he said.
Harish Chouhan, president of the Fruits, Vegetables and Flowers Association of Himachal Pradesh, said the people of the three hill states "share their lifestyle and food habits and produce the same fruits", and there was no reason they could not fight together for their livelihood.
"People are taking losses and have therefore joined hands," said Majid Wafai, president of the Cold Storage Owners Association in Kashmir.
He said the Valley's farmers had more than one lakh tonne apples in storage for the off season and had been expecting good prices after two bad years when the "Iranian apple" threat hit them.
The scrapping of Jammu and Kashmir's special status in 2019 had prompted some apple growers to suspend trading with their peers from outside the region in protest, hitting the apple business. The pandemic affected sales last year.
Wani said Jammu and Kashmir grew around 22 lakh tonne apples a year compared with 5-10 lakh tonnes in Himachal and 0.5 to 1 lakh tonne in Uttarakhand.