Another Gyanvapi case out of civil judge hands
The petition, moved on Tuesday, was the third filed by Hindu litigants in the past one week on two cases, which Sangh parivar outfits want relocated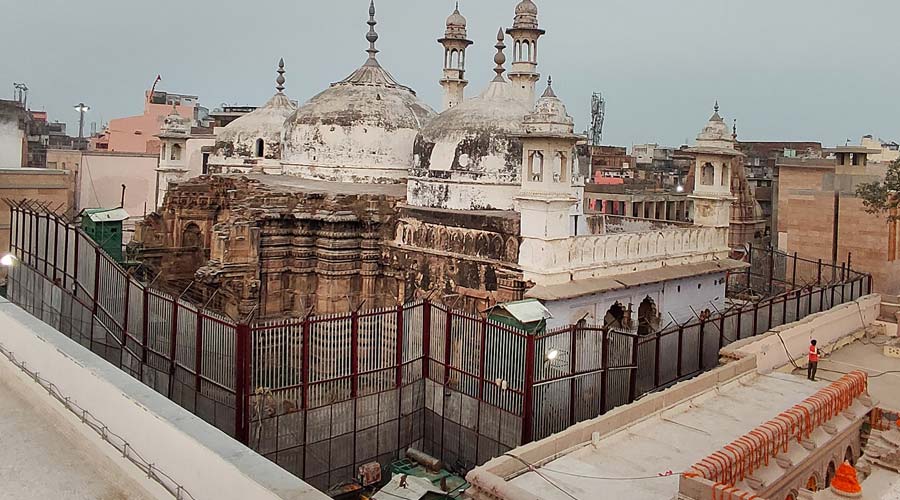 Gyanvapi mosque.
File photo
---
Lucknow
|
Published 26.05.22, 02:00 AM
|
---
A Varanasi district judge on Wednesday shifted a case for the Gyanvapi premises' handover to Hindus from the court of a civil judge, whose past orders on a similar case had triggered controversy, to a fast-track court minutes before it was to be heard.
The petition, moved on Tuesday, was the third filed by Hindu litigants in the past one week on the Gyanvapi mosque and Shahi Idgah Masjid of Mathura, which Sangh parivar outfits want relocated claiming they were built after demolishing temples. Several other such cases are pending before various courts.
District judge Ajay Krishna Vishwesha on his own transferred the latest case from the court of Ravi Kumar Diwakar, civil judge (senior division), from whom the Supreme Court had last week transferred another Gyanvapi case, filed in 2020, to Vishwesha's court.
That earlier case related to Hindus demanding round-the-year worshipping rights at a structure called the Shringar-Gauri on the Gyanvapi premises, but Diwakar had caused surprise by ordering a survey and videography of the entire mosque complex. The Hindu side had subsequently used the survey to claim the mosque stood on the remains of a temple.
From Thursday, Vishwesha will hear arguments in the 2020 case, with the mosque management saying the survey is illegal and seeking status quo on the premises.
The latest case, shifted to the fast-track court of civil judge (senior division) Mahendra Kumar Pandey, has been moved by Kiran Visen, wife of Jitendra Singh Visen, head of the Delhi-based Vishwa Vedic Sanatan Sangh.
Jitendra was one of six petitioners who had moved the Shringar-Gauri petition. He recently withdrew from the case after falling out with his fellow petitioners.
Kiran's petition cites the Diwakar-ordered survey — which allegedly found Hindu idols and symbols on the Gyanvapi premises — to demand that the entire compound be handed over to Hindus.
"Since the case has been shifted to the fast-track court, I hope we will soon get permission to take over the Gyanvapi," she said.
Her lawyer Anushka Tripathi told reporters: "It (the transfer) is a routine procedure. Maybe the previous court was overburdened. The case was to be heard at 2pm but a few minutes before that, we were informed it had been shifted to the fast-track court and would be heard on May 30."
Another Gyanvapi case is pending before Allahabad High Court, which has stayed a Varanasi court's order to ask the Archaeological Survey of India to conduct underground surveys at the mosque complex.