Another behemoth runs amok: The Bulldozer
Aam Aadmi Party resorts to whataboutery while condemning the BJP, Congress leaders speak out against the drive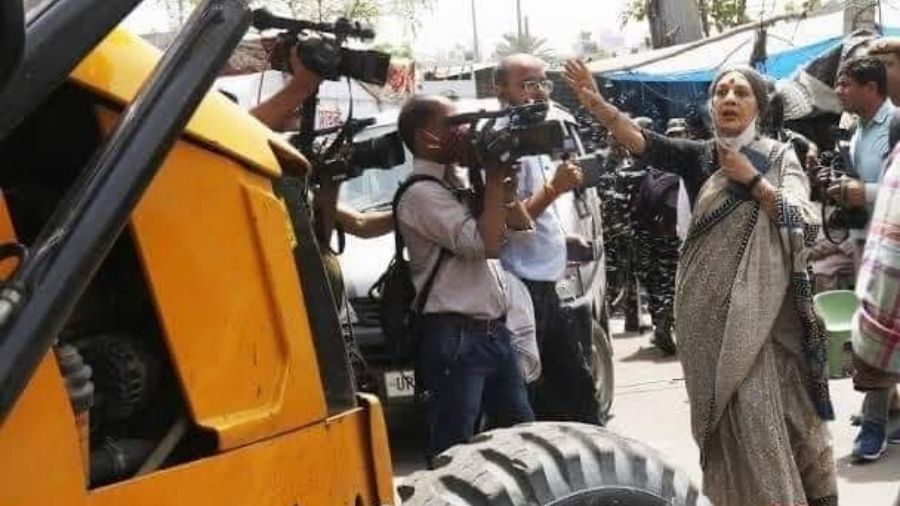 CPM politburo member Brinda Karat stops a bulldozer from removing encroachments at Delhi's Jahangirpuri C-block on Wednesday after the SC imposed a status quo.
Photo Courtesy: CPM
---
New Delhi
|
Published 21.04.22, 02:43 AM
|
---
Bulldozer drives, which have virtually become the BJP's political signature, reached India's capital on Wednesday and demolished shops in a Muslim-majority pocket of a neighbourhood that had witnessed communal clashes during a Hanuman Jayanti procession on Saturday.
While the BJP-led North Delhi Municipal Corporation called the action in Jahangirpuri a crackdown on illegal construction, the location and the identity of most of the sufferers seemed to place it alongside the demolition drives against anti-CAA and Ram Navami rioters in BJP-ruled Uttar Pradesh and Madhya Pradesh.
A day before the operation, a written communication from Delhi BJP president Adesh Gupta to North Delhi mayor Raja Iqbal Singh had been explicit: "The illegal encroachments and constructions done by these rioters should be identified and bulldozers run over these encroachments."
And the night before the drive, BJP leaders had tweeted the civic body's letter to police seeking personnel for the exercise, with a spokesperson — Harish Khurana, son of former chief minister Madan Lal Khurana — crowing: "Kaha tha na ab chhodenge nahi (Didn't we say, won't spare you)…."
Only the CPM and CPIML Liberation, neither of which has an elected public representative in Delhi, came out to oppose the drive and stand before the bulldozers, which  ignored a Supreme Court order to halt, forcing it to issue a second.
Eventually the drive, which had smashed the gate and a portion of the front wall of the mosque before which the Hanuman Jayanti clash had broken out, halted in front of a temple at the end of the street, leaving many Muslims with a bitter "I told you so" feeling.
Civic staff claimed they had stopped the operation after CPM politburo member Brinda Karat met officials.
This was nearly two hours after the apex court had passed its first order around 10.30am, directing "status quo", that is, a halt to the demolition.
The drive had begun around 9.30am. It was about 11.55am when Karat arrived — the apex court is about an hour and a half's drive from Jahangirpuri — and said she was shocked to see the demolition still in progress.
Karat, the CPIML's Delhi secretary Ravi Rai and their party cadres blocked the bulldozers' way. Karat informed the officials present of the court's directions and, after lengthy persuasion, got them to stop the drive.
The ruling Aam Aadmi Party (AAP) resorted to whataboutery while condemning the BJP, and Congress leaders spoke out against the drive.
The civic body had declared a "special joint encroachment removal programme" — an exercise involving several municipal departments, the police and the AAP-led Delhi government's public works department.
No notices were served: Sections 321, 322, 323 and 325 of the relevant law allow specific removal of specific kinds of encroachment without serving a notice on the alleged encroacher, the civic body said.
However, BJP leaders' tweets had provided an alert, anyway. Several people involved in scrap dealing — a main occupation in the area — moved their bundles of waste out before the drive began.
After that anything that came in the way of the seven bulldozers was flattened. This included Ganesh Gupta's juice shop — a landmark in Block C where the demolitions took place.
Gupta ran from one official to another with his file of letters and tax receipts from every other government agency. He had been running his shop since 1977, when the neighbourhood was notified as a slum resettlement zone.
A demolition worker accused him of attacking the personnel. A few policemen, looking disturbed at Gupta's ordeal, led him away. Gupta found less sympathy from some of the TV channels, with one senior journalist accusing him of misleading reporters with his documents.
"I am saying the truth," Gupta replied, in tears. "Please see my papers; please, even the Supreme Court has stopped this."
Rahima, a woman in her 30s who sold soft drinks, had her shop and the steps to her home reduced to rubble.
Harangued about her encroachment, she yelled at reporters: "I asked the police 10 times this morning whether I should move my things. They kept saying only scrap (heaped on the roadside) will be removed. I had bought my fridge with a loan. Since the (February 2020) riots, the shop didn't even run properly. If I am an encroacher, what do you want me to do? Beg?"
Karat told The Telegraph: "We had to stop it…. This is a very, very poor colony where Hindus and Muslims have sheds in front of their homes running small businesses that are their only livelihood. These are there all over Jahangirpuri (and most working-class areas in Delhi).
"To demolish the sheds of one set of people is discriminatory and a brutal message to terrorise, intimidate and bully citizens because they belong to a certain community.
"What is being demolished is the right of a citizen to defend himself against such action (by not serving notices), in the same manner in which tribals and slum dwellers are evicted in other places."
In contrast, the AAP parroted the unsubstantiated BJP claim of "Bangladeshis and Rohingya rioters", while accusing the country's ruling party of settling them "across India".
The street is home to a large number of Bengalis, including many Muslims.
Deputy chief minister Manish Sisodia told reporters: "The BJP is solely responsible for all the unrest in the country today and the easiest way to get rid of this situation is to run a bulldozer over BJP headquarters…. They (BJP) must give an account of how many Bangladeshis and Rohingya have been settled in different places across the country. On the basis of these figures anyone can predict where the next riots will happen."
In 2014, Somnath Bharti, an MLA from the AAP, had led a vigilante drive against African women on the basis of unproven allegations of narcotics and human trafficking in south Delhi. Chief minister Arvind Kejriwal had staged a dharna outside Parliament to protest police action against Bharti.
Rahul Gandhi tweeted: "This is a demolition of India's constitutional values. This is state-sponsored targeting of poor & minorities. BJP must bulldoze the hatred in their hearts instead."
As demolitions in Delhi go, Wednesday's action was minor. Some 20 shops and at least 30 pushcarts were fully or partially wrecked, apart from the gate and a portion of the wall of the local Jama Masjid.
When a bulldozer approached a Kali temple, whose ground floor had a collapsible gate abutting onto a public road, several people gathered round it.
A youth yelled at reporters: "On the pretext of Hindu-Muslim (riots) you have destroyed all the shops here, my shop too and now you want to destroy our temple…. What is an encroachment? This temple has stood here for decades. Does a riot make it an encroachment?"
That was the end of the drive. The temple authorities later dismantled the gate. The Hawkers Joint Action Committee condemned the destruction of pushcarts.
"The survey work of street vendors and vendors of weekly markets inside Delhi is going on by the municipal bodies of Delhi. It is noteworthy that under The Street Vendors (Protection of Livelihood and Regulation of Street Vending) Act, 2014, there is a provision for survey of all street vendors and weekly marketers and they cannot be evicted under any circumstances until the survey process is completed," it said.
A statement from the civic body said: "About two kilometres of road near Kushal cinema were cleared from encroachment, 25 items were seized and 20 tonnes of garbage were lifted…. The above action is an attempt to clear pedestrian walkways and roads from encroachments to ease the traffic and pedestrian movement."