Amit Shah zips lips as juniors confuse
Some ministers and BJP representatives had appeared to indicate a climb-down on a countrywide NRC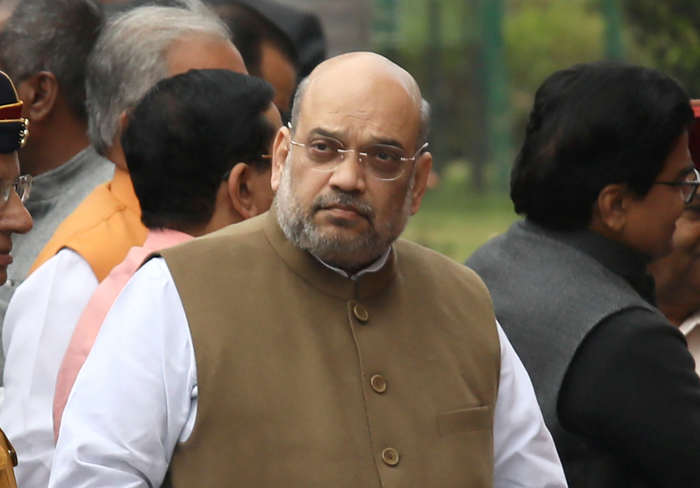 ---
---
Home minister Amit Shah, prime mover of the Citizenship (Amendment) Act and the National Register of Citizens scare, has clammed up amid the countrywide protests, leaving his juniors in party and government to send out confusing signals.
Over the past few days, some ministers and BJP representatives had appeared to indicate a climb-down on a countrywide NRC but on Saturday, party functionaries spouted a hawkish stance and adopted a confrontational line against the Opposition.
BJP working president J.P. Nadda slammed the politics of "appeasement" and general secretary Bhupendra Yadav hailed the citizenship law, a day after minister Mukhtar Abbas Naqvi and party general secretary Ram Madhav had said there was "no plan" for an NRC update outside Assam, at least for now.
Nine chief ministers have so far come out to say they would not implement the NRC in their states. Among them are BJP ally Nitish Kumar of Bihar and Naveen Patnaik of Odisha, both of whom had backed the citizenship amendment.
Congress chief ministers and Bengal's Mamata Banerjee have said they would not implement the amended citizenship act, either.
But Shah has slipped to the background since last Tuesday, when he appeared in two television interviews and a party rally and insisted there was no going back on the amended citizenship law, "come what may".
Nadda on Saturday announced a massive counter campaign by the party to "expose" the Congress's "ideological similarity with Pakistan" and its politics of "appeasement".
"The BJP will undertake a countrywide campaign over the next 10 days to expose the politics of violence and hatred carried out by the Congress, its allies, Trinamul and the Left parties," he told a party meeting, according to a media release.
Briefing the media, Yadav said the party would contact 3 crore families from "Kashmir to Kanyakumari and Gujarat to Guwahati" in the next 10 days. Rallies and meetings will be held in every district, news conferences organised at 250 places and a special drive launched in the regional media.
"We have letters from over 1,100 prominent educationists and six major universities in support of the CAA. The Congress and other Opposition parties are spreading lies and stoking violence but we will reach out and convince the people," Yadav said.
He lauded the Narendra Modi government for amending the citizenship law to "give a life of dignity to minorities in Pakistan, Afghanistan and Bangladesh who are persecuted because of their religion".
In contrast, minority affairs minister Naqvi and the BJP's Northeast minder, Ram Madhav, had on Friday taken a placatory line.
"There's no plan for the NRC exercise in any other part of the country (apart from Assam)," Naqvi said.
Madhav said it was "premature" to talk about the NRC. He said the home minister had proposed an NRC update in 2021 but there were no details about the process now.
Shah had announced inside and outside Parliament that the citizenship law would be amended first and a countrywide NRC update would follow.
On Saturday, the ruling dispensation tried to de-link the two but would not rule out a pan-India NRC exercise. Yadav said they are "two different things".
"The NRC is an administrative issue and misconceptions shouldn't be spread about it. Citizens of India have nothing to worry. Once a citizen, always a citizen," he said, without explaining what would happen to genuine citizens who cannot furnish the required documents.
The issue is crucial since Shah had asserted in an interview to Times Now on Tuesday that neither the Aadhaar card nor the voter I-card was proof of citizenship.
Despite Shah's statement, information and broadcasting minister Prakash Javadekar had spawned confusion on Friday by claiming the Aadhaar card would suffice as proof during an NRC update, whenever it happened.
"Everybody has an Aadhaar card now. This is enough," he had said.
Neither the contradictory statements from government and party representatives nor the mounting death toll among protesters in Uttar Pradesh has prompted Shah to break his silence.