Amit Shah throws 'scrap 370' dare at Congress
Don't you want Kashmir to be an integral part of India, he asks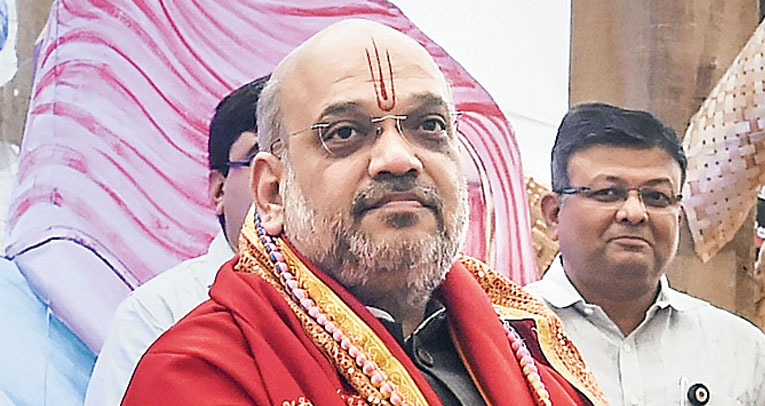 ---
---
Union home minister and BJP chief Amit Shah on Saturday dared Rahul Gandhi to declare that his party will restore provisions of Article 370 in Jammu and Kashmir if voted to power, although no senior Congress or Opposition leader has spoken of going back to pre-abrogation days.
Shah told a rally in Maharashtra's Nandurbar that after Narendra Modi won a second term with a massive mandate, the first thing he did was to abrogate provisions of Article 370 that had allowed special status to Jammu and Kashmir. 'Due to the special provisions, Pakistan fomented terror in the state and over 40,000 people died. Development in Kashmir came to a standstill. But the Congress was not ready to scrap the provisions. It was worried about its vote bank and not about national interest. 'No PM ever dared to take the decision. It was Modi with his 56-inch chest who made the move,' he said.
Shah then tried to tackle familiar criticism that the BJP has faced before Assembly elections -- that the party and its star campaigners highlight national issues more, rather than state-level problems. The Congress too had raised this point recently during campaigns for Maharashtra and Haryana elections.
The BJP chief today said: 'Rahul Gandhi asks what is the connection between Article 370 and Maharashtra. I dare him to declare that if voted to power, his party would restore the provisions of Article 370. There is still one day to go for the Assembly elections. See how the people will react. Don't you want Kashmir to be an integral part of India?'
Maharashtra goes to elections on October 21.
Two days ago at a news conference in Mumbai, former Prime Minister Manmohan Singh spoke on the Congress' stand on the abrogation of the special status while responding to a question on Article 370. 'Congress party ne iske haq mein vote diya, iske khilaaf vote nahin diya (the Congress supported the move, was not against it),' he said. 'The Congress feels that Article 370 is a temporary measure, but if a change is to be brought, it has to be with the goodwill of the people of J&K.' Singh tried to draw a distinction between an idea and its implementation.
The same day, NCP president Sharad Pawar remarked on Narendra Modi's 'doob maro (go drown)' suggestion to the Opposition.
Modi on Wednesday slammed Opposition leaders seeking a link between the scrapping of Article 370 and the Maharashtra Assembly polls. 'How can they (the Opposition) say that Jammu and Kashmir has nothing to do with Maharashtra? They should be ashamed of such thoughts. Don't they have any shame? Doob maro,' Modi had said.

Referring to the comment, Pawar said: 'The Prime Minister yesterday said 'doob maro'. He dares us to bring Article 370 back. It was decided to scrap Article 370. Parliament scrapped it and now why are you now talking about bringing it back?'
Modi again raised Article 370 during a rally in Rewari, Haryana. 'During a debate in Parliament in 1964, the country's distinguished leader got upset there was division in the Congress. There was a demand that Article 370 be nullified and there be a debate on this issue in Parliament,' he said.
'At that time, Congress leaders, with folded hands, had said that their demand would be met and Article 370 would be nullified in one year. But the matter was again put on the back burner,' Modi said. 'What was the compulsion and what game was being played,' he asked, urging people to punish the Congress in the Assembly polls.
'The limits were crossed when they opposed this move (abrogation of Article 370) in overseas countries like those who were behind spreading terrorism,' he alleged. 'This is their mentality. Those who opposed this move are seeking votes from you. You need to punish them,' he said.