Amethi: Gandhis play 'home' card
Give us a chance: Priyanka in former Cong stronghold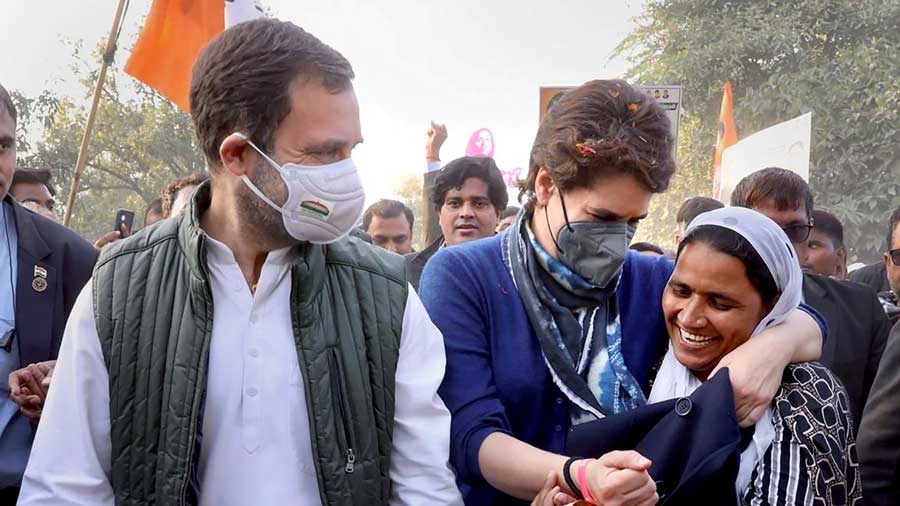 Rahul Gandhi and Priyanka Gandhi Vadra in Amethi on Saturday
PTI Picture
---
Lucknow
|
Published 19.12.21, 12:52 AM
|
---
Rahul Gandhi and Priyanka Gandhi Vadra have reminded the people of Amethi of their "family association" with them. 
Addressing a rally in the Harimau area of Amethi, the Uttar Pradesh district that had been a Congress pocket borough for the better part of 50 years before it turned to the BJP in 2019, Rahul said on Saturday: "Why am I here? I am here to tell you that our relationship is based on truth and it can never be broken."
"I became a member of Parliament for the first time in 2004 with your blessings…. You taught me politics. All I want to say to you is that you must differentiate between a truth and a lie and stand by the truth," he added.
Rahul, who lost to the BJP's Smriti Irani in Amethi in the 2019 Lok Sabha elections, led a 6km march from Jagdishpur to Harimau in Amethi, accompanied by sister Priyanka, the Congress general secretary in charge of Uttar Pradesh. 
A 600-metre stretch of the road was packed with people as Rahul and Priyanka walked in the procession, often interacting with them. 
Uttar Pradesh is bound for polls early next year. The Congress had lost all five Assembly seats in Amethi in the 2017 elections. 
"We don't have any complaints against you. There are situations when the truth is buried. We accepted your message. If we are standing here today, it is only because our relationship cannot be severed in any situation," Priyanka told the Amethi gathering. 
She reminded the people of the development work — setting up factories and laying roads, among others — that former Prime Minister Rajiv Gandhi had done as Amethi MP from 1981 to 1991, then carried forward by Sonia Gandhi from 1999 to 2004 and Rahul from 2004 to 2019.
"Give us an opportunity again and we will do more work," Priyanka said. 
Appearing to target Prime Minister Narendra Modi, Rahul said: "Some people are talking about the Hindu religion these days. I want to ask you what Hindu is. Hindu is one who doesn't fear and doesn't bow his head before hatred. We have the example of Gandhi. Countrymen called him Mahatma because of his truthfulness. There was his assassin, Nathuram Godse, on the other side. Nobody called him a Mahatma…." 
He pumped three bullets into the chest of Gandhi because he was a coward who killed someone for speaking the truth…."
Rahul reminded the people about Modi's "lies". 
"Modi himself had said that the three farm laws were for the benefit of the farmers. The farmers stood up and said it was for Ambani and Adani. Modi kept saying that the farmers are Khalistanis. Tell me, can someone who tells us a lie about the farmers be a Hindu?" the Congress leader asked. 
"Since there is an election in Uttar Pradesh, he (Modi) says now that he is apologising (to the farmers). This (apology) is also a lie. A Hindu doesn't bow before pressure but a Hindutvavadi will. Gandhiji didn't cry when he took three bullets. This is called Hindu. Godse cried like a child before being hanged," Rahul said.
Earlier, addressing another rally at the Ramlila Ground in Jagdishpur, Rahul said: "The Chinese forces are sitting there (eastern Ladakh) in India. They have snatched from India 1,000sqkm of land in Ladakh. That is the size of Delhi. But the Prime Minister remained silent and inactive. When asked, he said no land had been encroached on by China. However, the defence ministry accepted that our land has been grabbed by China."
"Hindus follow satyagraha and Hindutvas pursue sattagraha (lust for power). One who follows the path of truth is a Hindu The liar and violence-monger belongs to Hindutva," Rahul added.