'Ambedkar' overwritten on 'Savarkar' at JNU
The developments have triggered a war of words between ABVP and JNUSU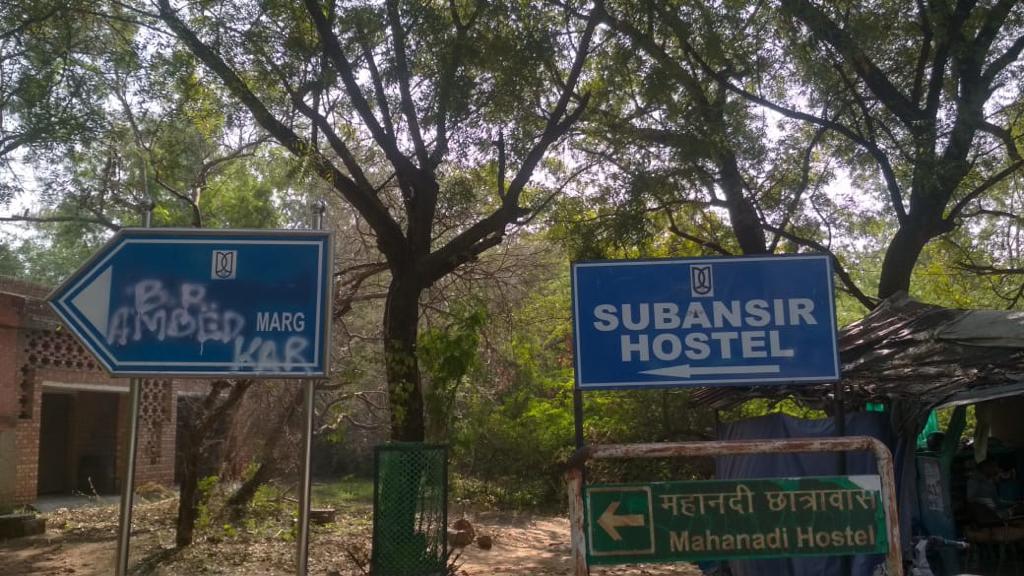 ---
---
The name of B.R. Ambedkar has been painted over that of Hindutva ideologue V.D. Savarkar on a freshly installed road signage at Left-stronghold Jawaharlal Nehru University.
The developments have triggered a war of words between the RSS-backed Akhil Bharatiya Vidyarthi Parishad (ABVP), which claimed that a poster of Pakistan-founder Mohammad Ali Jinnah had been pasted on the signage and shared with journalists a purported image, and the Left-led Jawaharlal Nehru University Students Union (JNUSU).
Vice-chancellor M. Jagadesh Kumar condemned the defacement, although a security official confirmed to this newspaper that it was Ambedkar's name, and not Jinnah's poster, that had been used to overwrite Savarkar's name.
JNUSU said in a statement that "communal lumpens and motivated stooges" had morphed a picture of the signage to "defame" the university by giving the impression that Jinnah's picture had been put up. The union said the "motivated naming of the road can neither cover up nor whitewash the shameful legacy of Savarkar", who had written abject mercy petitions to the British from jail.
On Sunday night JNU students had found a road signage with "V.D. Savarkar Marg" written on it. Around midnight, JNUSU president Aishe Ghosh of the SFI had shared a picture of the signage of "V.D. Savarkar Marg" on the campus with "B.R. Ambedkar" spray-painted over it.
She wrote: "We can never accept apologists and stooges of the British who undermined our secular fabric. Let's respect those who gave us our Constitution. #NoTo Savarkar."
The road that connects the Poorvanchal bus terminus to the back gate of the Indian Institute of Mass Communication didn't have a name until Monday and used to be popularly known as Mahanadi Hostel road.
On Tuesday afternoon the ABVP's JNU unit secretary, Govind Dangi, shared a night-time image of the blackened signage with a black-and-white printout stuck on it. The printout had "Mohammad Ali Jinnah Marg" written on it along with an image of the leader and the Pakistan flag.
Dangi told reporters on a WhatsApp group: "The board of VD Savarkar Marg was defaced with black paint and a poster with a photo of Mohd. Ali Jinnah, responsible for millions of death, was put up. The self-proclaimed liberals defaced the board twice.
"Firstly, writing BR Ambedkar Marg over the board and then painting even BR Ambedkar black and posting Mohammad Ali Jinnah Marg over it! The commie goons are so vitriolic and filled with hatred that they even defaced Ambedkar's name! The miscreants should be aware that ABVP JNU will give a befitting reply to their vile and wicked actions."
However, till this afternoon the signage only bore the defacement with Ambedkar's name in white paint. A new Savarkar signage has been installed.
Asked, Dangi gave The Telegraph a different version.
"Around 10-11pm last night, when we came from there, everything was normal. Although it was expected, because the culture of the Left is that they cannot accept any other ideology on this campus. Yesterday evening they first blackened Savarkar's name, and they stuck the poster that you may have seen — Mohammad Ali Jinnah Marg…. This was there all night. Around 4am they may have felt that this will go against them. They removed the black paint and wrote B.R. Ambedkar," he said.
Vice-chancellor Kumar said in a statement: "The naming of different roads on the JNU campus, which is (spread over) more than 1,000 acres, has been approved by the executive council based on the recommendations of the campus development committee in 2016.
"During the last two years, several roads have been named after great personalities. But last night some miscreants indulged in defacing the road signage on our campus. This is highly regrettable. In an educational institution, one can disagree intellectually but stooping to such acts is unwarranted."
The Congress's National Students Union of India had defaced a Savarkar bust installed by the ABVP at Delhi University last August. The bust was later removed by the varsity administration.