26/11 hero slams Centre's contentious Agnipath scheme
It looks as though the government has decided to open an agency for security guards with four-year contracts: Praveen Kumar Teotia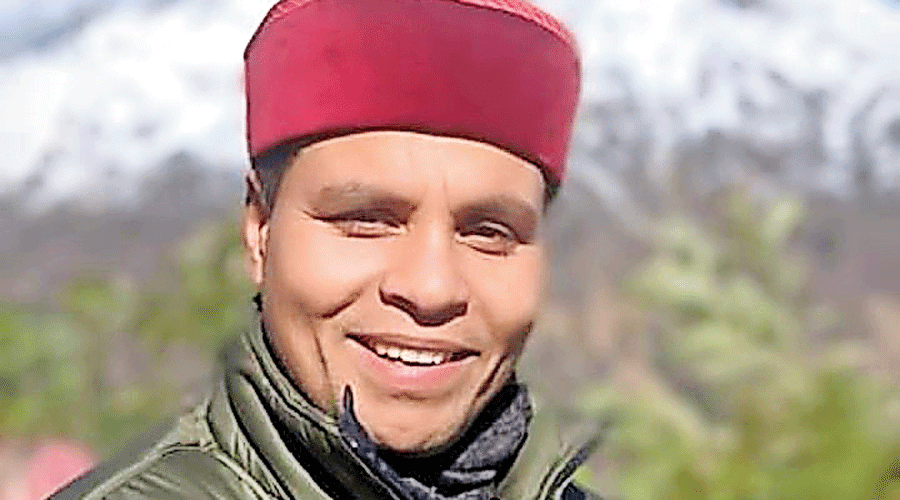 Praveen Kumar Teotia.
The Telegraph
---
New Delhi
|
Published 27.06.22, 02:14 AM
|
---
A decorated and retired navy hero who battled the 26/11 terrorists has slammed the Agnipath scheme, accusing the government of opening an "agency for security guards" to protect the country, and cited personal experience to cast doubt on the chorus of promises of fresh employment for demobbed Agniveers.
"It looks as though the government has decided to open an agency for security guards with four-year contracts. The scheme will affect the morale and capabilities of the armed forces," Praveen Kumar Teotia, awarded the Shaurya Chakra for his role in ridding the Taj Mahal Palace hotel in Mumbai of Pakistani terrorists, told The Telegraph on Friday.
Teotia said the home and defence ministries' announcements of additional 10 per cent job reservations for the demobbed Agniveers was a "sham".
"Hundreds of ex-servicemen have been moving from pillar to post for years but they have not got any government jobs even though there is already an existing 10 per cent quota," he said.
He took on the industrialists who had, amid the violent countrywide protests against the scheme by military job aspirants, declared they would preferentially hire demobbed Agniveers.
"They are cheerleaders of the government and are playing with the emotions of would-be recruits. Their claims are hollow," Teotia said.
On Monday, industrialists such as Mahindra Group chairman Anand Mahindra, RPG Enterprises chairman Harsh Goenka and Biocon Ltd chairperson Kiran Mazumdar-Shaw had expressed support for the Agnipath scheme, saying they welcomed the opportunity to employ demobbed Agniveers.
Responding to a tweet from Mahindra, Teotia had on Wednesday posted: "I'm still unemployed after 15 years of Service. Even I saved 185 lives in Taj including @gauutam_adani during 26/11. What job are you going to provide me in your group? Many like me are still unemployed after 15 years of service but you never provide anything to them."
I'm still unemployed after 15 years of Service. Even I saved 185 lives in Taj including @gautam_adani during 26/11.
What job are you going to provide me in your Group. @anandmahindra
Many like me still unemployed after 15 years of Service but you never provide anything to them. https://t.co/m43NmzN8hF

— Praveen Kumar Teotia (@MarcosPraveen) June 22, 2022
Former navy chief and 1971 war hero Arun Prakash too has questioned the industry leaders' claims and asked them to furnish data showing how many ex-servicemen they had employed in the past.
The latest data (as of June 30 last year) with the directorate-general of resettlement, under the defence ministry's department of ex-servicemen welfare, shows a huge gap in the past few years between the number of ex-servicemen recruited to government jobs and the vacancies reserved for them.
Teotia, a native of Bulandshahr in Uttar Pradesh, now lives with his wife and two sons in a rented flat in Delhi. He practises law and is a life coach and physical trainer.
Teotia had led a team of eight Marcos -- naval commandos -- who were the first special force to reach the Taj Mumbai and take on the four terrorists holed up inside while the National Security Guard was yet to arrive from Delhi.
Teotia had suffered near-fatal injuries while battling the four terrorists inside a dark room. He took four bullets in his torso and his left ear was blown away. One of his lungs was punctured and four ribs shattered.
Deemed medically unfit to be a commando and assigned desk jobs, he retired from the navy in 2017.
Criticising the Agneepath scheme under which armed forces recruits would be trained for six months, with three-fourths of them demobbed after four years without pension or gratuity, he said weapons and combat skills needed years of arduous training to acquire.
"Soldiers become skilled and tech-savvy only after undergoing extensive training for at least four years. How are these new recruits, Agniveers, going to perform after only six months' training?" he said.
"Are we hiring security guards to safeguard our borders and national security? This scheme is fraught with serious consequences in case of a war. It would affect the armed forces' operational capabilities, with these Agniveers becoming a burden on the skilled soldiers."
Teotia said it was intriguing why the military higher-ups had not flagged these concerns to the government "given the hostile situation along the frontiers of China and Pakistan".
Teotia has written a memoir, 26/11 Braveheart – My Encounter with Terrorist that Night. He said the encounter had foiled the terrorists' attempt to enter the Chambers wing, where the guests included the Taj group's then managing director.
On Wednesday, Honorary Captain Bana Singh, a Param Vir Chakra awardee and army legend, had told this newspaper that India would "pay a huge price" for the Agnipath scheme, which would "destroy" the military and benefit Pakistan and China.
Retired Major General Birender Dhanoa too hit out at the defenders of the Agnipath scheme in a tweet on Friday.
"The one issue spin doctors for the new recruitment policy for our armed forces have expressly avoided answering is; what was the operational shortcoming in performance of soldiers, sailors, airmen recruited under the existing policy that forces the 3 chiefs to accept this change," he wrote.
The 1 issue spin doctors for the new recruitment policy for our armed forces have expressly avoided answering is; what was the operational shortcoming in performance of soldiers, sailors, airmen recruited under the existing policy that forced the 3 chiefs to accept this change?

— Birender Dhanoa (@bsdhanoa) June 23, 2022
Echoing him, retired Major General C.M. Seth said: "Infantry and armed corps will be adversely affected the most by this Agnipath."