447 complaints, mostly minor
Adverse events following immunisation count 'comforting'
447 complaints in country, mostly minor or mild: Government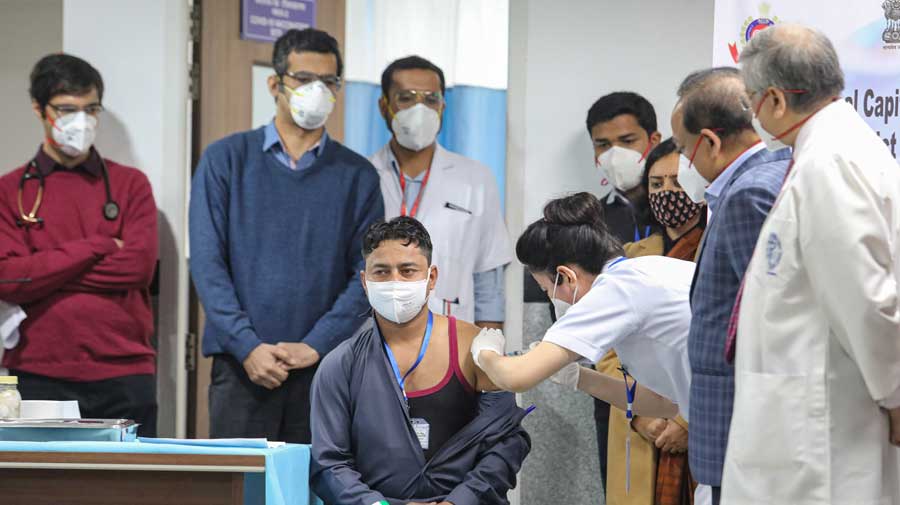 A medic administers the first dose of Covishield vaccine to a frontline worker in the presence of health minister Harsh Vardhan at AIIMS in New Delhi on Saturday.
PTI
---
New Delhi
|
Published 18.01.21, 01:31 AM
|
---
India has recorded 447 cases of adverse events following immunisation (AEFIs) among over 224,300 healthcare workers who received Covid-19 vaccines over the weekend, the vast majority of them minor or mild, the Union health ministry said on Sunday.
The ministry also said that three people who had developed AEFIs had been hospitalised. Two have already been discharged from two hospitals in Delhi and one vaccine recipient is under observation at a hospital in Rishikesh, a health official said, without revealing the conditions that required hospitalisation.
In Bengal, two recipients have been hospitalised.
Medical experts said typical AEFIs include pain and mild swelling at the injection site, mild fever, body ache, nausea or giddiness and mild allergic reactions such as rashes. The rate of AEFIs observed in India so far – 447 among 224,301 vaccinated, or 1.9 per 1,000 – is not unusual.
"The numbers we're seeing are comforting," Narendra Arora, the chair of India's AEFI communications panel, told The Telegraph. "We believe the two vaccines we're using are safe and much less reactogenic (capable of triggering adverse reactions) than other Covid-19 vaccines."
In contrast, a report prepared by a medical expert in the US on December 19, tracking AEFIs over five days of vaccinations, had documented 3,150 "health impact events" among 272,001 people (11.6 per 1,000) administered doses of a vaccine based on mRNA technology.
Health researchers, however, say that while both vaccines used in the Indian campaign -– AstraZeneca-Oxford's Covishield and the home-grown Bharat Biotech vaccine Covaxin -– have proved safe in clinical trials, it is critical to continue monitoring the AEFIs.
"Both vaccines are expected to be safe. That is why they were approved for restricted emergency use. But the history of vaccines shows that sometimes very rare adverse effects show up after hundreds of thousands of doses have been administered," said a senior scientist.
The Union health ministry has deployed a digital platform called Co-Win that is being used to manage the vaccination campaign and to track in real-time the AEFIs reported by those receiving the vaccines.
"Protocols are in place for reporting, for immediate case management at the vaccination sites, and for transport and hospitalisation" and further care of AEFIs that require hospitalisation, a senior health official said on Sunday.
Arora said Co-Win had enabled AEFI monitoring in real time for the first time in the country. "We're now counting AEFIs every day. With the childhood vaccines, AEFI surveillance was passive: we used to wait for the parents to report them. And not everyone did."
The nationwide Covid-19 vaccination campaign is expected to be punctuated by breaks, with most states proposing to vaccinate four days a week and only one state – Andhra Pradesh – planning six days of immunisation a week.
Only six states – Andhra Pradesh, Arunachal Pradesh, Karnataka, Kerala, Manipur and Tamil Nadu – conducted the vaccination sessions on Sunday, adding around 17,000 beneficiaries to the around 207,000 vaccinated nationwide on Saturday.
Assam, Bihar, Bengal, Chhattisgarh, Delhi, Kerala, Madhya Pradesh, Maharashtra, Punjab, Rajasthan, Tamil Nadu and Telangana are among the states that propose to vaccinate four days a week. Uttar Pradesh, Himachal Pradesh and Goa will vaccinate two days a week.
A health ministry official said the states had been advised to plan the campaigns to "minimise disruption" to routine healthcare services. The official said the number of days chosen by the states would likely be determined by the resources available and the number of beneficiaries to be vaccinated during this first round of the campaign.
The first round seeks to immunise around 10 million healthcare workers and 20 million frontline public workers. The second round would cover an estimated 270 million people from two priority groups – those aged above 50 and those below 50 but with chronic health disorders.