Abdullahs stare at loss of homes
ED claims to have attached multiple properties of Farooq, including 3 residences in Kashmir and Jammu worth Rs 11.86 cr, under the Prevention of Money Laundering Act (PMLA)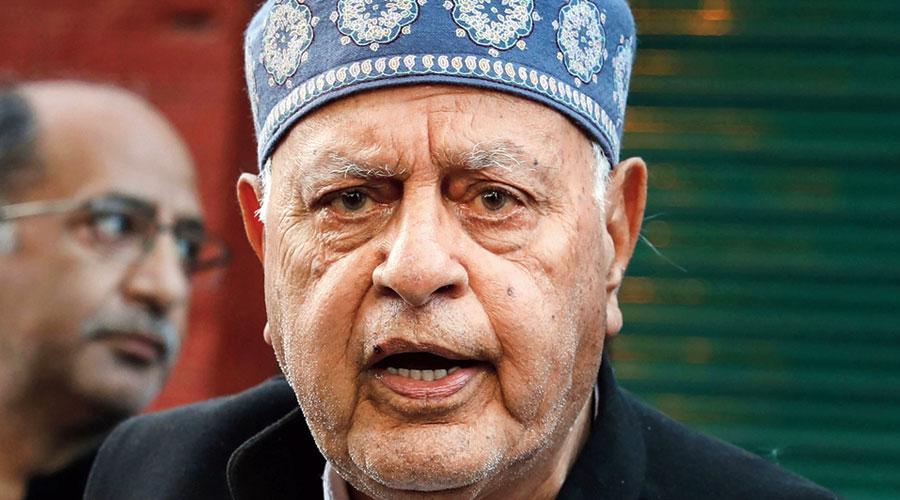 ---
Srinagar
|
Published 20.12.20, 04:07 AM
|
---
Farooq Abdullah and son Omar Abdullah, scions of a Jammu and Kashmir family that played a key role in the erstwhile state's accession to India and gave it several chief ministers, are suddenly staring at homelessness on their home turf.
The Enforcement Directorate on Saturday claimed to have attached multiple properties of Farooq, including three residences in Kashmir and Jammu worth Rs 11.86 crore, under the Prevention of Money Laundering Act (PMLA).
The ED action comes weeks after Farooq, a five-time chief minister who is now the Srinagar MP, was questioned in connection with the alleged laundering of funds of the Jammu & Kashmir Cricket Association (JKCA), which he once headed.
ED officers said three residential houses — one at Gupkar Road, Srinagar; another at Katipora tehsil, Tanmarg; and the other at Bhatindi, Sunjwan village in Jammu — had been attached.
Farooq alleged that he was being punished for taking a stand against the abrogation of Article 370 provisions. 
He suggested that if his houses were attached, he and son Omar would have nowhere to live.
"They want to harass Farooq Abdullah, to make me bend before them.… I have been served with no letter, nothing as yet," Farooq told The Telegraph.
"This shows what kind of people they are. How can they attack my Srinagar house? I am living in this house with my son, my family."
In October, Omar vacated his government accommodation at Gupkar. He was reportedly asked to leave the house by the government, although he claimed he was doing so on his own. He subsequently moved into his father's home on the same road.
Farooq said the only property he had raised in his decades-long political career was a house in Sunjwan, Jammu.
"All my properties are parental properties. I have made nothing myself other than the Jammu house. This (Gupkar house) we got in 1976 (when his father Sheikh Abdullah was chief minister)," he said. 
"The property in Tanmarg, I got from my mother's side," Farooq added.
Omar said in a series of tweets that these properties largely dated back to the 1970s, "with the most recent one built before 2003". 
"There can be no justification for the seizures because they fail the very basic test of having been acquired as the proceeds of the 'crime' being investigated," he tweeted.