A slight spurs cop in quest for Guinness
Heads, Dharmendra wins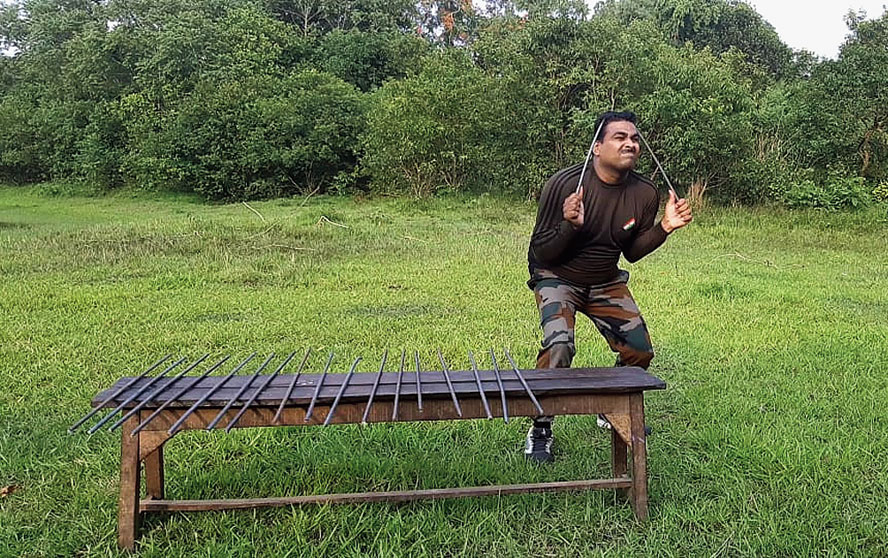 Dharmendra Singh bends an iron bar on his head in Agartala on Monday.
Picture by Sanjay Choudhary
---
Patna
|
Published 02.06.20, 08:23 PM
|
---
Nobody can accuse Dharmendra Singh of not taking up a challenge head-on.
The Tripura State Rifles sub-inspector from Bihar has been particularly headstrong since childhood when it comes to smashing to smithereens hard objects with his, err, head. But matters came to a head last year when a complement he had extended to a record-holder was greeted with a spiteful reply.
Singh, a native of Ramgarh in Kaimur district of Bihar, had last November seen a video of an Armenian man, Armen Adonts, setting a new world record of bending the most number of iron rods with the head. Impressed with the feat — Adonts had bent 18 iron bars of 12mm width to enter the Guinness World Records on April 26, 2015 — Singh sent him a congratulatory message on Facebook Messenger.
Adonts, a resident of Yerevan in Armenia, saw the message but did not reply, according to Singh, 30. Singh again pinged him on Messenger and sought his guidance in achieving something similar. But the reply he got was unexpected.
"Normally, sportspersons and players pay respect to one another irrespective of nationality. But Adonts demoralised me, saying I would not be able to achieve it as I did not have such capabilities. He called me an 'Indian poor man'," Singh told The Telegraph, recounting the conversation in English.
Singh could no longer keep a cool head on his shoulders. Hurt and angered, Singh replied to Adonts that he would send him something in six or seven months.
Singh already had a head start, thanks to years of breaking coconuts and raw bael fruit (wood apple) on his head.
"I made up my mind to break his record. Adonts had used 12mm iron bars and I also started practising with them. I failed to bend a single bar at the beginning, but kept practising. Slowly it started happening. I then applied online to the Guinness World Records about my intent to better Adonts's feat. They guided me about the rules, told me to have independent witnesses and send a video of the attempt to them," Singh said.
Singh finally turned the situation on its head this Monday. As promised to Adonts, the cop broke the Armenian's record within six months. In Agartala, Singh bent 24 iron bars on his head and sent the video to the Guinness World Records. He will have to now wait for 90 days before receiving a heads up from Guinness World Records — a validation, acknowledgement and a certificate.
The video that he sent to the Guinness World Records shows Singh picking up the iron bars laid on a bench one by one, placing each on his head and bending it from the middle by using both hands.
Has Singh got in touch with Adonts? The cop said he had, out of anger, deleted the conversation with Adonts and blocked him on Facebook.
This paper could not corroborate Singh's account with Adonts.
Singh recounted how the love for the sport reared its head when he was 12. He had gone to visit Sankatmochan temple at Varanasi with friends and relatives and saw coconuts being broken on the ground before the idol of Lord Hanuman. He thought he could break it on his head instead of the ground as it was cleaner than the ground.
Singh tried breaking the coconut on his head thrice and suffered injuries in the process. Blood oozing from his head, he returned home only to be thrashed by his parents for his "foolishness". Later he took a piece of rock and started hammering his head with it to make it hard. He then switched to a 7.5kg dumbbell to practice.
Thus was born the "Indian head hammerman", as his friends call him. After seven months of practice, Singh went again to the same temple at Varanasi and this time successfully broke a coconut on his head as an offering to the deity. He then graduated to breaking bael on his head.
Singh has participated in several television shows, including Khatron ke Khiladi. A vegetarian, he now aims to bend 51 iron bars on his head in a minute as a tribute to Lord Hanuman, whom he worships.
Singh's mother Kunti Devi, the sarpanch of Ramgarh panchayat in Kaimur district, lauded his feat but said she "used to stop him from breaking coconuts and bael on his head as it could have led to brain injury".
"But he never listened to me and kept at it. His feat got him selected to the Tripura State Rifles at the age of 18 when its officers had set up a recruitment camp at Dehri-on-Sone in neighbouring Rohtas district," Kunti said.