Screen time impact on kids' white matter
Study highlights need to understand effects on brain development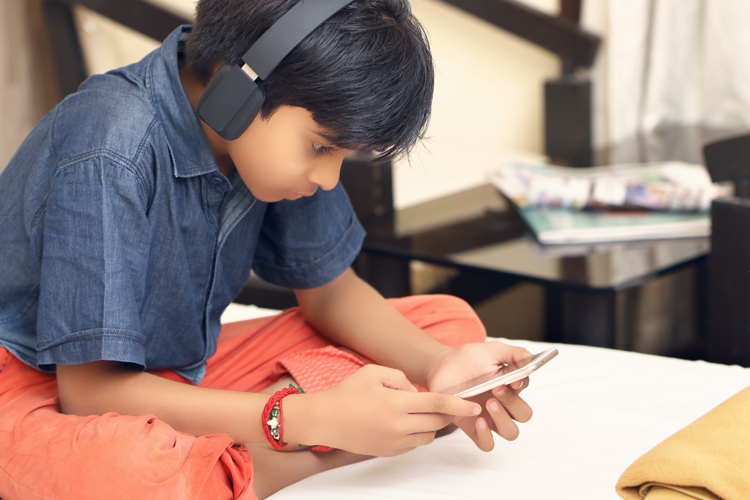 The researchers assessed the children for screen time and performed diffusion tensor magnetic resonance imaging scans and found those with higher screen scores had lower brain white matter integrity in regions involving language, executive function and literacy skills
(Shutterstock)
---
New Delhi
|
Published 04.11.19, 09:32 PM
|
---
Children between three and five years old with more screen time display lower levels of structural integrity in the brain's white matter, researchers said on Monday raising questions about whether screen-based media might impact brain development.
Their study — based on a sample of only 27 girls and 20 boys in the United States — has also suggested that children with higher periods of screen time on mobile phones or portable devices also have lower scores on language and literacy. Twenty-eight (60 per cent) of the 47 children had a portable device of their own.
"Screen-based media use is prevalent in home, childcare and school settings at ever younger ages," said John Hutton, a pediatrician and researcher at the Cincinnati Children's Hospital Medical Centre in the US who led the study.
The findings "highlight the need to understand effects of screen time on brain development in early childhood so that policymakers and parents can set healthy limits," Hutton said in a media release issued with the study published on Monday in the journal JAMA Pediatrics.
The researchers assessed the children for screen time and performed diffusion tensor magnetic resonance imaging scans — a class of MRI scans designed to probe structural changes — and found those with higher screen scores had lower brain white matter integrity in regions involving language, executive function and literacy skills.
They also assessed children on standard cognitive tests and found that higher screen scores appeared associated with lower expressive language, the ability to quickly name objects, and literacy skills.
"While we can't yet determine whether screen time causes these structural changes or implies long-term risks, these findings warrant further studies to understand what they mean and how to set limits on (screen time)," Hutton said.
The American Association of Pediatrics had three years ago announced new recommendations for children's media use, specifying that children between two and five years should limit screen use to one hour per day with high-quality programmes.
"Parents should co-view media with children to help them understand what they are seeing and apply it to the world around them," the AAP recommendations said.
The AAP said some media can have educational value for children starting at 18 months of age. But parents of children aged 18 to 24 months who want to introduce digital media should choose high-quality programming and watch it with children to help them understand what they're seeing.
The Cincinnati researchers examined deviations from AAP guidelines and found an association between increased screen-time media use, compared to AAP guidelines, and "lower microstructural integrity of brain white matter tracts supporting language and emergent literacy skills" in the prekindergarten children.
Health researchers in India assessing screen time in young children said the Cincinnati Children's Hospital findings are significant as they suggest structural changes at the white matter level.
"They used a small sample, but the findings justify larger studies," said Madhu Gupta, professor of community medicine at the Post-Graduate Institute of Medical Education and Research, Chandigarh.
Gupta and her colleagues Sandeep Grover, professor of psychiatry, Prabhjyot Malhi, professor of pediatrics, and researcher Nimran Kaur had in a paper in the journal Indian Pediatrics last month referred to a paucity of data on screen time prevalence among under-five children in India.
"So many people have smartphones and TVs — anecdotally, we know screen time may be significant in some homes," Gupta said. "We need to formulate national guidelines for permissible screen time for children."
The PGI team has initiated a study to measure prevalence of screen time among 300 children and assess them for behavioural traits.
Hutton and his colleagues assessed screen time using a composite measure called ScreenQ developed by his team over the past two years.
ScreenQ assigns screen time scores between 0 and 26 — with 0 reflecting perfect adherence to AAP guidelines and 26, extreme non-adherence. The ranged examined in the study was between 1 and 19.
"There is currently no similar screening assessment for children and current studies largely feature single items such as bedroom TV or violent content or hours per day," Hutton told The Telegraph via email. "ScreenQ is intended to be holistic to reflect the degree to which parents adhere to AAP guidelines, not a single aspect."