Can a coronavirus infection affect the heart?
'Yes… temporary or lasting damage to heart tissue can be due to several factors, such as, lack of oxygen, myocarditis or inflammation of the heart, or cardiomyopathy, which is a heart muscle disorder'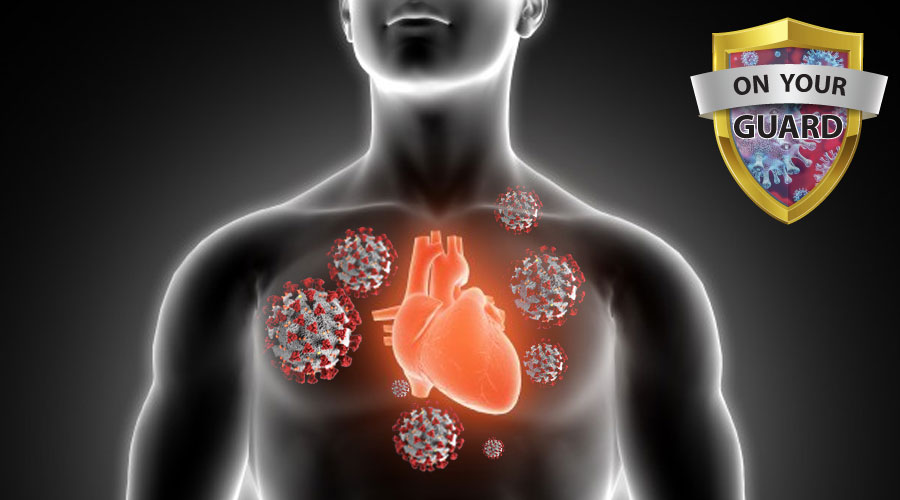 ---
---
Covid-19, the disease caused by the coronavirus that's at the centre of the global pandemic, is primarily a respiratory or lung disease. Yet, the heart can also suffer, agree doctors. And that is why it is imperative for those with pre-existing heart ailments not to stop regular medication without the advice of a doctor.
Early reports coming out of China and Italy, two areas where Covid-19 took hold earlier in the pandemic, show that up to 1 in 5 patients with the illness end up with heart damage, notes an article in Johns Hopkins Medicine. Heart failure has been the cause of death in Covid-19 patients, even those without severe breathing problems such as acute respiratory distress syndrome, or ARDS.
Yet not all heart problems linked to the SARS-CoV-2 are alike. Says cardiologist Erin Michos, Director of Women's Cardiovascular Health and Associate Professor of Medicine at Johns Hopkins, "There are multiple mechanisms for heart damage in COVID-19, and not everyone is the same." Temporary or lasting damage to heart tissue can be due to several factors, such as, lack of oxygen, myocarditis or inflammation of the heart, or cardiomyopathy, which is a heart muscle disorder.
In the first case, as the virus causes inflammation and fluid to fill up the air sacs in the lungs, less oxygen can reach the bloodstream. This means the heart will then have to work harder to pump blood through the body, which can be dangerous in people with pre-existing heart disease. The heart can fail from overwork, or insufficient oxygen can cause cell death and tissue damage in the heart and other organs.
The coronavirus may end up infecting and damaging heart muscle tissue directly, as is possible with other viral infections, including some strains of the flu. The heart may also become damaged and inflamed indirectly by the body's own immune system response.
Viral infections can also cause a heart muscle disorder (cardiomyopathy) that affects its ability to pump blood effectively. When attacked by a virus, the body undergoes stress and releases a surge of chemicals called catecholamines that can stun the heart. "Once the infection resolves, the stressor has ended and the heart can recover," Michos says.
Dr Leslie Cooper, chair of the Department of Cardiology at Mayo Clinic, summarises the findings by noting that there are two dominant cardiac issues related to Covid-19: heart failure, when the heart muscle doesn't pump blood as well as it should, and arrhythmias, or abnormal heart rhythms, that can be related to the infection or to the effect of medications used to treat the virus.
Heart failure can develop due to a systemic inflammatory response to the infection, high lung pressures from lung damage, or occur from heart inflammation (myocarditis).
"For many people who present with heart failure in the context of Covid-19 infection, we don't know if the heart failure is related to myocarditis or to a response to systemic inflammation from Covid-19," says Dr Cooper. For older patients, with existing coronary artery disease or hypertension, it is likely heart failure results from the increased demand placed on the heart and the body's already decreased cardiac reserve capacity, he says. In younger patients, it's likely primary myocarditis caused by the virus.
So, should all Covid-19 patients check with a cardiologist? Dr Michos says that those with heart disease should stay in close touch with their doctors during the pandemic, and take care to comply with medication to manage their heart condition. If they catch Covid-19, they should request a follow-up examination after they recover to detect any further heart damage from the virus.
Patients without known heart disease who get Covid-19 should follow up with their personal physician who may recommend tests if there are symptoms like weakness, shortness of breath or chest pain. In some, these symptoms may persist after recovery since these problems could be the result of Covid-related damage to the lungs or heart.
The Indian Council of Medical Research (ICMR) advises patients of diabetes, heart disease and hypertension to take prescribed medicines regularly. "It is very important. Make sure that you take all medications prescribed regularly as before even if you are mildly symptomatic. Don't stop any medication unless advised by your doctor. Continue with your blood pressure, diabetes and heart disease medications in case you are unable to visit your doctor," it says in its guidelines.
On medication to control cholesterol (statins) and/or blood pressure, ICMR guidelines say: "…there is no evidence that the two groups of drugs - ACE inhibitors (Ramipril, Enalapril, etc) and angiotensin receptor blockers (ARBs) (Losartan, Telmisartan, etc) _ increase susceptibility or severity of Covid-19." It notes that all these drugs are very effective for heart failure by supporting the heart's function, and controlling high blood pressure; hence, it may be harmful to stop these medications. "This can worsen your heart condition," it says.
PS: This column (source: Union ministry of health, WHO, CDC) is for general information. For specific concerns, especially for those with comorbidities, it is advisable to consult your family physician.