New mutations of the virus made the second wave of COVID-19 more deadly opines Dr. Sayan Chakraborty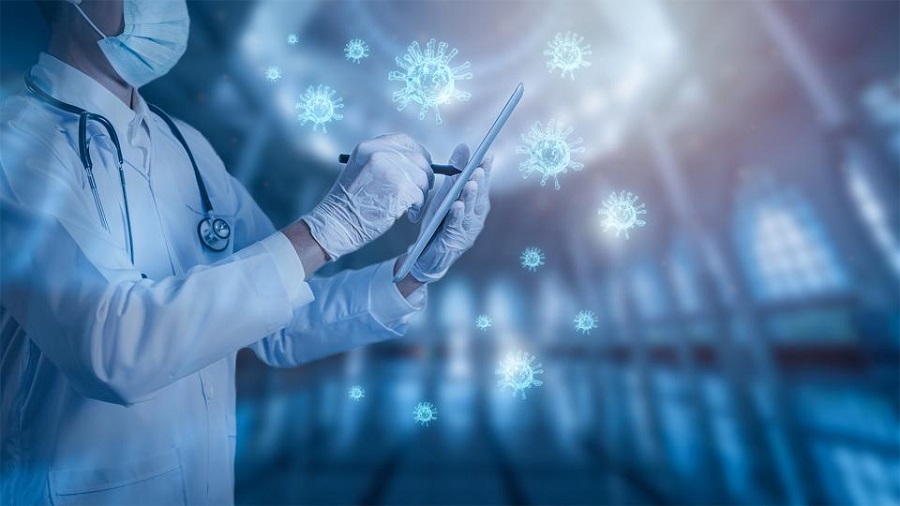 ---
---
India is presently witnessing the deadly second wave of the COVID-19 pandemic. Our country is facing a scarcity of beds, medical oxygen supplies, and essential medicines. There are almost 3.5 lakh cases per day, and the number of deaths is disastrous. The country's medical staff is working to their full potentials to help the people from the pandemic. There was a short interview of a doctor of Infectious diseases at AMRI hospitals, Dhakuria, Dr. Sayan Chakraborty, an alumnus of AIIMS, New Delhi, about the surge in the COVID 19 cases and the measures one needs to take to stop the transmission and his views on vaccination.
Q1. Why is the transmission taking place at a very fast rate?
There are two reasons for the increased transmission: the virus is mutating frequently and is spreading faster. Also, some variants have a higher potential of infectivity. Secondly, the reason is the lack of maintaining COVID specific behavior like not wearing mask properly, not maintaining social distancing, unnecessary outdoor activities, and not washing & sanitizing hands properly. So these are the two main reasons for the surge of COVID-19 infection.
Q2. With a huge surge in COVID19 cases, we are witnessing the second wave in India, so how is the transmission taking place, and how is the virus spreading? What precautions need to be taken to stop the spread?
Proper wearing of mask is extremely essential. We have seen people wearing the masks below their noses, and some are wearing on their chin. One should wear mask properly to stop the spread. Wearing gloves is not necessary, but one should wash hands frequently and adequately. Also, people are not following proper protocols laid to prevent the spread of COVID cases. One needs to get vaccinated as early as possible also. They should not believe in rumors; they should go to the vaccination center, book an appointment, and get vaccinated.
Q3. There are multiple cases that after vaccination, a person is still getting tested positive for COVID, so what are your views on this, and why this is happening.
We have two vaccines in India, COVAXIN, and COVISHIELD, and their efficiency is around 65 to 80 percent. According to the data released by the government of India, the rate of positivity after vaccination is around 0.04 percent which is very low. Also, the main thing is that if the people are getting positive even after the vaccination, the symptoms are significantly less, and the person is recovering at a fast rate as well. Everyone should get vaccinated, so if they get infected, then also the symptoms will be mild and there will be very less chance of increased severity.
Q4. We have seen in the reports that the virus is airborne, and it is in the air, so what are your views on this.
The article published in Lancet was not a research article. It was an article based on expert opinion. But they have shown valid reasons and have said that the virus may be transmitted through the air. However, we need more research on this. However, it is always better to use an N95 mask as it will protect us even if the disease is declared airborne. The cloth mask will not protect. If you are eating food or drinking water, make sure you are not doing this at a crowded place.
Q5. Is there any initiative to support the COVID patients with the supply of oxygen and beds?
Since we have seen the scarcity of oxygen and beds all over the country, there is an increased effort from the government to meet the supply of oxygen. Various manufacturing companies are also joining in to increase the supply of medical oxygen. All organizations are trying to increase the number of beds in the hospitals. Satellite centers are being set up at different hotels for the patients who are unable to make arrangements for isolation at home.
Q6.There is news that taking supplements of Vitamin C, D, and zinc will provide an escape from COVID infections. How much is this true?
This information is entirely wrong. There are no medicines and vitamins to protect you from COVID 19. These supplements provide immunity to the body. One should have a good diet and maintain good immunity to fight against this virus. One can only be safe from the virus by maintaining COVID protocols i.e. wearing masks, maintaining hand hygiene & social distancing, and staying at home.
Q7. What are your views on the steps taken by AMRI hospitals, Kolkata to tackle the situation?
The steps taken by the AMRI hospitals to tackle the situation in West Bengal are highly appreciated. We have assured proper oxygen supply and medications to the patients. We are trying to increase the number of COVID beds as there is a scarcity of hospital beds with the sudden increase in COVID cases. We have already started our satellite centers for patients who cannot get isolated at home. We have also launched teleconsultation services to help the people who are isolated in their homes.
Q8. Plasma therapy is considered to be significant to the COVID patients, and we have seen various organizations helping out with plasma donations. So what are your views on plasma therapy?
We are thankful to different organizations for maintaining plasma banks and helping people in need but genuinely speaking, plasma is not the absolute cure of the disease, and it's also not life-saving. Various research data is showing no benefit from convalescent plasma therapy. ​
For emergency, call our 24x7 helpline number - (033) 6680 0000
This is a sponsored article and curated by ABP Digital Brand Studio. The Telegraph India editorial team played no role in creating this content.