Drug resistant malaria found in Bengal
First patients in India resistant to Artemisinin, a key last-line drug, found by two studies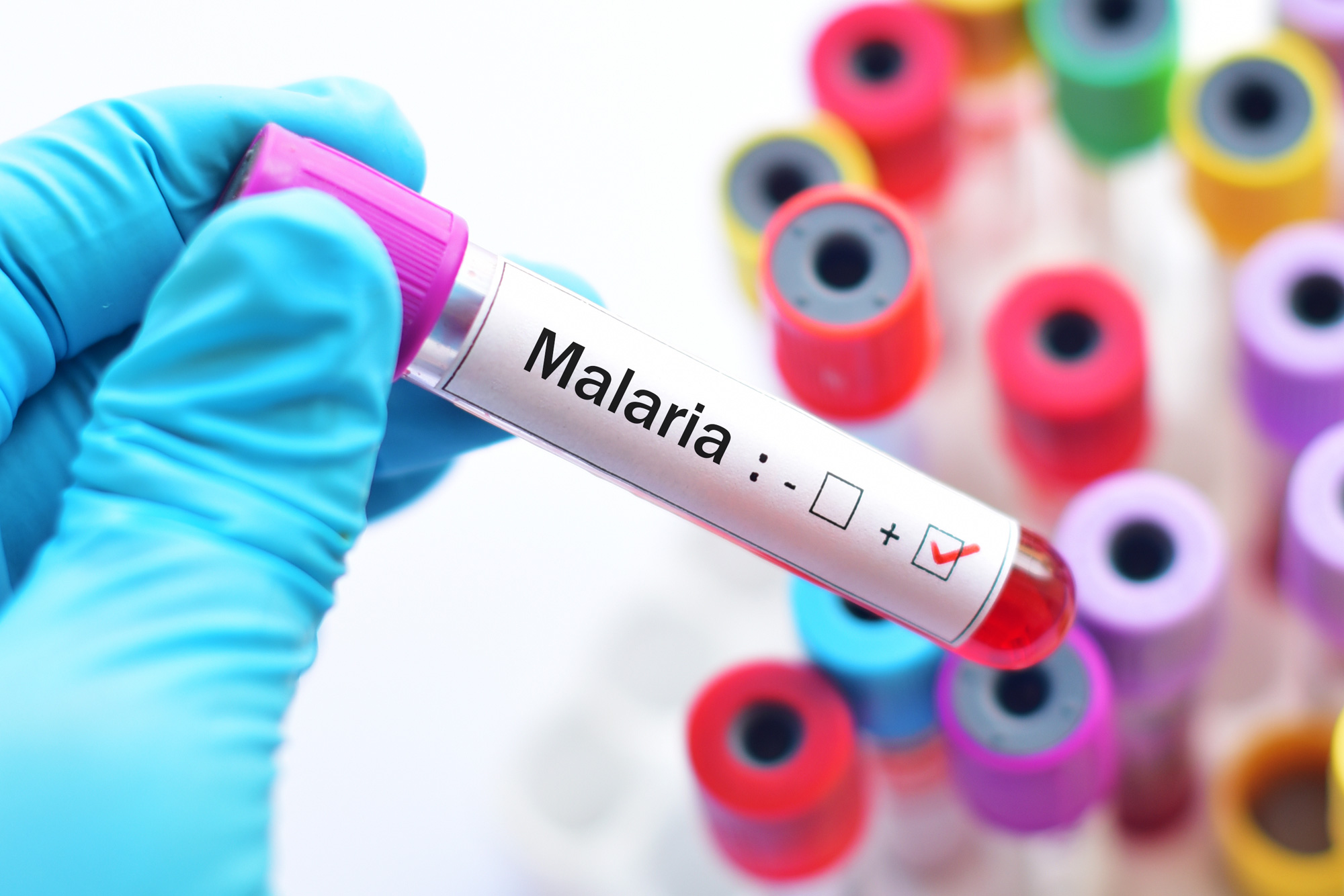 Blood sample with malaria parasite positive
Shutterstock
---
New Delhi
|
Published 19.11.18, 08:21 PM
|
---
Medical scientists have for the first time identified patients in India infected with malaria parasites resistant to a key last-line drug and previously observed only in Southeast Asia — all of them in Bengal.
Two studies have revealed that 20 malaria patients in Bengal who experienced early treatment failure over the past five years had been infected with parasites that displayed partial artemisinin resistance, a trait hitherto unseen in India.
Artemisinin is a drug used in combination therapies to treat patients infected with the Plasmodium falciparum parasite that can cause cerebral malaria.
Combination therapies use artemisinin-derived compounds such as artesunate or artemether — fast-acting drugs that work with longer-acting partner drugs that kill off any residual parasites that survive the initial artemisinin-driven onslaught.
The scientists have found that five among a group of 136 patients and 15 among another group of 226 patients — tracked over a three-year period — failed to respond to the standard three-drug combination therapy: artesunate-sulfadoxine-pyrimethamine.
Three days after treatment, the parasites remained in the bloodstream of the 20 patients, a sign of early treatment failure and partial artemisinin resistance. Doctors then successfully treated the patients with an alternative combination therapy: artemether-lumefantrine.
"Our findings provide reason for health authorities to examine this issue and reconsider treatment guidelines for malaria wherever required," said Somenath Roy, professor of human physiology at the Vidyasagar University in Midnapore, who led the studies.
The Centre had in 2014 specified that patients in the northeastern states diagnosed with Plasmodium falciparum malaria should be treated with the artemether-lumefantrine combination because of high resistance to sulfadoxine-pyrimethamine, the partner drugs used with artesunate.
The World Health Organisation has stressed that partial artemisinin resistance rarely leads to treatment failure. But resistance to both artemisinin and its partner drugs can lead to treatment failure.
The spread or emergence of partner drug resistance or multi-drug resistance "could pose a public health threat as no alternative anti-malarial medicine is available at present" with the same level of efficacy and tolerability as artemisinin combination therapies, the agency said.
A nationwide 15-site surveillance project by the National Institute of Malaria Research had three years ago detected genetic mutations linked to artemisinin-resistance in malaria parasites from three sites in the northeast and Jalpaiguri.
But the scientists had then said that it would be "premature" to conclude that artemisinin-resistance had arrived in India without information about patients.
Roy and his colleagues have correlated patients' outcomes to the finding about genetic mutations through their studies, one published on Friday in The New England Journal of Medicine, and the other accepted by the journal Clinical Infectious Diseases.
"The parasites from our 20 patients satisfied all the four criteria for artemisinin resistance set by the World Health Organisation," said Amiya Hati, senior physician and a co-author, who was formerly with the Calcutta School of Tropical Medicine.
The National Vector Borne Disease Control Programme, a unit under the Union health ministry, had in August this year organised a brainstorming session to discuss malaria treatment guidelines in India with WHO officials and international experts.
"The evidence from Bengal points to the need to strengthen treatment efficacy studies and molecular studies on malaria parasites across the country," Prabir Kumar Sen, director of the programme, told The Telegraph. "There is a need to look for more evidence."
Public health officials said the government would need "more and substantial evidence" before any decision to change the treatment guidelines.
Artemisinin resistance is being seen as a serious threat to the global fight against malaria, and Indian health officials have worried for years that artemisinin-resistant parasites might slip into the country from Southeast Asia.
"At least four patients among the 20 with artemisinin resistance had travel history to Southeast Asia," said Sabyasachi Das, senior lecturer in medicine at the Lincoln University College, Malaysia, and a co-author of both studies.
The Bengal studies also found late treatment failure, which Das said resulted from the inability of sulfadoxine-pyrimethamine to eliminate the parasite, leading to its reappearance in the bloodstream 7 to 28 days after treatment.
Among the 226 patients surveyed in the second study, the scientists observed 18 instances of late treatment failure. The observations of late treatment failure (caused by resistance to sulfadoxine-pyrimethamine) along with early treatment failure (owing to resistance to artesunate), Das said, would bolster the case for revising the treatment guidelines.
A March 2018 WHO document said the trend of partial artemisinin resistance had likely emerged before 2001 and had so far been confirmed in five countries: Cambodia, Laos, Myanmar, Thailand and Vietnam.
The WHO has said that poor treatment practices, inadequate patient adherence to prescribed anti-malarial regimens, and widespread availability of substandard forms of artemisinin have contributed to the emergence of partial resistance to the drug.
India's malaria control efforts have helped reduce the number of cases from about 1.9 million in 2004 to 1.1 million in 2014. The Union health ministry's malaria elimination milestones seek to achieve zero domestic cases and deaths by 2024, interrupt all domestic transmission of malaria by 2027, and maintain a malaria-free status across India by 2030.