Cope with hope
The Calcutta-based psychotherapist and counsellor recounts her experience as a Covid-19 survivor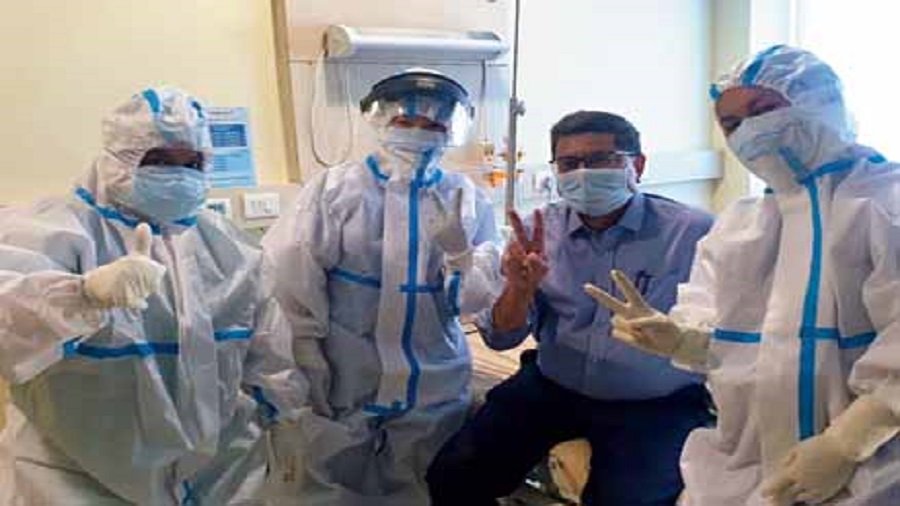 ---
---
It was a rude shock. May be it shouldn't have been, but it was. Even after all the precautions, safety measures and sanitisation, Covid-19 had invaded our home. And it was not just me that it held ransom. My husband Sanjay, my father-in-law, my mother-in-law — all began showing symptoms, and then it was like a flick of fate's finger playing dominoes.
By sharing some snippets from our journey, right from diagnosis to recovery, I'm hoping to not only give you a peek into the mind and heart of a Covid survivor, but also some tips and coping mechanisms to ride this out, should you happen to test positive too.
Unfolding…
Once we tested positive, we had to quarantine ourselves in our rooms to avoid any contact, and thus began a strange couple of weeks for a whole family living under one roof, with no face-to-face contact at all. One of the hardest parts of this forced separation was not meeting my younger daughter Prachi. A special child, she wondered why suddenly she was no longer allowed into her mom and dad's room. We video-called multiple times a day. During this time, my elder daughter Preeyam was our pillar of strength at every moment. With voice notes about work and everything else under the sun, she had an infectious positive outlook, and kept our spirits high.
One of our chauffeurs had been feverish for a while and he hadn't disclosed his symptoms out of fear. Upon getting to know, we had him and the whole household tested. Most of our staff were asymptomatic and only one of them had to be hospitalised. The rest were all sent to a quarantine centre to rest and recover. In such situations, you cannot be casual or indifferent. Any slip here or there can potentially infect and affect other family members, support staff, office colleagues, and anyone you come in contact with.
By God's grace, both my father-in-law and mother-in-law had a mild form of Covid-19. My father-in-law was diagnosed at the same time as I was, and my mother-in-law a week after that. Keeping their age in mind, both of them were admitted to the hospital as a precautionary measure and, thankfully, they fought this period quick and well.
Sanjay had a moderate form of the virus and the doctor recommended hospitalisation. He was released from the hospital on the 16th day and was in isolation in our own room for another seven days.

A home inside my room
I came down with minor fever and sore throat and tested positive. I was confined to my room, completely isolated for 17 days and did not need hospitalisation. I had nausea for seven days, and this seemed to be a new symptom in Covid patients. In terms of medication, I was prescribed anti-nausea medicine, Zincovit, paracetamol as SOS and Vitamin C. Apart from supervising the household and checking in at work remotely, I set up a schedule to deal with this temporary new normal.
The first step was creating a home inside my room. Since I now had to do everything on my own — dusting, mopping, cleaning, washing, laundry, and more — we had tools for these left outside our doors. This included a Magic Mop, cleaning solutions, dusting cloths, liquid dish soap, liquid laundry soap and toilet cleaning materials. The two most important items, however, were two contactless foot-operated bins — one for inside the room, one kept right outside the room — and garbage bags to line the bins. Food used to be served in disposables and kept outside the room on a table. Whatever couldn't be consumed was disposed to ensure no contamination via contact.
As a part and parcel of daily life, we're running around chasing time, even trying to make more time. Ironically, this time, me-time found me. I finally could do what I wanted, how I wanted to, whenever I wanted to. But the terms and conditions of this contract mandated solitary confinement, with inanimate objects posing as shadow companions. While my mobile phone and laptop supplied a steady stream of music, movies and the occasional web series to cheer me up, it was reading The Magic by Rhonda Byrne and writing my journal that really got me through this time.

Gratitude & Thanks
Thanks to almighty God who gave us strength to sail through bravely. I must express our heartfelt gratitude to the brave Covid warriors who worked round the clock to provide the best healthcare. To the doctors, nurses, technicians, and hospital staff — you went above and beyond and your dedication and commitment has us forever indebted.
To our well-wishers and extended family — you were our rocks. Whether we were stressed, worried, anxious, or sad, we could always count on you. The love, concern, care and support we received cannot be expressed in words and a lifelong imprint of it will forever remain in our hearts. a braver tomorrow
When someone heard I was penning down my experience, they said, "Why do you have to talk about this? No one needs to know!" I wondered why. Why should I keep this a secret? This was nothing to hide. This was a different type of "Log kya kahengey?" — a stigma I fight on a daily basis in my journey to spread awareness about mental health.
Now, to end on a positive note. The brighter side of recovery is that once you've battled this virus and emerged victorious, you can go back to your regular routine. Whether it's going to work or to workouts, meeting friends or family, you are no longer endangering your near and dear ones. While navigating this scary new normal, remember we're also stepping into a brave new world. And now that new maps have been drawn to navigate these previously uncharted situations, it's time to take back our lives. Veni, vidi, vici. #StayStrong #StaySafe #StaySmiling
Our home isolation survival kit
Respirometer
Electric steam machine
Blood pressure monitoring device
Pulse oximeter — one for each family member
Thermometer — one for each family member
Paracetamol 650mg or 1,000mg
Vitamin C tablets
Zinc tablets
Citrus fruits
High-protein diet
Staying hydrated (warm water)
Breathing exercises
Our homemade magical immunity booster drink: kada
Thoughts on things to do
If you have a persistent or an on and off fever that spikes and subsides over the span of one week, or if you have the slightest change in your breathing patterns, connect with your doctor and arrange to go to the hospital immediately. Your body is speaking to you. Listen. Now.
After returning from the hospital stay, observing isolation for seven days is mandatory.
Check your fever and oxygen level every four hours.
If a couple is positive, both can stay in one room, sharing everything and taking care of each other.
Whether you are the patient or the caregiver, if you feel too overwhelmed, connect with a counsellor via video or telephonic consultation. This especially applies to anyone who is living alone and quarantining. Your mental health is just as important as your physical health.
Post-diagnosis, if preventive hospitalisation is recommended at any point, keep reminding yourself of the word 'preventive'. My husband, father-in-law and mother-in-law were all hospitalised so that they could be under supervision 24x7.
Create WhatsApp groups — one for colleagues, one for family and one for close friends. It became practical and easier to update twice a day.
Please Note: Any medication should be taken only as per your doctor's advice and under their supervision. All the opinions expressed are that of the columnist's.
The author is a psychotherapist, counsellor, founder of Caring Minds, ICanFlyy, Cafe ICanFlyy, and TEDx speaker