One more layer of protection
Just when you have got used to masks, do you need to add face shields to the mix?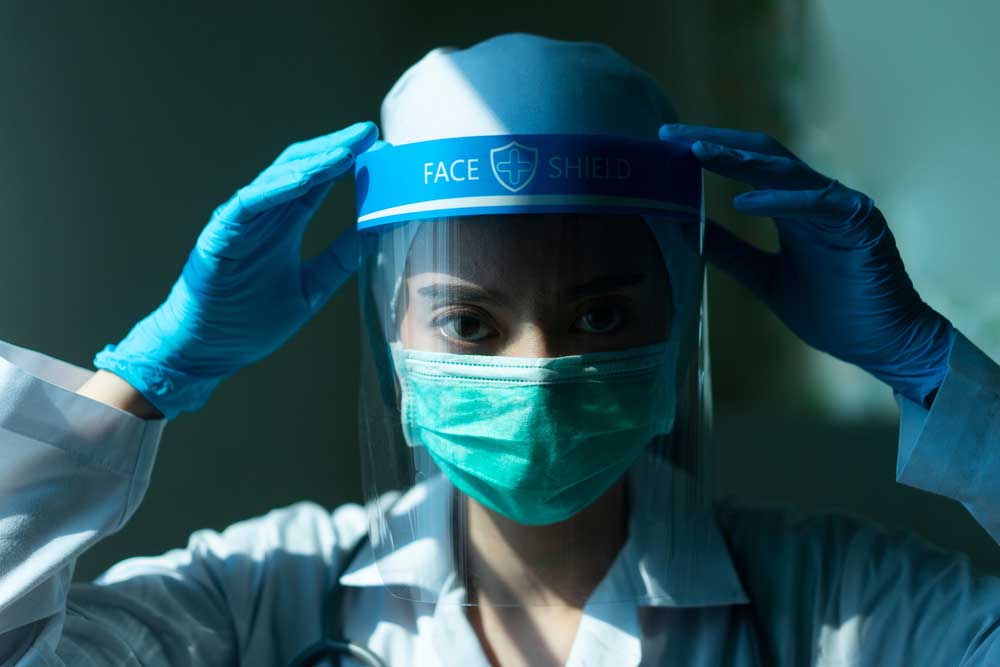 Shields are more comfortable and keep people from touching their faces.
Shutterstock
---
Published 09.06.20, 06:19 PM
|
---
The Covid-19 graph in India is rising by leaps and bounds. And now that the lockdown has been lifted and people are having to travel by public transport and mingle on the pavements, it's becoming difficult to maintain social distancing.
Some people have got used to masks but many find it difficult to breathe in them and often remove or lower them for a whiff of air or to speak. Then there are others who keep touching their masks. That is dangerous because their hand can get contaminated by secretions from the nose and throat. Also, they might get infected if they touch a contaminated surface, such as a door handle, and then touch their face. In effect, such people don't protect themselves and can infect others if they are contagious.
As parts of the country reopen, some experts want you to consider another layer of personal protective equipment: a clear plastic face shield. In an article in JAMA, Dr Eli Perencevich, infectious disease physician at the University of Iowa and the Iowa City Veterans Affairs Health Care System, US, and two colleagues have argued that clear plastic face shields could help reduce transmission of infection when added to existing public health measures.
"Face shields, which can be quickly and affordably produced and distributed, should be included as part of strategies to safely and significantly reduce transmission," wrote the trio of physicians. While the US Centers for Disease Control and Prevention began advocating the use of cloth masks to help stop Covid-19 transmission in April, laboratory testing suggests that cloth masks are able to filter out only some of the virus-sized aerosol particles. According to Perencevich's group, "face shields may provide a better option". To be most effective, a face shield should extend to below the chin, cover the ears and "there should be no exposed gap between the forehead and the shield's headpiece".
Shields have many advantages over masks. First, they are endlessly reusable — simply clean with soap and water or disinfectant. "Shields are more comfortable to wear than masks and form a barrier that keeps people from touching their own faces. It covers a wide area of the face, from the forehead to the chin. You need not cover your eyes with a safety goggles," says Calcutta-based infectious disease expert Dr Amitabha Nandy. "While speaking, you need to pull down a mask to make things easier but that isn't necessary with a shield," he adds.
And the face shield "allows visibility of facial expressions," the JAMA authors pointed out.
One study in 2014 suggested that a shield could reduce a user's viral exposure by 96 per cent when worn within 18 inches of someone who was coughing. This means face shields are useful in a crowded bus, train or market.
Another advantage is that face shields can be sterilised with an alcohol wipe or rinsed with soap and water. Surgical masks and N95s, on the other hand, are meant to be disposed after each use, although some studies have shown masks can be reused two or three times after being sterilised before they lose integrity.
Some experts, however, feel that face shields have their limits, too. In close range, there are times when face shields are not as effective as the N95 that creates a seal around the face. "Because shields usually have some gaps, droplets carrying the virus can come around if you're facing sideways, or the infected person behind you coughs, sneezes, laughs or talks loudly," says Soutik Panda, a Calcutta-based critical care specialist. Also, there is no research on how well a face shield protects other people from viral transmission, a primary benefit of masks.
Perencevich and his colleagues expect that more research will show shields to be superior to cloth masks, not only because of full-face protection but also because they are nearly impossible to wear incorrectly. And they stressed that face shields should only be one part of any infection control effort, along with social distancing and washing hands.