The tough get quitting
Giving up on cigarettes is probably one of the toughest things that you will ever do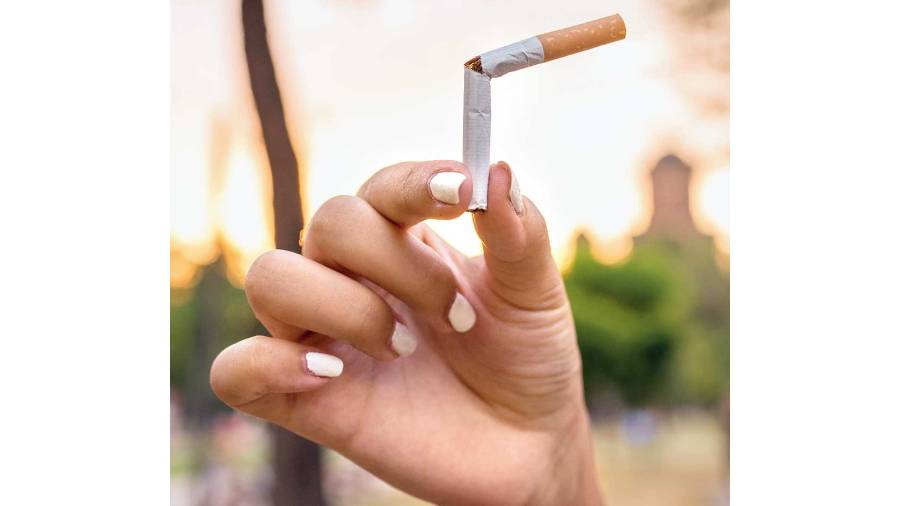 ---
---
Smoking is not only a hazard to your own health, but also to those around you. It's time to quit.
Quitting cigarettes is probably one of the toughest things that you will ever do. Some people I meet recount with pride how they quit smoking in a single day. It is a landmark in an ex-smoker's life. Let's take a look at how to make what you now believe is impossible, possible.
The purpose:
Ask yourself why you want to quit? No amount of external influence will help unless you are intrinsically motivated to stop smoking. You must be true to yourself with the reason. It will be your strongest pillar of support. Here are some quick pointers that may aid you in finding your sense of purpose:
• Finance: A packet of cigarettes costs anywhere between Rs 100 to Rs 300. Assuming you finish a pack a day, this would mean burning up Rs 3000 to Rs 9,000 per month or Rs 36,000 to Rs 1,08,000 a year. Even if you are in the lower end of the spectrum, it is a lot of cash to burn! Why not buy an iPhone instead?
• Health: Whether sedentary or active, smoking adversely affects everyone. Loss of stamina, compromised sense of taste and smell are the surface indicators. Deep down inside, regularly drawing smoke into your lungs has severe implications for your health. In fact, the first things you would notice immediately upon quitting smoking are an enhanced sense of taste and smell, high energy, greater cardiovascular efficiency and lowered blood pressure.
• Social: Smokers are not welcome everywhere. They smell and they pollute. In certain countries, smoking outdoors is prohibited other than in specially demarcated zones. An airport smoke-room feels like a gas chamber. So, why put in all this effort and money to be shunned socially?
The plan:
• Decide on the "D-Day" that you will quit and QUIT! Prior to the event, get rid of your tobacco inventory. Go so far as to give away your lighters and other smoking accessories.
• Decide on whether you want to opt for nicotine replacement therapy (NRT). Common NRTs are skin patches or nicotine gums. They are available at any medical store and do not require a doctor's prescription. You can try out an NRT of your choice earlier and see if it works for you.
• Sometimes, oral substitutes like natural mouth fresheners, sugarless gums and natural candies also work great when the urge to smoke arises. Stock up on these.
• On D-Day, be prepared to suffer a tremendous urge to smoke. Make use of the NRT when the urge arises. Keep in mind that the urge lasts for only 3 to 5 minutes. It is not long when you weigh it against the larger picture of your health, wealth and a much better quality of life.
• Be aware that the urge to smoke dramatically reduces with time. The first day or two will be tough. Thereafter, it becomes progressively easier.
• Set up a support system of friends and family. Avoid fellow smokers and be careful at parties and social occasions. Alcohol and cigarettes go hand in hand. Do not fall into this trap!
The implementation Implementing the plan involves addiction management and behavioural change. But, above all, it requires a resolute purpose to stick with the plan. So act now and frame your strategy. Quit smoking once and for all!
The writer, a martial arts and fitness coach, is the founder of Mike's Martial Arts, a Calcutta-based martial arts and advanced functional fitness studio. Contact: mayukhpb@yahoo.co.in