All about artificial intelligence powered dentistry
The unique synchronization is changing everything, from smile designing to other procedures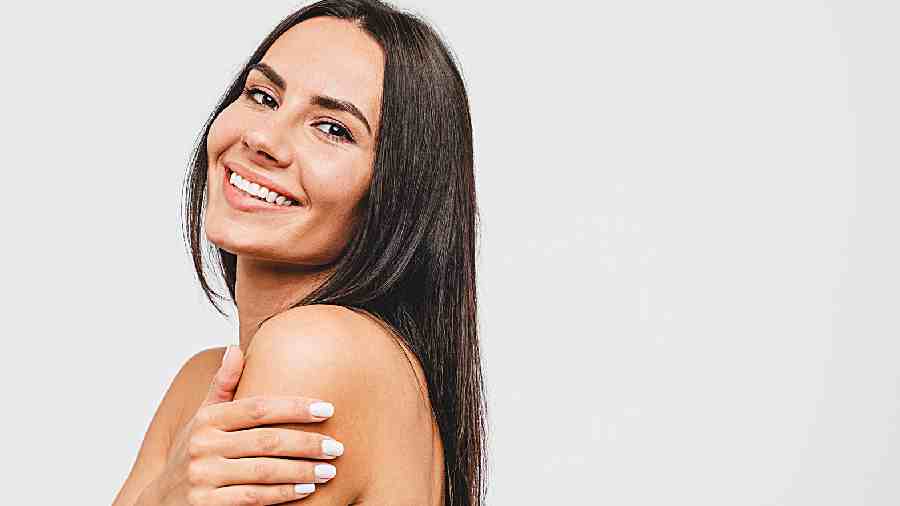 The perfect smile can be visualised by artificial intelligence even before the dentist has done anything
The Telegraph
---
Published 25.01.23, 01:53 PM
|
---
A has done anything beautiful confident smile is desired by all. When a patient wishes to attain that smile but is sceptical about undertaking the treatment procedure as he or she is not able to visualise his or her treatment outcome, is when a clinician can use the artificial intelligence (AI)-powered digital smile designing (DSD) tool.
Digital smile design is a mode that helps us create and project the new smile design by attaining a simulation and pre-visualisation of the ultimate result of the proposed treatment.
A design created digitally involves participation of the patients in the designing process, leading to customisation of smile design as per individual needs and desires that complements the morpho-psychological characteristics of the patient, relating to patient at an emotional level, increasing their confidence in the process and better acceptance of the anticipated treatment.
AI is changing the face of dentistry by digitising the entire practice. For instance, now root canal treatment (RCT) can be finished and crown can be delivered to the patient within two hours. Most of the dental procedures like RCT, tooth extraction, implants, or cavity restoration end with the patient getting a filling or a crown or a bridge or an implant crown and all of this usually takes two-three sittings spread over about 10 days. But with the help of digital material and AI-based advanced technology, the task of a week or 10 days is delivered in less than an hour to the patient and, that too, with the best care and perfect fit and aesthetics at the same cost as any other dentist.
It is a modern concept of single-visit dentistry where the patient is only coming once to the clinic and going back with a smile. This has been made possible with AI-powered CEREC (chairside economical restoration of aesthetic ceramics) which means that a dentist can economically restore damaged teeth in a single appointment using a high-quality ceramic material that matches the natural colour of the other teeth.
It uses a sophisticated combination of high-tech AIbased precision machinery and computer technology to produce custom restorations that include full crowns, veneers, inlays and onlays. With ongoing research and development, the CEREC system has earned its role in dental history as the technology that gives patients one of the finest restorations in the world in only one visit. This eliminates the need of a good lab or technician. Dentasia is the only clinic in West Bengal to own the Prime Mill, which is the heart of the CEREC system.
It's quite amazing to think about the dentistry performed today as compared to even 10 years ago. We simply love technology and digital dentistry is no longer a wave of the future, it's happening now. This is what has driven the founders of Dentasia to integrate CAD (computer-assisted design)/ CAM (computer-assisted manufacturing) technologies in their practice. Dr Preeti (Gulgulia) Bothra isan aesthetic dentist, implantologist,associate fellow in laser dentistry(WCLI, USA) and has a PGD inhospital dentistry (UCLA, USA),BDS (Hons) (WBUHS). She canbe reached at +918240465388,+913335573911, or at Dentasia,8/3 Loudon Street. Email:dentasiakolkata@hotmail.com Website: dentasia.net