When you have an adda planned with Raima Sen, you know it's going to be a memorable one. She will floor you with her charming smile and crack you up with her witty, whacky and honest replies. Such was the case when Pramita Ghosh of t2 engaged in an Instagram Live chat with the actress who has worked for more than two decades in films.
Hi! Are you back to Calcutta from your vacation?
I just came back from Kullu! This was the first time I went and I had a great time. We did a lot of trekking, we walked a lot, I was staying at someone's house in the middle of apple orchards and it was beautiful, lovely weather. I think I took a break after one-and-a half, two years and I went on a holiday with my friends!
How has lockdown been for you in general?
Last year lockdown was a new thing for everyone. We were all very excited initially, all working out, chatting 24X7 on video call. I learnt how to cook, then watched a lot of movies because normally we are busy shooting otherwise. But this lockdown, since we did all of that last year, this time for me it's been like trying to relax, watch a little bit of movies, do my Insta shoots at home whenever I can and reading a little bit here and there.
Since today we are talking about everything style… how would you define your style?
So I love wearing my jeans and I have this thing for white shirts. Comfortable loose clothing as such unless I have an event and I have to deck up.
You had mentioned earlier that you love wearing your mother's saris… what kind of a sari person are you?
Yes, I wear a lot of her saris and I ask her for advice because she knows everything. I tell her what kind of event I am going for and she picks and chooses. I prefer light saris and not heavy-duty saris... unless I have to wear it. Chiffons, georgettes or light silks.
What are the five things you cannot do without in your wardrobe?
Jeans, white shirts and that black dress that we all need especially when we don't find anything to wear and it goes with every occasion. But personally I like colours like yellow, white, pastels and I am wearing a lot of light colours at the moment.
Which trend are you crushing on?
Right now I am buying a lot of these tops with massive sleeves. And off-shoulder tops. Then some stripes, embroidered patches...
Which trend would you like to say goodbye to?
Peplum! I had a lot of peplum tops and dresses but now I am done with it.
A trend you wish to bring back?
(Thinks) Pencil skirts, they really make your figure look good.
A trend you would never wear?
When dungarees were in fashion I never wore them, then culottes and those long shorts. Then yes, polka dots!
There are two kinds of people — those who repeats clothes and those who don't. Are you the repeating clothes person? If so, share three things you love repeating.
A lot! I am someone who keeps buying clothes and then I am so lazy that I will have this one suitcase lying in my room and I will pick out clothes from that, so I repeat a lot of clothes. Then when I get tired of that suitcase I take another one out and it goes on... (laughs).
What about sharing clothes? Having a sister could mean a lot of sharing/borrowing… between you and Riya, have you two ever shared/fought over wearing each other's clothes without informing?
She doesn't wear my clothes because she has a style of her own but when she is not in town I quickly go and wear her clothes! And of course when she finds out, she shouts at me saying "You made my clothes big"(laughs) I am always slyly wearing her clothes.
What about accessories?
Ya, she takes mine since she is not an accessory person.
You come from a family where everyone has a distinct sense of style… who is your go-to fashion advice person?
Well of course my mother will think otherwise but I think she was very stylish in her time and even now she is, and she wears a lot of pencil skirts even now! So I always go to her for advice and she always helps me... sometimes I wear her clothes from her college days, which are in good condition... like her beautiful silk jumpsuits and everything...! She doesn't say no. What she buys me now, sometimes I reject (smiles) but she is my go-to person.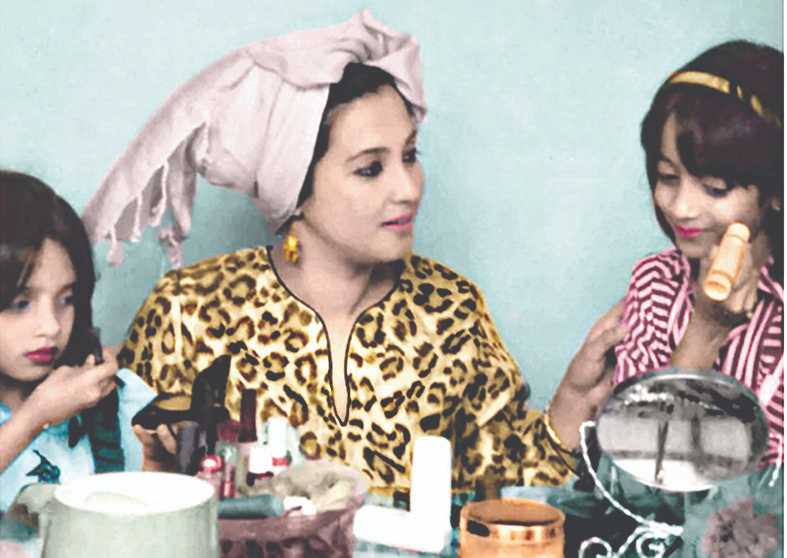 Raima with mom Moon Moon Sen and sister Riya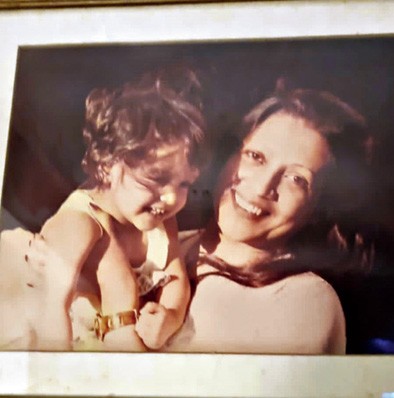 Raima with Suchitra Sen
Talking about family, what has been the biggest compliment you received from your grandma, Suchitra Sen?
When I used to go to my functions and events I would go up to her and ask her how I looked, and she would always tell me to do my eyes and hair in a particular way, and wear a long necklace. Just like what my mom would say too... that way both of them are very similar. She would always give me tips, and I miss that. She would always say don't wear such heavy ghagras, wear light clothing, keep it simple, elegant.
What did you love the most about her style?
She was the trendiest actress of her time! Her blouses the way they were cut, her saris with embroidery borders on plain chiffon saris are stunning and all that is here. The way she would tell me to cut the blouses for the saris... in all the films you will get to see whatever saris she wore... her blouses were so stylish. I still have all that (smiles) and I just need to alter and wear them!
We all have had crazy fashion phases. Did you have any wild fashion phase in your life?
When I was in school and I went out or in college, I was very much into those mini skirts, high heels, patent leather stuff, leopard prints.
What about fashion faux pas? Did you have any?
(Laughs) many times! There was an award function in Bombay and I wore this beautiful gown and in the middle of the function my strap came off but luckily Paoli (Dam) was with me and she managed to somehow fix it. I had to leave the function once the ceremony was done... so many incidents like that.
You have flawless glowing skin! Tell us your secret?
First, it's the genes, my parents have great skin. Then on a daily basis I drink a lot of water, at least 3-4 litres of water a day no matter what I do.
Any beauty regimen that you follow?
Uptan! I do that once in a while and just keep your skin clean, use a good toner and a face wash and moisturise your skin well. Then use sunscreen. Also, we do not eat restaurant food too much at home. I feel if internally you are healthy, it will show on your skin too.
Are you a superfood person?
Not at all! I am dal, rice, chicken, mutton and fish person. I am a foodie and I love eating! My grandmother would always say, eat everything and work it out, go to the gym but don't compromise on food.
Have you been working out now or during the lockdown?
Last lockdown I worked out like crazy and lost a lot of weight but this lockdown I think I got lazy and in fact I haven't worked out for two-and-a-half months now but I'll get back to it (smiles).
What kind of a workout regimen do you follow?
Normally I do weights. I like kick-boxing, weight training. Last year I worked out every single day but not once this year (laughs). Every day I tell myself I will start today but that day doesn't come.
What are the essentials in your make-up kit?
For me the kohl pencil is the most important. More than lip gloss, or anything, my eyes need to be done properly!
We know that you have done your make-up yourself on many occasions and are quite good with it...
I basically get my make-up done by make-up artists because I'm not too great at it, but if I am doing it myself I just do my eyebrows and eyes. Normally I don't do a base or anything, I apply a moisturiser and a light lip gloss. I use my kohl pencil for the eyes... like Shehnaz, Colorbar or Lakme.
If you could share a beauty hack with our readers, what would it be?
Use a mist spray or a moisturiser on your skin before make-up so that it hydrates your skin. And for me I just need the kohl pencil and suppose I have nothing in my bag, I use that only as a brow pencil sometimes. So one pencil does the whole thing.
What would be the ideal make-up look and OOTN for a night out?
A little black dress, I wear jumpsuits, pantsuits also work and make-up-wise I just keep it simple. Smokey eyes is one of my fave things and I think everyone knows that too!
Are you much of a hoarder?
I am a hoarder! You have to see my house, my mother gets angry with me all the time, my cupboards are full of clothes, my grandmother's flat is full of clothes, suitcases piled up and then cardboard boxes... and my mother is like "Why don't you empty up?". So once a year I feel I must empty out and I send all my clothes to charity but I should be doing it six times a year.
For a date night, what would be your style tip for a man and a woman?
For a woman, wear anything that suits your body type and not necessarily what's trending. You have to go by what you feel good in. Don't try to follow or copy anyone blindly. You know yourself the best. For men, I'll say the same thing, don't overdo it and don't underdo it. If it's your first date don't go over the top, I mean that's really a wrong impression to give, wear something comfortable and stylish at the same time.
Personally, what do you like men dressed in?
I prefer men in shirts than T-shirts any day! I like men in formal suits.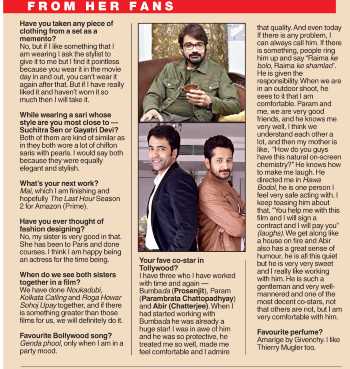 Rapid fire with Raima
• A beauty service you hate getting done: Gel nails. I don't have the patience to sit for hours to do it.
• Something you loved watched recently: Yesterday I watched Ray, it was quite interesting and I liked Forget Me Not. Then Queen's Gambit, Mirzapur part 2, Maharani I watched on Sony Liv and loved it! I am going to watch the American Playboy soon.
• Your fave on-screen looks of yours: Of course Noukadubi, Chokher Bali, Shobdo, Abby Sen. The funniest look in Hindi movies will be Honeymoon Travels Pvt Ltd. Children of War was interesting and different. The recent one would be The Last Hour, in that red sari.
• Fave designers: I have a lot of Alexander McQueen and DVF (Diane von Furstenberg). In India it will be Sabyasachi, Anamika Khanna, Shantanu & Nikhil and Gauri & Nainika.
• Flat or heels?
Flats any day!
• Mascara or lipsticks? Mascara.
• LBD or white shirt? White shirt.
• Fave fashion icon: From my family, I would say my grandmother and mother. I also like the way Sushmita Sen dresses.
• First thing you would do when the pandemic ends: I am hopefully resuming my shoot for my show called Mai on Netflix under Clean Slate Filmz. I am waiting to finish that.
• Long hair or short hair? Short. I had cut my hair for the Netflix show but over the one year it has grown a lot. I am again going to cut it short for the role. I don't miss long hair any more, I feel short hair is trending.
• Fave travel destination: Switzerland.
• A destination you would love to visit: Istanbul.
• A perfume brand you like on men: As long as you smell good it's fine. But may be Chanel men and Bleu.