Tota Roy Choudhury gets nostalgic about 'TGOT'
"Even though it was a brief role I did it for Ribhu. I got to work with some talented, passionate and committed individuals and that made The Girl On The Train special"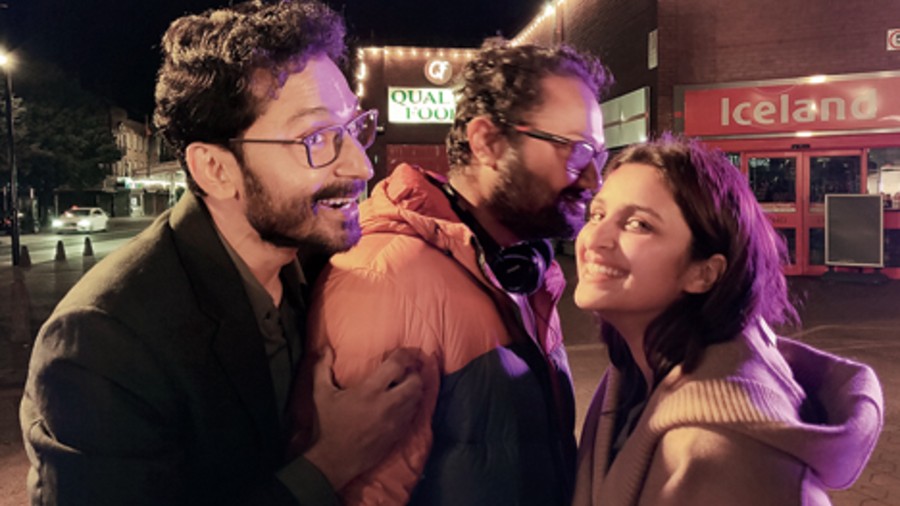 Tota, Ribhu and Parineeti
Sourced by the correspondent
---
Published 18.03.21, 12:42 AM
|
---
It was quite late in the evening when I reached my hotel in west London after a combined journey and waiting time of almost 21 hours. Upon checking in, I straightaway paid Ribhu (Dasgupta; director of The Girl on the Train) a visit. He was going through the next day's schedule. "So what are the scenes that we are filming tomorrow?" I asked. He was taken aback. "Don't you want to rest tomorrow?" Hell no. I was super charged! I still remember that while shooting in Kalimpong for Sujoy Ghosh's Kahaani 2, I was reading the Paula Hawkins novel. Later I watched the movie and was glad when Ribhu personally called and offered me the role essayed by Edgar Ramirez, he of Hands of Stone biopic fame. "You are shooting the day after," he said.
My call time was at 8am. I was pacing around the lobby by 7.55am when I found a big guy in long shorts who looked like an aging punk rocker, enquiring after 'Roy'. I had a feeling that he was James and he was to drive me to our location. I walked up to him, shook hands and introduced myself. "You are on time! I am truly impressed," he exclaimed. I realised that he had experienced our famed tardiness once too often. "Is Addity here as well?" he enquired. "Well Aditi (Rao Hydari) is grabbing a cup of coffee as we speak and will be here in seconds". "Hallelujah," he muttered and walked back to his car, happy that we didn't keep him waiting.
We drove to a house in Harrow, which was to be Nusrat and Anand's home. It was a beautiful house in a quiet and posh neighbourhood. My first scene was with Aditi who played the role of Nusrat John. It's the pivotal scene where Mira (Parineeti Chopra) watches Dr Hamid (yours truly) embrace Nusrat and suspects that Nusrat is straying from her picture-perfect marriage. Aditi is a wonderful actress who has expressive eyes and an air of delicate sadness around her.
For the role of Nusrat, she didn't have to act, just behave. It was easy to react to her and the scene went off beautifully. Ribhu is a director I love working with because he shows his actors the way but doesn't teach them how to walk. He allows his actors to interpret the role within a broad parameter and is always a pleasure to work with.
By the way, there wasn't a train track nor a fence. A fence was erected by our production designer Sunil Nigvekar and the DoP Babu Sadineni laid a trolley track and mounted the camera on it to give the effect of a moving train. Later, as I was resting, a strapping lad walked into my room by mistake and apologised immediately. "Sam, relax. You are more than welcome." He was surprised that I knew him. I said in Bangla, "Tumi toh bhai amaar rajyer chhele, kaeno chinbo na!" That's how I met Shamaun Ahmed, who essayed the role of Anand with aplomb, and we hit it off right away. In fact, many an evening was spent with Shamaun and Avinash (Tiwary, another wonderful soul and a talented and committed actor, who played Sekhar, Mira's husband) over dinner or at the entrance of our hotel where we discussed films, the film industry and a host of other topics. I truly enjoyed their company and the time we spent together.
Next day we were to shoot at Borough Market. It's a bustling tourist spot and has a lovely view of the London Bridge. We were on our toes since it's a difficult place to shoot. The scene was where Nusrat is accosted by her blackmailer and when Hamid asks her about him she lies that he's a friend. The next scene was to be filmed on Parineeti Chopra. Since it was a Friday afternoon, the early weekend crowd started congregating there. Keeping in mind her immense popularity, the unit was on tenterhooks. But she was absolutely chilled out. Parineeti embodies the expression 'sugar and spice and all things nice'. She is a warm and bubbly individual so I was quite taken aback with her transformation to the damaged and alcoholic Mira. She was truly impressive. She was to walk along the crowd while taking swigs from her hip flask.
The Indians and Pakistanis in the crowd didn't realise she was walking alongside. Some did and stared with their mouths agape. But Ribhu got his shot and we beat a hasty retreat to Southall where I was to shoot with Parineeti. It was the scene where Mira threatens Dr Hamid at gunpoint. A fun fact: the car in which we shot in was allowed to be used by a second-generation British-Indian Sikh. The car was perfect for the scene and when Sunil requested the gentleman, he readily agreed. He showed me the various functions of the car and insisted on speaking in Hindi though he apologised for his lack of fluency. I was extremely touched by his generosity and earnestness.
One morning at breakfast while balancing toast, eggs and coffee and trying to manoeuvre my way towards my table, I heard a lady exclaim aloud, "Oh my God, Tota! What are you doing here?" It was Kirti (Kulhari) and she had arrived the night before. She didn't know that I was playing Dr Hamid. Now Kirti and I had done Madhur Bhandarkar's film Indu Sarkar together. She is a fantastic actress and a wonderful human being. It's always a pleasure collaborating with her. We were to shoot a scene the next day where Inspector Kaur (Kirti) comes to Hamid's chamber to interrogate him. In the first take, I played the role as an innocent. Ribhu said, "While I love what you did, could you do it as if you are guilty and throw in a bit of intrigue, while at it?" Never to shy away from a challenge, especially from my director, I did as asked and that's the take that was retained in the film. After the shot Ribhu came and hugged me. Suddenly he exclaimed, "That's it then!" and the whole unit started clapping. I realised it was a wrap for me.
Even though I would like to believe that I have become seasoned by now, every time it's a schedule-wrap for me, I feel a tinge of sadness. I bade goodbye to everybody and to Dr Hamid. Even though it was a brief role and I did it only for Ribhu, I got to work with some very talented,
passionate and committed individuals and that made this film, The Girl On The Train, special.