Pankaj Tripathi is the central focus of Laali
A made-in-calcutta short film directed by city boy abhiroop basu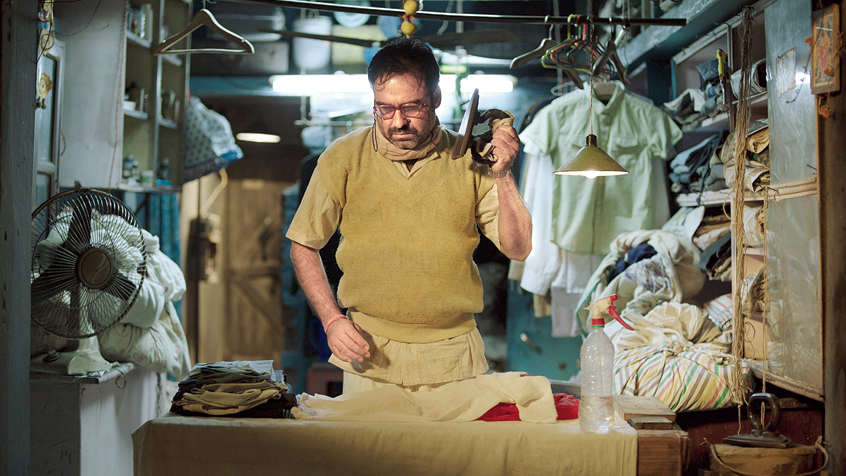 Pankaj Tripathi in Laali.
Sourced by The Telegraph
---
Published 04.11.20, 01:06 AM
|
---
Calcutta boy Abhiroop Basu's latest short Laali is presently being screened at the Dharamshala International Film Festival, where it had its world premiere. The 35-minute short, starring Bollywood's go-to man of the moment Pankaj Tripathi and shot in Calcutta, is a powerful and poignant look at loneliness and melancholy through the eyes of a man (played by Tripathi) who irons clothes for a living. We chat with Abhiroop — a South Point School and St. Xavier's College alumnus — on his much-talked-about short.
What's the genesis of Laali?
I draw references from life and then put them into cinematic form. It was just one of those days where I was standing in front of Dassani Studio (in Tollygunge) and waiting for someone. Just next to it is a shanty with a man who irons clothes. I happened to notice him over some time that day and during that time, an entire marriage procession — complete with band and baaja — passed in front of him, but he never even looked up once. That kind of intrigued me, and that's where the concept of Laali came in.
This man looked so lonely, he looked so indifferent to what's happening in the world outside.... I wanted to know more about him. So I went back to that place for months, and I would observe him from afar. And not even once did I spot a woman talking to him or idling close to that shanty. I kept wondering whether he had a woman in his life, and if he did have one, how would it be? That's how the concept and eventually the whole story of Laali came into being.
The opening shot of this short is very special, it's a continuous nine-and-a-half-minute shot. That magically sets the tone of the film. This was an audacious take that we somehow managed to pull off, and all credit goes to Pankaj Tripathi for acing it. Initially, we planned to break it up into shots, but when we saw it as a whole, we decided to keep it as it is because it's an interesting experience that immerses you. You get what Laali is all about in that one opening shot. It's a 35-minute film.

What made you think of Pankaj Tripathi for the part of this man?
When I write films, I write for actors. When I wrote my last short Meal, I wrote it for Adil Hussain and I was lucky to get him on board. As a writer and director, it becomes easier to have someone in mind because then I can visualise how it will unfold in the screenplay. I wrote Laali for Pankaj Tripathi. What I have noticed about him over the years is that he can hide himself behind a character. Very few other actors can do that... the great Irrfan Khan could do it. Today, in my opinion, only Manoj Bajpayee and Pankaj Tripathi can do that. Pankaj Tripathi's face was the one that came to my mind when I thought of this man, the fact that he could really take on the garb of this man and hide himself behind it.

We all know the kind of magic that Pankaj Tripathi can bring to a part. Did he surprise you often on set?
He's like Virender Sehwag... his beauty lies in his unpredictability. If he is batting at 99, he will still hit a calculated six. Pankaj Tripathi is very unpredictable in his process. What we did for this film was that we talked a lot. The kind of background that he comes from, he's seen a lot of istriwaalas in life. We just had long conversations — sometimes for five-six hours — about our past experiences, and none about the film. It was then that he shared a very interesting experience about his childhood in Bihar. There used to be macha programmes in his village where a particular woman would come and dance. Since his home was the biggest in his para, this woman would go and dress up in his home. He was a kid, but he was mesmerised by this woman, almost in love with her. Later on, he figured that this woman was a transgender. He also narrated some other intriguing incidents from his life, none of which had anything to do with our film.
Laali is about this man getting emotionally attached and then obsessed with a dress, and when we shot that scene, I just reminded him of this incident from his childhood. That was the only thing we communicated and the rest just fell into place. It's interesting how memories can form present realities. That's how we approached Laali. So who is Laali? It's that woman from his childhood.

Given that you've made quite a few, what is it about the short as a storytelling format that interests you?
I see stories in general. Some stories need 11 minutes to tell, some may need 30 minutes, while some require a few hours to be told. When I wrote Laali, it ended up at 15 pages, which makes it a roughly 30-minute film. Short films, to be honest, really give you the platform where you don't have the external pressure of a producer and they also give the director the license to explore a story fully. It also gives freedom to the actor. Laali is essentially a one-actor, one-character, one-location film. For 35 minutes, you will only see Pankaj Tripathi in a broken down istri ka dukan. So a short film gives one a lot of freedom. Having said that, I am also working on two feature films at present.

As a creative person, how are you viewing the explosion of form and content, as well as the clampdown on freedom of expression that sometimes accompanies it, in the Indian entertainment space?
To be honest, freedom of expression is under threat right now, the recent Tanishq ad (that had to be taken off air after public protests) being a prime example. Our jobs as artistes is to make the films we want and put it out there. I feel that the mediums have definitely opened up over the last few years, but recently, it's becoming more and more difficult for film-makers to make the films they really want to.
Meal was the first film in India to talk about the NRC-CAA issue. I also have a very interesting film coming up that's centred around the Gujarat riots. That's an international short where two-three countries are coming together to make it. As a film-maker, I try to be unapologetic and follow my instincts. I am still in a position where I am making films for myself. I am happy doing that.

What made you want to be a film-maker?
I am a B.Com graduate from St. Xavier's (College). I made a short film called The Day After Tomorrow sometime in my first year of college. My film was selected for the Mumbai film festival, which was then organised by the ministry of information and broadcasting. When the film ended, the entire auditorium stood up and applauded. That had a lasting impression on me. That's when  I decided that I really want to learn about films. My interest in film-making rose from French New Wave cinema, from the Dogme 95 movement. My stories are local but the roots of my interest in films lie in Europe. So I went to Prague Film School and studied film-making.

Who are the film-makers you look up to now?
For a long time, my favourite has been the Turkish film-maker Nuri Bilge Ceylan. He makes films from his own life and personal experiences and that's what I also try to do. From India, it has to be Anurag Kashyap. I haven't really enjoyed the last few ones he's made, but he's definitely made enough good films for history to remember him. I also admire Ritesh Batra, who made The Lunchbox and Photograph. The script of The Lunchbox is a Bible for any film-maker.