Neha Dhupia is striking a balance between work life and being a mom
Neha plays a working woman and a mother in the short film Good Morning available on Amazon miniTV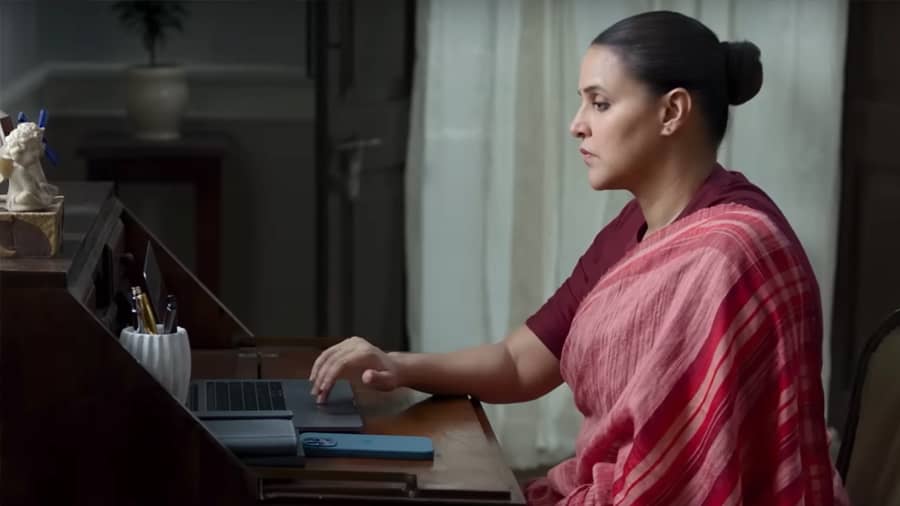 Neha Dhupia in a still from the short film Good Morning.
YouTube
---
Calcutta
|
Published 03.10.22, 09:56 AM
|
---
Neha Dhupia has reset her personal and professional goals after becoming a mother. She picks and chooses her work and tries to strike a balance between it all — a lot like the character she plays in the short film, Good Morning.
Produced by Guneet Monga's homegrown film studio, Sikhya Entertainment, which has also produced notable films like The Lunchbox,  Masaan and  Pagglait, Good Morning is the story of a single day in the life of Anagha, a multitasking woman confronted with multiple challenges at home and work. Directed by Jyoti Kapur Das (one of the creators of Rajkummar Rao-starrer Bose Dead/Alive), Good Morning is available on Amazon miniTV (free on the Amazon shopping app) and has been released as part of the Mini Movie Festival.
 The Telegraph Online caught up with Neha Dhupia for a quick chat. 
Good Morning shows an everyday woman's life – one who's trying to balance her personal and professional lives. As you do it yourself, was it easy to play Anagha? 
Neha Dhupia: Yes, I mean I feel more than a woman in this phase of my life. I am a mother with two beautiful children, juggling personal and professional lives. Professional goals and personal desires are always kind of taking a front seat and then a back seat, but in the end it all works out. So, that is something common with me and my character. 
With so many mothers working on sets these days, it's kind of becoming an inclusive work environment now. How was it working for Guneet Monga and Jyoti Kapur Das with two kids in the vicinity?
Neha Dhupia: Guneet (Monga) is an accomplished producer. I met her at a party and told her that I never hear from her. She told me that I would hear from her the next day. She kept her word and told me she had a wonderful short for me. It was soon after I gave birth to my son, Guriq. I didn't know how I would do it. She told me to bring my children to the set every day as I was feeding my son at that time and I was his only source of food. I carried his travelling cot with me.
Between A Thursday and Good Morning, my son has spent a lot of time on the sets. They gave me a 20-minute break to breastfeed him every two and a half hours so that I could work on this short film. It's not only the content you create but the standard of the environment and the people around you also speak volumes. Also, there used to be a box of chocolate for my daughter Mehr. Jyoti is wonderful to work with. She has clarity and she has proved herself time and again with short films like Chutney and Plus Minus. It's hard to tell a narrative as compelling as possible in a short time.
As a mother, how do you keep yourself motivated every day to get everything together?
Neha Dhupia: I think, when you are a mum, you do it for your children, and that makes you feel good and accomplished. I try to punch an eight-hour work into four hours. I don't linger anymore. It's only when I reach somewhere on time, I can leave on time. So, my children have made me punctual and are my huge motivation. I make sure to give my hundred percent.
I go to work for myself. This is the only thing that makes me happy and keeps me going. This is the only thing I have been doing for the last 22 years. I make sure I find a balance but every day comes with a brand-new hustle and a challenge and that's what Good Morning is about and that's what my life is about.
When and where do we see you next?
Neha Dhupia: I have a comedy film coming up, early next year. I have a small production company now. It's a mixed bunch with some films and some work in the digital space. Having worked for many years, my children taught me to say no to mediocre work, which I used to say yes to when I was younger because I wanted to be on a film set all the time. And the way to do it is to make the most of every project you get. When you have children, you want to balance life. You want to choose projects whether this is as rewarding as staying at home. I am striking a balance and I will get there one day.