Mithun Chakraborty and Dev's magnetic chemistry makes Projapoti an entertainer
Director Avijit Sen's second film —also starring Mamata Shankar, Kharaj Mukherjee, Koneenica Banerjee, Ambarish Bhattacharya, Koushani Mukherjee and Shweta Bhattacharya— released on December 23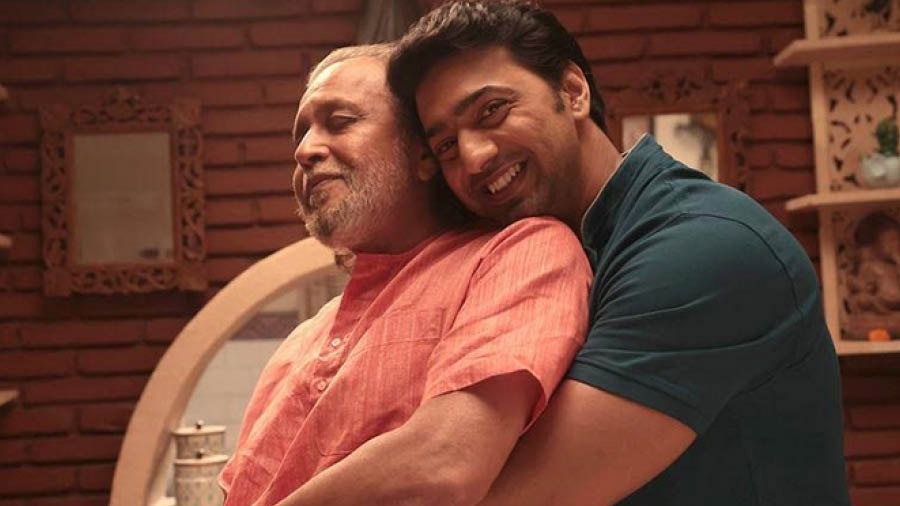 Mithun Chakraborty and Dev in Projapoti
IMDb
---
Calcutta
|
Published 27.12.22, 11:06 AM
|
---
Dev-and-Mithun Chakraborty-starrer Projapoti, which released theatrically on December 23, is a heartwarming family drama aimed at entertaining the middle-class audience. Director Avijit Sen's sophomore venture after Tonic (2021) tells the story of a father-son duo in an unabashedly melodramatic style. The film does go overboard at times, but the end justifies the means.
Celebrating the father-son bond
Gaur Chakraborty (Mithun) is a retired man who lives with his wedding planner son Joy (Dev). Gaur's life revolves around his son, who is not able to reciprocate as much because of his commitment to work. The father wants his son to get hitched but Joy is hesitant as he fears marriage might take him away from his father. However, the equation between the father and his son changes with the entry of Gaur's college friend Kusum (Mamata Shankar) in their life. Meeting Kusum rekindles Gaur's hope of settling down with a partner, and the developments cause an upheaval in the Chakraborty household. 
A light-hearted entertainer
Projapoti is a family entertainer. The sweet relationship between Gaur and Joy remains the focus of the movie for a better part of the first half. From notes reminding Gaur to take medicines on time to him waiting for his son at the dinner table late at night, Projapoti is strewn with many sweet moments celebrating the special bond between the father-son duo. The dialogues are aimed at evoking laughter from the audience, and occasionally cause a lump in the throat. However, the film needed crispier editing and a shorter runtime to become more enjoyable.
Relationships do not require labels
In Shwet Pathorer Thala (1992), director Prabhat Roy had put antiquated traditions under the scanner. Through Aparna Sen and Dipankar Dey's relationship, he had highlighted the need for companionship in their advanced years. This theme resonates in the friendship between Gaur and Kusum in Projapoti. The long lost friends have a chance encounter and rekindle their camaraderie. With the passage of time, they realise the void in their respective lives can be filled if they stay together. Society's knee-jerk reaction to their decision is on expected lines.
Dev's Joy and his co-worker Mala (played by Shweta Bhattacharya) also develop a soft corner for each other as the story progresses. However, their feelings are not bracketed under any label. The fate of their relationship remains open-ended.
Dev and Mithun carry the film on their shoulders
Dev and Mithun are the backbone of this family drama. They share an infectious chemistry which is rarely seen in mainstream Bengali films these days. Mithun beautifully captures the insecurities of a single father. He does play to the gallery at times, and goes overboard in his delivery, but his larger-than-life style is balanced by Dev's restrained performance. Despite sharing screen space with a film legend, he holds his fort, and delivers a nuanced act. The actor gets better of the star in Dev, which makes him a charmer. Mithun also delivers some of the finest emotional scenes with Mamata Shankar — the Mrigayaa pair have reunited on screen after 46 years. 
Kharaj Mukherjee as Gaur's friend-cum-neighbour adds the much-needed comic relief in his ubiquitous flamboyant style. Koneenica Banerjee as Gaur's daughter and Ambarish Bhattacharya as her husband share important life lessons in the garb of humour. Koushani Mukherjee has a delectable presence in a short but impactful screen outing. Shweta Bhattacharya's Mala was impressive, but deserved a meatier role.