'Maine Pyar Kiya': Friends first, then first love
Flashback Friday: The movie comes with a fresh twist to an age-old plot of lovers fighting class differences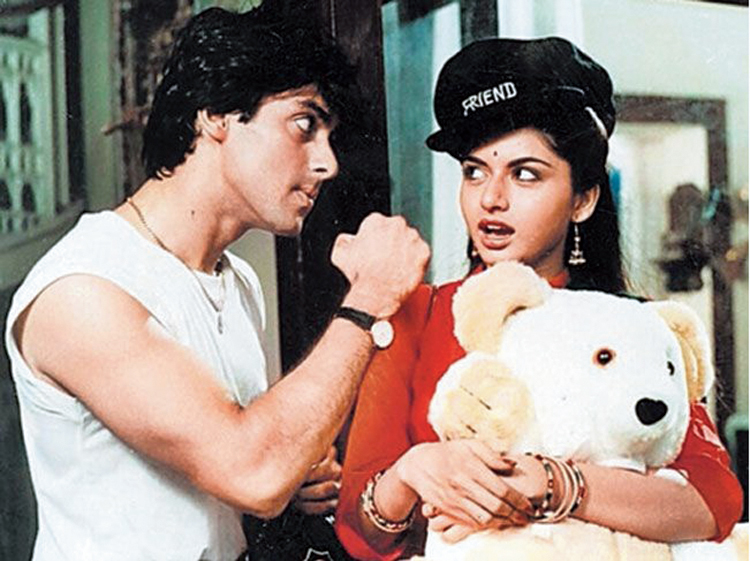 ---
---
Dosti ka ek ussool hai, madam — No sorry, no thank you.
All along, Hindi film heroes and heroines have been falling in love at first blink. In Maine Pyar Kiya, which turns 30 this month, they become friends first. At least, Prem (Salman Khan made a generation swoon) and Suman (Bhagyashree became India's sweetheart) do a good job of hiding their heartbeats by trading quips, wearing the FRIEND cap, playing table tennis, cycling, even singing a song on friendship (Aaya mausam dosti ka).
Director Sooraj Barjatya's blockbuster debut was also his best, with a fresh twist to an age-old plot of lovers fighting class differences. Less saccharine, more sweet and saucy. The lovers had sparkling chemistry. Sample this: Rich-boy Prem races dad in a car, runs home and zooms into the washroom. Suman, a guest of the family, goes to the washroom for some chore. Awkward. Prem says: Madam, aajkal darwaze pe knock karke aane ka zamana nahin raha. Suman retorts: Sir, aajkal darwaze ko lock karke rakhne ka zamana bhi nahin raha. Sooraj, in his early 20s, wrote the dialogues.
The story is fairly racy. Karan (Alok Nath) and Kishen (Rajeev Verma) were friends once, and motor-mechanic Karan clings to that illusion though Kishen's now an uppity industrialist. Karan leaves his daughter Suman with Kishen and his wife (Reema Lagoo plays a woman more grounded than her husband) to work in Dubai for some months. Kishen's US-educated son Prem falls hard for the homely-yet-spunky Suman (who kisses him with a glass door between their lips), to the rage of Kishen's newfound friend Ranjit (Ajit Vachani) who'd hoped his modern daughter Seema (Pervin Dastur with an awful perm) would snag Prem. Ranjit also has an evil nephew Jeevan (a snarling Mohnish Bahl), who throws strange parties (at one, he tries to rape Suman and kill a pigeon, both very bad choices).
Ranjit poisons Kishen against Suman and her dad Karan, calling them gold-diggers. When Prem finds out, he asks Karan for a chance to prove his love. Karan slowly warms up to Prem's sincerity. Cut to the climax, when Karan and Kishen make up, Jeevan and Prem fight hard over Suman. But with the pigeon helping Prem, Jeevan has no chance.
The songs (Raamlakshman) were all chartbusters, Dil Deewana something of a love anthem. But what makes MPK special is the intensity of first love. It's a Barjatya film, so Suman and Prem don't make out. But you feel the heat, even when she's knitting him a sweater.