Laal Singh Chaddha has its moments but overall, fails to crackle
The adaptation, is so trained on making a play for the audience's tear ducts that there are hardly any instances that will make you laugh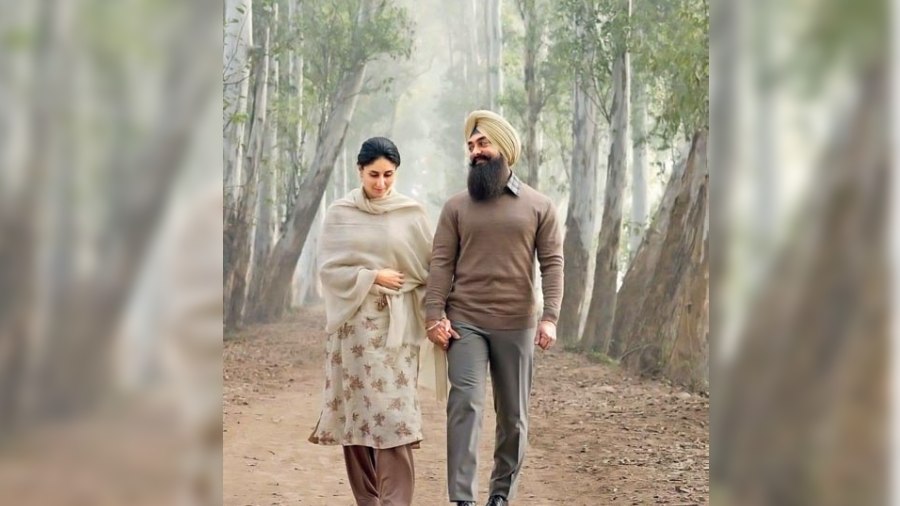 ---
Published 12.08.22, 01:19 AM
|
---
Rewatching Forrest Gump a few nights ago -—- a good decade at least after I saw it last — I was struck by how Tom Hanks, in many scenes, looked so much like Aamir Khan. Aamir, subconsciously or otherwise, has always had a certain Hanks-ish quality to his moods and mannerisms on screen, as well as in his off-screen persona of a likable, thinking actor. In Laal Singh Chaddha, the official Indian adaptation of Forrest Gump, one of Hanks' most successful films which won him one of his two acting Oscars, Aamir actually had to do nothing more than channel the actor. Instead, what we get is a largely overdone and inconsistent performance, a bit of which will remind you of him in PK and a lot of which will take you back to him in Dhoom:3. For a large part, it is nothing more than a series of grunts and tics.
Like PK, and staying true to the ethos of Forrest Gump, Laal Singh Chaddha propagates the idea of humanity over religion, through the simple — and often simplistic — worldview of its eponymous protagonist, played by Aamir. Directed by Advait Chandan, who gave us the sparkling Secret Superstar a few years ago, the film has its leading man — whose slow-wittedness ironically leads to many a genius moment brought about by his own doing —  travel through the ups and downs of his life, even as historical events that have made and marred the country play out alongside his journey.
However, unlike the Robert Zemeckis-directed original's ability to canvas history with a galavanting story about patriotic perseverance and unflinching optimism, Laal Singh Chaddha, save for a few instances, is content to let history play out as a footnote. Gump inadvertently, and evoking some genuine hilarity, caused Nixon's Watergate Scandal, provided 'inspiration' for John Lennon to score his iconic number Imagine and invested his money in what he called "a fruit company", which, of course, turned out to be Apple. Forrest was winningly superimposed onto many an event with far-reaching historical consequences.
But despite having much better technology at one's disposal 28 years  after the original was made, Laal Singh Chaddha, apart from a scene or two, hardly goes down that path. Adapted for the Indian screen by actor Atul Kulkarni, historical events mostly play out on a grainy TV screen — from India winning the cricket World Cup in '83 to the '93 Mumbai blasts, from Sushmita Sen being crowned Miss Universe to the Babri Masjid riots.
Forrest Gump's mawkish sentimentality, which somehow suited its story and set-up as it does for Laal Singh Chaddha, was tempered by moments that brought on genuine laughs. The adaptation, however, is so trained on making a play for the audience's tear ducts that there are hardly any instances that will make you chuckle. A de-aged current superstar in a cameo (we won't spoil it for you) is shown getting his signature move from Laal's awkward dance movements — like Elvis Presley did in the original. It's a genuinely funny, well-done moment, as are some scenes featuring Chaitanya Akkineni, making an impressive Hindi film debut, who bonds with Laal over their shared dream of starting a "chaddi-baniyaan" business. We really wish Laal Singh Chaddha had more such moments. For even the emotional bits, as effectively mounted and directed as they are, somehow don't come with as much soul as they should have. Not enough at least for you to walk out of the theatre, Aamir-style, crying into a beach towel.
Over the years, Forrest Gump's problematic messaging and smug and unrealistic portrayal of reality as well its dumbing down of American history has come in for some amount of criticism. Laal Singh Chaddha, for all its messaging of how the dividing nature of religion will always remain subservient to the power of the human spirit, dwells a tad too much on what it seeks to denounce. And after all the stereotypical jokes that we first heard as kids and which still flood our WhatsApp messenger, the somewhat insensitive presentation of a slow-on-the-uptake man as a Sardar is not lost on anyone here.
Laal Singh Chaddha may strive to satiate every Indian's tongue for the tangy with, "Zindagi golgappe ki tarah hoti hain. Peit bhalei hi bhar jaaye, mann nahin bharta," but it is, in reality, closer to Forrest Gump's, "Life is like a box of chocolates, you never know what you're going to get." For you never know what you are going to get next in this film. The emotionally manipulative background score (Forrest Gump had a banger of a soundtrack which is missing here) is balanced out by a luminous Kareena Kapoor Khan who is perfectly cast as Rupa, the love of Laal Singh Chaddha's life. Over the years, Kareena has acquired an effortless ease on screen, which shows up in every moment of this film, especially standing in glaring contrast to the carefully practised acting that comes in from Aamir.
Mona Singh puts in a stellar act as Laal's steadfast mother, with most of the film's memorable lines — like that in the original — coming from her, and being repeated throughout the film. Like how one should treat every calamity, mostly brought on by hate, like a malaria attack and stay indoors until it is safe to emerge. Or, of course, Rupa's "Bhaag Laal bhaag" — like the original's "Run Forrest run", which emerges as a clarion call for its protagonist, in more ways than one. 
It is through these nuances that Laal Singh Chaddha, despite an overlong second half, makes an impression. But overall, this box of golgappa fails to crackle. That's what happens when you give phuchka a raw deal.
What Laal Singh Chaddha Does Better Than Forrest Gump Unlike Robin Wright's Jenny in Forrest Gump, Kareena Kapoor Khan's Rupa gets more scope and screen time in Laal Singh Chaddha. Like Jenny, Rupa too engages in self-destructive behaviour, but the former flits in and out of the film a lot more than Rupa does. Also, Kareena's de-aging is a major win Chaitanya Akkineni slips into the part of the protagonist's "second best friend", a part played by Mykelti Williamson in the original. Williamson's Benjamin Buford "Bubba" was infused with more seriousness in the original, as opposed to Chay's Bala, who brings on some of the most genuine — and much-needed — laughs in Laal Singh Chaddha