Just Mercy: Saved from being an earnest, inert courtroom drama by two powerful performances
The new film is based on the book and directed by Destin Daniel Cretton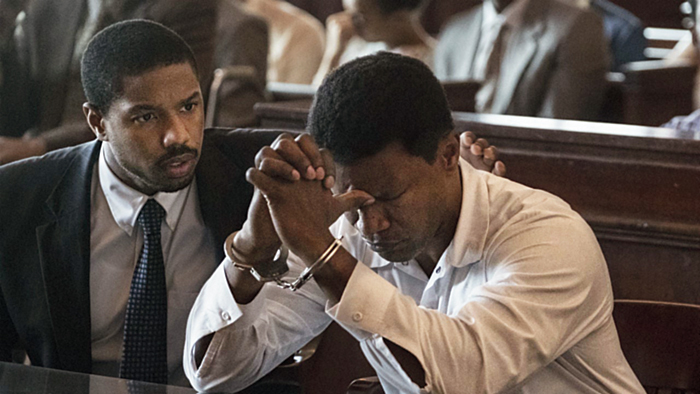 Michael B. Jordan in Just Mercy
Still from the film
---
Published 17.01.20, 02:42 PM
|
---
A Bryan Stevenson's Just Mercy is a painful, beautiful, revelatory book, the kind of reading experience that can permanently alter your understanding of the world. Partly a memoir of Stevenson's career as an activist and a lawyer specialising in death-penalty appeals, it is also a meditation on history and political morality, a clearsighted and compassionate reckoning with racism, poverty and their effects on the American criminal justice system.
The new film based on the book, directed by Destin Daniel Cretton (Short Term 12) from a script he wrote with Andrew Lanham, conveys at least some of its gravity and urgency. It focuses on an early, pivotal episode in Stevenson's career, when he represented Walter McMillian, an Alabama man who had been sentenced to die for a murder and who insisted on his innocence.
Stevenson, played by Michael B. Jordan, is a recent graduate of Harvard Law School who arrives in Alabama in the late 1980s with a quiet idealism that many of the locals — both those who are hostile to his cause and those who support it — take for naivete. They gently and less gently suggest that as a native of Delaware with a northern education, he can't possibly understand the tenacity of white Southern habits of racial domination, which some of the white residents insist are not racist at all. McMillian himself, known to his family and neighbours as Johnny D (and played by Jamie Foxx), at first refuses Stevenson's help. The injustice of his trial was so blatant that opposing it seems almost like a waste of time. Other lawyers have come and gone, taking money from Johnny D's wife, Minnie (Karan Kendrick), and leaving him to languish on death row.
The drama of Just Mercy is mostly procedural. Stevenson and his colleagues, including Eva Ansley (Brie Larson), work to establish Johnny D's alibi and to challenge the testimony of a dubious witness (Tim Blake Nelson). Stevenson also runs up against the malevolent arrogance of the sheriff (Michael Harding) who led the investigation and the duplicity of the new district attorney (Rafe Spall), whose initial politeness turns to condescension and contempt.
What is clear is that Stevenson isn't just challenging a single conviction, but also the deep legacies of slavery and Jim Crow. Like many of the lynching victims of the past, Johnny D threatened racial hierarchies, both because he was economically independent (owning a successful pulpwood business) and because of an affair he had with a white woman. His adultery is painful for Minnie and their children, and represents an unacceptable transgression of racial and sexual taboos to the sheriff and other white people.
Jordan plays Stevenson as a man of heroic decency, but this kind of role comes with constraints. He is consistently admirable but not always dramatically interesting, and whatever fear, doubt or anguish he experiences in his work is telegraphed through speeches and music-heavy moments. His inner life is a territory the film leaves unexplored.
Just Mercy is saved from being an earnest, inert courtroom drama when it spends time on death row, where it is opened up and given depth by two strong, subtle performances, from Foxx and Rob Morgan. Foxx, 15 years after his Oscar-winning turn in Ray, still somehow seems underrated and underutilised. Johnny D provides a welcome reminder of how good he can be; he conveys the man's guardedness and his vulnerability, his kindness and his fury, with the smallest eye movements and vocal inflections, which makes the big emotional scenes all the more powerful.
But it's Morgan, as Herbert Richardson, another inmate awaiting execution, who leaves the deepest impression. Richardson, a Vietnam veteran, doesn't deny his guilt, and the mixture of remorse, terror and simple grief he feels as he contemplates his fate is heartbreaking. Morgan keeps doing remarkable work (in Mudbound and The Last Black Man in San Francisco, as well as on the Netflix series Stranger Things), and he deserves a louder fanfare.