Cinema Marte Dum Tak: Despite its flaws, Vasan Bala's tribute puts necessary attention on pulp film makers of '90s
The Prime Video docu series takes a close look at four of the genre's successful directors — J. Neelam, Kishan Shah, Dilip Gulati and Vinod Talwar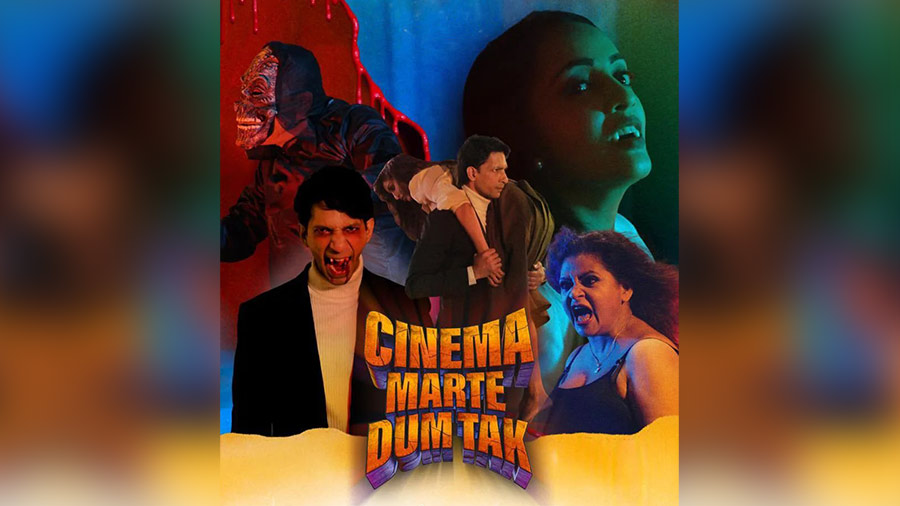 A poster of Cinema Marte Dum Tak.
Amazon Prime Video
---
Calcutta
|
Published 25.01.23, 11:46 AM
|
---
Vasan Bala is one of the more imaginative directors working in mainstream Bollywood today. With films like Mard Ko Dardh Nahi Hota and Monica, O My Darling, he has successfully set a style and tone for himself that makes his films identifiable and unique. A closer inspection can show that his films draw inspiration from the parallel exploitative pulp film genre of the 1990s and 2000s, often referred to as the 'B grade' or 'C grade' films. Cinema Marte Dum Tak is Bala trying to pay tribute to at least what seems like part of his inspirations. 
Cinema Marte Dum Tak is Prime Video's new documentary series that explores the genre, the economics of it, four of its more successful directors — J. Neelam, Kishan Shah, Dilip Gulati and Vinod Talwar — and many of the genre's loyal actors who went on to do bigger roles later on such as Raza Murad, Hemant Birje and Harish Patel, alongside other crew members. 
It's an attempt at reminding viewers of the cinema movement that was replaced by the multiplexes and soon forgotten. Cinema Marte Dum Tak is an honest attempt, conceptualised and made by a fan of the genre, but ultimately does little to connect with the audience today. It's a lot of exciting information that is not tied together with a heart or conscience.
The films were influential but also exploitative of women
In the first episode itself, the show establishes its stance — that there should be no B-grade or C-grade in filmmaking; there's no class in dedication and passion towards art, and no film is bigger than the other. However, the gaze of the docuseries does little to fight that. Throughout the documentary, the genre of films are addressed repeatedly as 'B grade' and 'C grade'. In the structure, tone and treatment of the documentary, there's an external gaze towards the genre as opposed to an internal reflection by the four filmmakers. Whatever reflections exist are edited in pockets and overshadowed by the typical OTT-styled episodic structure with music composition that screams 'Look, I'm trying to blend in with the genre!'
B-grade and C-grade films were just low budget catering to the socio-economically less privileged in single screen theatres across the country. Because of the shoe-string budget, the films were usually shot in six-seven days without the support of any known faces to draw audiences. If you don't have support for stars, the next best tool you could use to get people in theatres — sex. Sex sells. Hence, these films were characterised by their use of sex and nudity while also incorporating elements of gore and horror. Films made in two lakhs earned twenty in days. They ran to packed theatres filled primarily with boys and men gawking at the screen to find a rush that now is easily available one Google search away. 
These films were a product of the time and set a style that has, undoubtedly, been influential. The films, the filmmakers and the hundreds behind the crew should not be forgotten. But while the genre is celebrated, it's also wise to understand why they were replaced and their relevance in today's day and age. The films were exploitative: women were at the forefront of these films but as victims — of violence and rape. These were used as plot points for the stories. So little of that was actually addressed in Cinema Marte Dum Tak. The only one who does address it is J. Neelam, who was the first and possibly one of the only female directors of this style of filmmaking. In a genre designed by and for men, J. Neelam is a fresh voice that demands more attention. 
An emotional end to a troubled journey
Celebrations do not have to be removed from introspections. They can co-exist. Despite its drawbacks, Cinema Marte Dum Tak does put the necessary attention on the directors of the films. Celebrate or critique, we're at least talking about them now. It's an important look at their lives outside of the profession. 
Unlike mainstream directors of commercially successful films in Bollywood, they live in humble houses that look like yours and mine with sofa sets that don't cost a fortune. Their children and relatives, some of whom are now residents of countries oceans away, manifest, even today, for the success and popularity of these forgotten makers. There's a sense of relatability that can be associated with them. They aren't Karan Johars or Sanjay Leela Bhansalis, and the society at large does look down upon them, yet they choose to continue dreaming. They choose to continue fighting for that voice every day. There's a sense of authenticity and honesty in their passion. I just wish that Bala's documentary series had that too. 
Oddly enough, one of the more intriguing sections of Cinema Marte Dum Tak is in the last episode, during a round-table discussion moderated by Arjun Kapoor. The segment puts the directors together to discuss their styles of filmmaking. For the first time, really, the nuances in the differences between their individual filmmaking styles and personal perspectives are highlighted. 
Cinema Marte Dum Tak ends with the red-carpeted premieres of the short films made by the filmmakers, in association with Prime Video. It's an emotional end to a troubled journey. Yet the lack of depth in the storytelling robs the audience from really feeling for these four makers who could finally, somewhat, get what they wanted — respect for their art. What remains to be seen is what the future holds for the filmmakers or the genre.