Chronicler of aam aadmi no more
OBITUARY: The director, connoisseur of good whisky, and Indian New Wave pioneer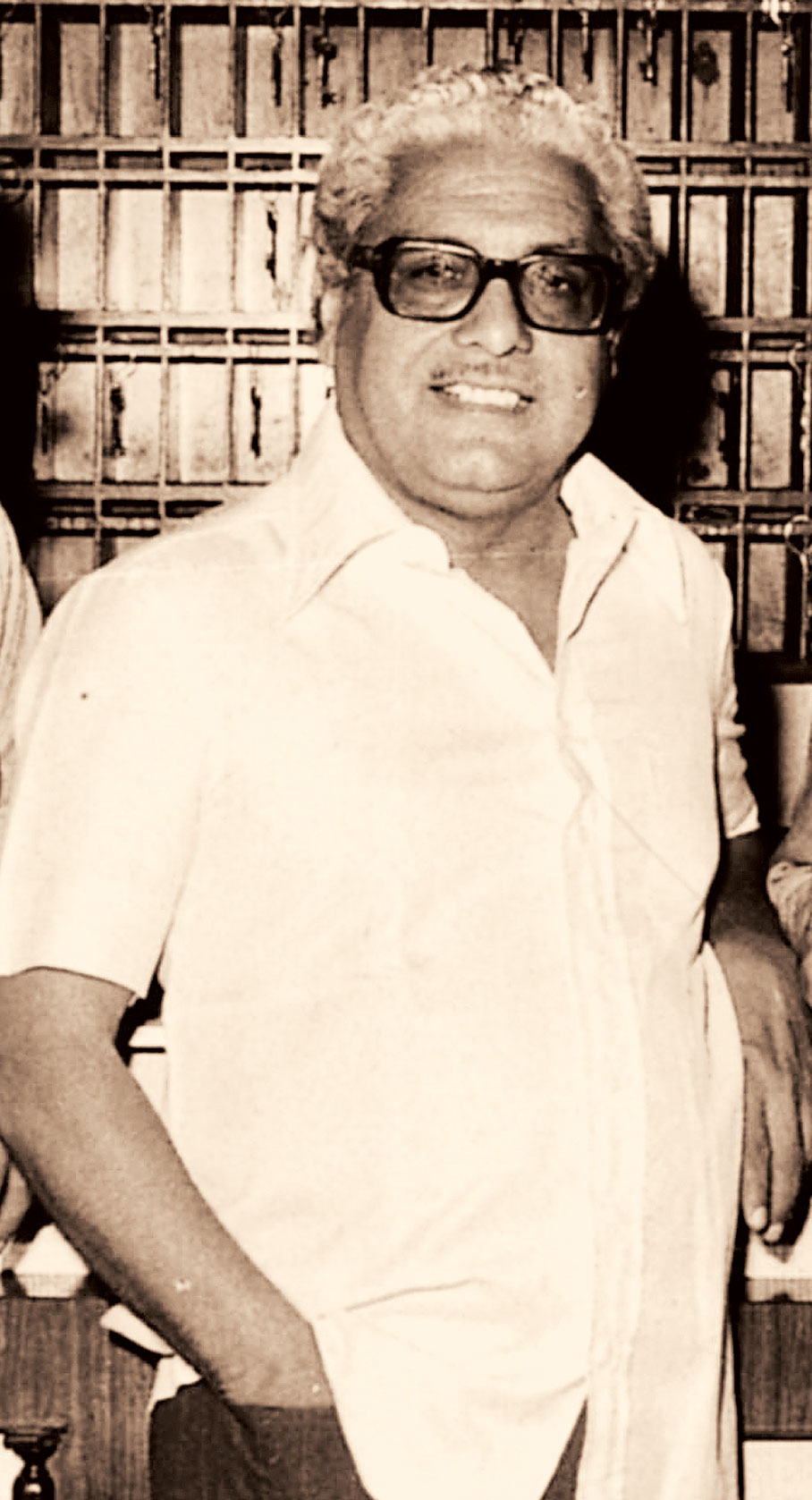 ---
Published 05.06.20, 12:45 AM
|
---
Samar Chatterjee was a small-time actor in films. However, his name deserves to be etched in stone when the subject is the history of Indian cinema. He helped his brother-in-law join cinema. That was in 1965, when Basu Chatterjee, then a cartoonist at Blitz, Bombay, joined Basu Bhattacharya as an assistant in Teesri Kasam. It was Bhattacharya's debut. As it was Chatterjee's.
By the time Basu Chatterjee was assisting Govind Saraiya in Saraswatichandra (1968), he was a member of Film Forum, the film society headed by K.A. Abbas which organised viewings of world cinema — mostly French and East European movies.
One such film was Romance for Bugle (1967), based on a Czech epic poem. Chatterjee was inspired to adapt the original poem in the form of a Hindi script, which he took to the FFC for financial approval. The FFC asked him to submit an original script instead. And we had Sara Akash (1969), which today is regarded as one of the initiators of Indian New Wave cinema.
I was fortunate to meet Chatterjee in 2014 at his home in Ballygunge, Calcutta. Regarding his initial days, he said: "My earliest inspirations when I entered cinema were Shailendra and Basu Bhattacharya. I was a few years junior to Shailendra in school in Mathura, my hometown. He helped me join the film he produced, Teesri Kasam, as an assistant. Bhattacharya guided me on the economy factor in film production. Film Forum influenced me too. Most of the technicians I started working with were members. This included Narendra Singh and K.K. Mahajan. Mani Kaul was a friend. We used to eat and drink together then. Strugglers, both of us, we had no money and the wine we had was cheap."
Chatterjee, who later become a connoisseur of good whisky, was loyal to his friends. Shailey Shailendra (Shailendra's son) and Mani Kaul both found a place in Sara Akash. As actors.
However, monikers like New Wave came without any financial help. Chatterjee found it difficult to complete the films he took up next. Except for Piya ka Ghar (1972), both Manzil (1979) and Rajnigandha (1974) were delayed. Rajnigandha's selling journey received spiteful remarks from potential distributors with rebukes like — "Kis ki gandha? Class ki boo aati hai (what's this Gandha? The name reeks of class)." Suresh Jindal, the NRI producer, in a meeting with this author in Delhi in May 2018, mentioned that the film was canned for two years.
Chatterjee, in an interview with author Balaji Vittal, had mentioned that the initial star cast boasted of big names. Amitabh Bachchan (in his pre-Zanjeer days), Shashi Kapoor and Sharmila Tagore/Aparna Sen. The delay and the accompanying financial crunch made him change the casting. Chatterjee recalled watching Satyadev Dubey's play Adhey Adhure that led to the change. The hero of the play, a shy introverted gent with soft features, was cast. Amol Palekar. Who, after two more films, became the face of the common man.
Thanks to Tarachand Barjatya of Rajshri, who also produced Piya ka Ghar and Chitchor (1976), Rajnigandha was released in Bombay. It went on to become a big hit, triggering Chhoti si Baat (1976) and Chitchor, films in which Palekar relived the middle class dream. Irrespective of the setting, which was cosmopolitan in the former — with offices near Maker Chambers, Nariman Point — or idyllic in the latter, as in Madhupur, Bihar (present day Jharkhand), though it was actually shot at Panchgani.
Panchgani, Dahisar and Khandala, along with Bombay, became the preferred locations for Chatterjee. There were other places too, but he would rarely go out of Maharashtra for outdoor shoots.
Despite being the small town boy born in Ajmer and brought up in Mathura, he, like fellow Bengali filmmaker Hrishikesh Mukherjee, became a true Mumbaikar, often filming the city from various angles, including views during a shower, as in the song Cham cham barse ghata in Priyatama (1977). Needless to say, like the eternal romantic, Chatterjee was also fond of rain; the first flush of love in Swami (1977) came with the rain (as in Pal bhar mein yeh kya ho gaya); the journey to the bungalow of Colonel Julius Nagendranath Wilfred Singh in Chhoti si Baat finds the hero negotiating his way through a rain-washed hill station. And who could forget the rain-kissed Marine Drive sequence of Lata Mangeshkar's version of Rim jhim gire saawan (Manzil), a song where Chatterjee, as recounted to this author, found himself accidentally captured on the screen as well.
But probably this was intended to mislead. Chatterjee had done his first cameo in his very first film. An actor who was supposed to play the inspirational teacher failed to arrive and he laments having to mouth his dialogues with a great amount of difficulty. Cameos, like those of Alfred Hitchcock, became a part of his films, and people would relish identifying the middle-aged gent with a pencil moustache and uncombed grey hair — from inside a hall (Rajanigandha) to being refused a room in a resort (Safed Jhoot, 1977).
Chatterjee's most well-known cameo as "Basu Chatterjee" came in a film not made by him. Pankuj Parashar's Jalwa (1987). A throwback to the enormous popularity of Rajani (1985), a tele-serial which made the lead actress Priya Tendulkar a star almost in a matter of weeks. Chatterjee, with some of his films failing, had moved on to the small screen with little difficulty.
Used to limited budgets and constraints on costly outdoors, Chatterjee managed the transition rather well. While he continued making films — in fact one of his biggest commercial successes was Chameli ki Shaadi (1986) — the generation born in the late 1970s and the 1980s probably knows him more for the serials, especially Rajani, Darpan and the 34 episodes of Byomkesh Bakshi (1993-97).
Chatterjee was probably the only filmmaker influenced from the Bimal Roy camp who avoided sad endings. Mostly. He viewed life through a prism of humour. His dialogues were witty. The characters loved to talk to themselves creating collages which were amusing. Situations in his films, even when using long stretches of fixed camera shots, often had a humorous undertone.
There was, and will remain, a feel-good factor in his cinema. A great fan of Billy Wilder, he also tried to retell his stories, with varying degree of success. Or failure at times. A complete town/city bred individual with little to do with villages and especially Bengali villages, his depiction of a Sarat Chandra story is probably one of the best of its genre. Swami. While his attempt at repeating the success with Apne Paraye (1980) did not work, the film has become a favourite with movie buffs over a period of time.
All these did not come easy. Chatterjee was one of the most technically adept filmmakers of his time and knew how to get the best from his team, which comprised, apart from K.K. Mahajan and Narendra Singh, Bansi Chandragupta. Reason why he remained prolific throughout his career, which stretched for over 40 years. While he lost the Midas touch in the late 1980s through to the rest of the working years of his life, an artiste must be judged by his best works. For Chatterjee, it was the period from 1969 through to 1986.
Some reports I checked on Thursday told me Chatterjee was born on January 10, 1930. I read a tribute where his age was given as 93. Basuda himself told me that he was born in 1928. That makes him 92. In the final count, does it really matter? Like his archetypal "common man", he remains timeless.
Anirudha Bhattacharjee, an IIT-Kharagpur alumnus, is co-author of the National Award-winning book R.D. Burman — The Man, The Music, and S.D. Burman: The Prince-Musician