Blurr isn't a film big on logic
However, the movie with its ultimate aim to deliver big chills, it more or less succeeds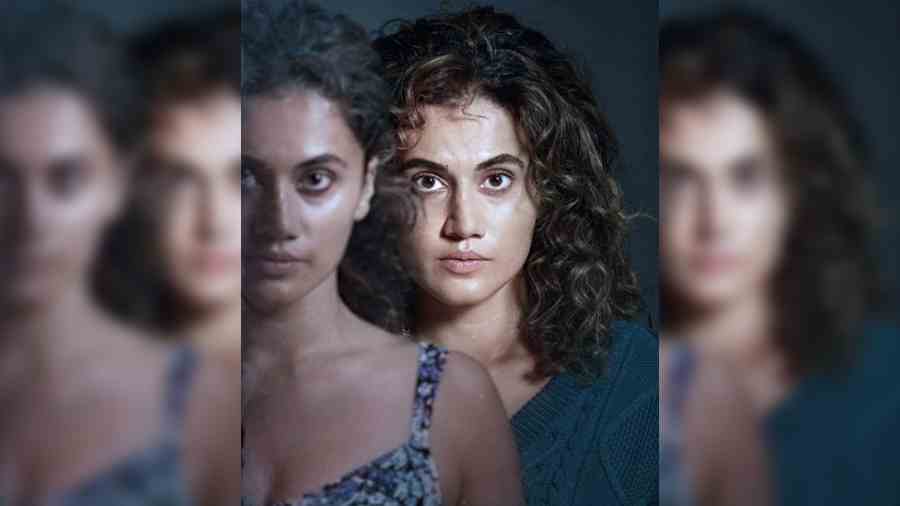 ---
Published 12.12.22, 07:49 AM
|
---
Juxtaposing a protagonist (actually two, both played by Taapsee Pannu) who is visually challenged against an antagonist who feels unseen to the world is a smart foundation to build a thriller where the scares score as much as the need to create an awareness of social consciousness. 
Blurr, a psychological thriller that ticks off many of the genre tropes, is an adaptation of the 2010 Spanish scarefest Los ojos de Julia or Julia's Eyes. It's written by Oriol Paulo, whose films The Invisible Guest and Mirage, both of which the man has directed, have made their way into Hindi cinema as Badla and Dobaaraa. All three films star Taapsee, with Blurr, now streaming on Zee5, being the actor's maiden production.
Like the Spanish original, Blurr sets itself up intriguingly in its first hour. Gayatri (Taapsee) realises that things don't add up when her twin sister Gautami (Taapsee again) is found hanging in their family home in the hills. The siblings suffer from a degenerative disorder  that will eventually lead to complete blindness and at first glance, it seems an already visually challenged Gautami resorted to death by suicide after the failure of her corrective surgery. But Gayatri, convinced that it was murder, is determined to uncover the truth, even when the cops declare it an open-and-shut case and her husband Neal (Gulshan Devaiah) tries his best to dissuade her from following what he feels are, well, blind leads. Gayatri's gut, however, makes her stumble upon one ghastly truth after another, even as almost everyone becomes a suspect, and the bodies keep piling up. Ultimately, it's up to Gayatri — who, spending most of the latter half of the film without her vision — has to stay one step ahead of the killer in order to save herself from suffering a fate similar to that of her sister.
Shot in Uttarakhand, whose perpetually rainy setting provides the perfect backdrop for Blurr to unfold, it's curious that much of the action takes place within closed spaces. That is also the fabric of the story of this film which is present only in the here and now, with no mention of where its characters come from or the larger context of society outside its immediate action. While this helps in creating a feeling of claustrophobia as the story progresses, Blurr would have benefited if it was presented better contextually.
The scares in the film — directed by Ajay Bahl, who has helmed films as diverse as BA Pass and Section 375 — are more in the atmospherics, with a few jump scares thrown in here and there.
One move that sets Blurr apart from similarly themed films in Bollywood today is the fact that its background score, scored by Ketan Soda, helps in accentuating the feeling of dread rather than browbeating viewers into feeling what the film wants them to feel.
Like the 2008 film Blindness, that used its theme of mass visual impairment as a metaphor for the dark side of human nature, specifically prejudice, selfishness, violence and wilful indifference, Blurr is set in the mould of the modern-day horror/thriller film which aims to be more than its scares. Here, the perpetrator is one whose deep-seated complexes, fanned by a traumatic childhood, make him lash out in ways that he feels will make him 'visible'.
This is the second film this year, after Akshay Kumar's Cuttputlli, that examines a similar theme. Blurr, to be honest, does a better job than Cuttputlli, but still remains a film — its unnecessarily long runtime acts against it, so does the constant foreshadowing — that could have been more watchable.
There is no faulting Taapsee, though, who has the knack of acing parts which are both strong and vulnerable. What also works is Sudhir Chaudhury's camerawork and the film's use of a desaturated grey-green visual palette. The home-invasion template, which kicks in towards the latter stages of the film, is a definite plus. Blurr, however, isn't a film big on logic, but with its ultimate aim to deliver big chills, it more or less succeeds.
More about the film
Blurr
Director: Ajay Bahl
Cast: Taapsee Pannu, Gulshan Devaiah, Abhilash Thapliyal, Sumit Nijhawan, Kritika Desai Khan
Running time: 126 minutes