The film L.S.D — Laal Suitcase Ta Dekhechen?, starring Soham, Sayoni Ghosh, Kanchan Mullick, Laboni Sarkar, Sumit Samaddar, June and Abhijit Guha, releases this Friday. Directed by Sayantan Ghosal, the film is presented by Soham's Entertainment.
"The reaction to the trailer has been overwhelming. Viewers felt it was smart, quirky and a breath of fresh air in the world of Bengali cinema. The storyline and the treatment are something that we got to play with after a long time. You need appropriate subjects and screenplays to experiment which is rare," said Sayantan.
The film follows Rupsa, who is looking for a way to escape the harsh reality by trying out various drugs with her college senior Trina. Suddenly, as Rupsa's marriage gets fixed, she contacts her college batchmate Amartya for the L.S.D trip. On that night multiple lives intertwine with the L.S.Dtaking journey. In the course of that one life-changing night, Rupsa and Amartya rediscover themselves and their love. They realise that nothing is more addictive than life. "The entire film is the journey of two polar opposite characters, who spend a night together with goons, cops and their family chasing them makes it immediately interesting. But what makes it most interesting for me is that we shot the entire film in real locations. No sets. While the entire city slept, we were out there shooting for the film. It was an amazing experience," says Sayantan.
Talking about the high points of the film, he says: "The story has murders, mystery, comedy. But what I feel is that LSD is essentiallya love story. Two characters embark on a journey, with a corpse they need to dispose of; but throughout the journey, they actually discover themselves. It's the story of how two characters discover what real love is, and how they emerge as enlightened characters," says Sayantan.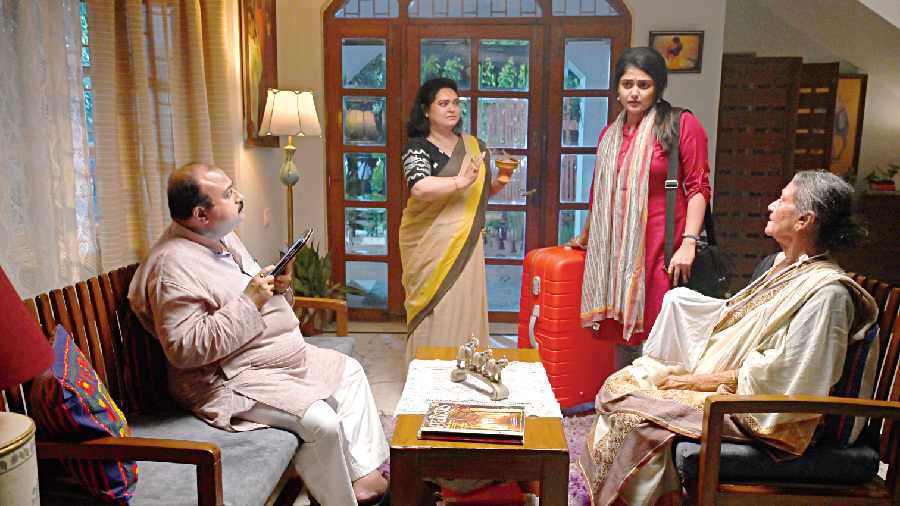 A moment from the film