A good-looking film with the need for 'malang'
A timepass weekend watch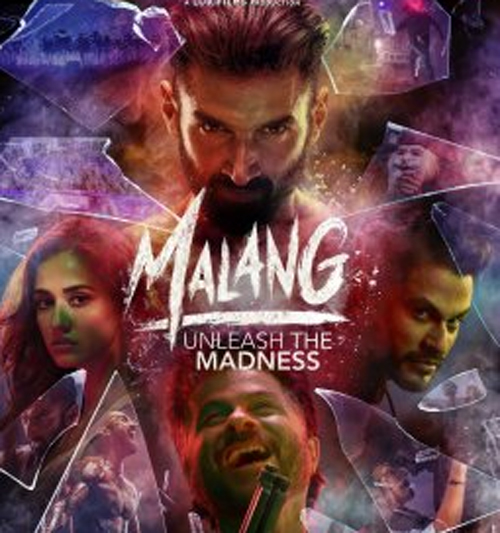 A little more taut with meaty performances could have made Malang more than just a good-looking film, with well-shot songs and fancy visuals.
(Wikipedia)
---
Published 07.02.20, 08:44 PM
|
---
A girl who wants to live life from 'one high to another'. And, live only for herself. She won't make the 'mistakes' her parents made.
A boy scarred by a personal crisis, is scared of ties and bonds and is on the run from relationships.
A police inspector loses faith in protocols and the rule of law. And, another one who is an Indian male with the inflated ego of a chauvinist. They are all 'malang'.
And, Mohit Suri ties their personal stories of desire and despair, mashing them into a khichri. Only undercooked. Or, as they say in Bengali, jagakhichuri, leaving you ho-hum.
Thank god for Aditya Roy Kapur's chiselled abs and those rugged shoulders and Disha Patani's fab bikini body.
His Advait meets her Sara in Goa and attraction strikes. And they go 'malang'. They sing. They dance. They dive into the ocean and jump from the helicopter. They do drugs (with a disclaimer, of course). They make love. Freedom. 'Living from one high to another'. And occasionally, talk about 'sukoon' and simple living. Blah.
When Sara gets pregnant, Advait's commitment phobia strikes and he 'flees' to a snowing Himachal Pradesh where the sight of the marital bliss of his friend makes him long for Sara. Eye-roll. About turn and he is back in Goa, where the plot has gone awry. Tragedy has struck and Advait's 'madness' is unleashed. In five years, he becomes beefy and wall-ish, the philosophy being 'jo takraiga chur chur ho jayega'. Uff teri aada.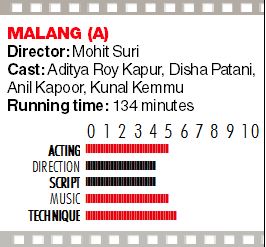 A twist in the tale is at the heart of this revenge drama of which Kunal Kemmu's police inspector Michael is a key player and that pits him against Advait. When, however, Michael's 'malang' meets Advait's… well, there are some extra muscle twitches on Aditya Roy Kapur's handsome face. Khushi ke aansoon.
Let's stay with Kunal Kemmu for a while. Remember the kid, brilliant in films like Hum Hain Rahi Pyar Ke, Dushman and Zakhm? The Kunal we loved in Kalyug and Kalank? The Kunal with so much promise. A flash of that spark is seen in the last few moments of Malang. Deliciously devilish. Mohit could have fleshed out his character a bit more and given Michael some more moments of ceeti and real taali.
Even Anil Kapoor's police inspector Anjaney Agashey is left looking like a fool at the end of it all. So much for his swag, he is made to look like an idiot. Such an anti-climax. Anil Kapoor, is however, Anil Kapoor. So good. His drug-snorting inspector reeling from a personal loss moves you more than the plight of the film's protagonists.
Well, the film's protagonists. They look great. They smile divinely. Disha is beatific. Even Aditya's chuckle is so hot. They dance well and look nice in the songs. More than 10 people at a 10am show is a testimony to that success at least. Only if you could share their joy or feel their pain. Only if they could emote. Only if their facial muscles moved. Only… only… only….
A little more taut with meaty performances could have made Malang more than just a good-looking film, with well-shot songs and fancy visuals.
A man left the theatre jiggling his shoulders as the title track rolled with the end credits with Disha Patani going 'Malang, malang, malang' is the verdict perhaps.
Not so 'malang'. Just about maybe. A timepass weekend watch.