Worship's Hero
A fan's dizzying journey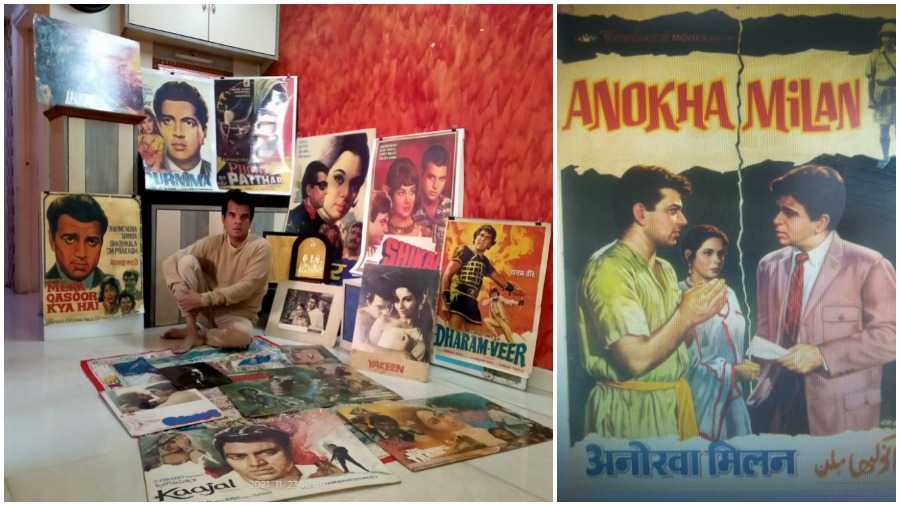 ---
Published 05.12.21, 12:06 AM
|
---
"I think I was the only child in the whole of Ajmer city who was beaten up by his father every Friday," says Vijay Kumar Pyarelal. The spanking was for skipping school to watch films, Dharmendra's films. 
Vijay has been a fan of the actor from age four. He is now 60. He says, "I saw his Ayee Milan Ki Bela with my parents and younger brother. The moment I saw him on the screen I felt I knew this man." He adds, "Mere dil mein aisa jam gaya woh insaan… He just made a place in my heart." In the film, Dharmendra did not play the hero — that role went to Rajendra Kumar — but his twin and a somewhat grey character.
"Back in the 1960s, it was very difficult to manage 50 paisa to buy a cinema ticket for the 3rd class — the front row benches," says Vijay. That would most likely be the only thing stopping him from going to the movies even more frequently, not the beatings.
Vijay's regard and admiration for Dharmendra increased with the years. By the time he was 12 he started sporting his idol's hairstyle. After clearing his school-leaving examinations, he landed a job with the Western Railways and had to move to Mumbai (then Bombay). That was 1983. Some years later, he was on board the Jhelum Express to Jammu Tawi, on his way to Vaishno Devi. He says, "I woke up at around 2.30am. The train seemed to have made an unscheduled stop. It was Sahnewal village in Ludhiana district. I immediately got off and touched the ground... Dharamji is from Sahnewal." 
Exactly a decade after this, his former boss did the unthinkable. K.K. Singh Mayank, who was posted in Mumbai as chief claims officer with the Western Railways, knew the actor through the latter's brother. And on Dharmendra's birthday, he made an appointment with the star and took Vijay along.
And the fan got to shake hands with his idol. "Mera hath toh unke hath mein chhota sa lag raha thha... My hand clasped by his looked tiny," says Vijay who is 5 feet 6 inches to the star's 5-feet-8. He continues, "The 40-45 minutes that I was there, I kept looking at the man's face as he interacted with the people who had come to wish him."
Since then Vijay has been visiting the actor on his birthday every year on December 8. He continued this practice even during the years when Dharmendra was a member of Parliament and in Delhi for the winter session. But the tradition was broken when the pandemic broke out.
Vijay's WhatsApp display picture is of Dharmendra from his debut film Dil Bhi Tera Hum Bhi Tere (1960). He has also named his daughters after Dharmendra's films, Anupama and Mamta. And he is full of Dharmendra talk — how the actor should have been awarded for his performance in Satyakam (1969), how he had to opt out of the Indian milestone movie Pakeezah after shooting for a couple of days.
The idol-fan relationship now accommodates a certain respectful familiarity. Dharmendra addresses him as Vijaya. A Twitter post by the actor from 2018 shows a Rs 10 note with his date of birth for serial number — 081235. It was gifted to him by Vijay.
Vijay had heard Dharmendra say somewhere that it was a talent hunt contest that had facilitated his entry into the film industry. Dharmendra had won the contest and was picked up by producer Arjun Hingorani, who gave him a break in the Hindi film industry. 
It was the first edition of the Filmfare Talent Hunt contest. Through the years, Vijay kept looking for that issue of the magazine and finally found it in Mumbai's Chor Bazaar.
In September 2009 — 50 years after the actor had filled up the talent hunt form — Vijay reached the star's house with laminated interviews from the early 1960s, the issue of Filmfare and the talent hunt ad and form from 1959! Soon after, Dharmendra gave a TV channel an exclusive interview about the experience.
The visit to Chor Bazaar got Vijay hooked to another hobby. He started collecting posters and memorabilia — not merely of Dharmendra's films — for which he has paid anything between Rs 400 and Rs 1 lakh. The first poster he purchased was of Dharmendra's 1964 film Mera Qasoor Kya Hai.
His collection — sourced from Mumbai, Delhi and Calcutta, some of them rare — includes Bengali film posters too. Most of them are Uttam Kumar's. He tells The Telegraph, "Had the star moved to Mumbai, there's every likelihood I wouldn't have become such a big fan of Dharamji!"
Today, his collection comprises 500 posters, 150 of them Dharmendra's, and around 1,500 pieces of memorabilia, which include show cards, lobby cards, cutouts, banners, trophies, cinema tickets and so on. His most treasured poster is of Anokha Milan, in which Dharmendra and his idol Dilip Kumar worked together.
Vijay fears that after him his treasure trove will be binned and wishes a younger fan in shining armour would come to the rescue of all that he has collected.
As for himself, he is working on the ultimate gurudakshina — a coffee-table book of all Dharmendra films and the related memorabilia in his possession.