Workout wizards
Fitness apps aim to be like personal trainers that are on call 24x7 and can chart out the perfect workout and diet plans, says Saimi Sattar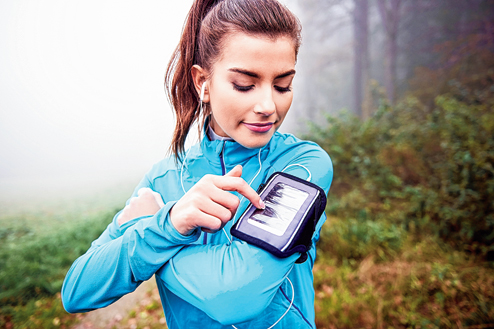 ---
---
What if your personal trainer lived with you 24x7? You could consult him/her about everything that you ate, the healthiest options at a restaurant, the total calorie count of the snacks that you dig into and how to burn the excess calories that you consumed at dinner. But don't fret if a personal trainer isn't at hand. For, a host of new fitness apps are fulfilling the role — for free or at a fraction of the cost. All you need to do is download the apps on your mobile phone or device like the iPad or smartwatch.
Some of these DIY apps were born out of the personal experiences of those who've launched them. Like Ritu Soni Srivastava, the woman behind Obino, who after battling the extra kilos gained during her pregnancy, dumped the specialist guiding her through a weight-loss programme. While following the programme she lost seven kilos in three months but after discontinuing it she lost another 12kg in six months by doing her own thing.
She launched Obino, a do-it-yourself app, in August 2014. Soon, users came back with queries and Srivastava decided to get fitness experts on board. Besides Obino's free version, which offers calorie counts of different foods and reminders (to drink water, to carry a snack etc), there's one which costs Rs 499 per month. It develops your diet and fitness plan, without a human interface. In yet another version, which costs between Rs 999 and 1,799 — depending upon the number of months you're enrolled for — the user is connected with an expert at all times. This works on the user's lifestyle problems and maps a person's profile accordingly.
Obino isn't the only app that's putting fitness solutions on your phone. Saurabh Aggarwal, a 2011 IIT Delhi engineer, launched Fitso along with his batchmates Rahool Sureka and Naman Sharma as they wanted to do something in the field of health and fitness. Fitso does it differently by offering workout videos, a tracker that calculates the calories consumed and the distances covered during a run or while cycling. The app suggests workouts, which steadily increase in intensity depending upon your goal.
The paid version of the app offers the option of a personal trainer to make users more accountable to their fitness goals. "Moreover, the user feels secure in the knowledge that someone's guiding them through their fitness journey," says Aggarwal. The app was downloaded more than 100,000 times, since September 2015 and currently has 30,000 active users of whom 800 pay.

And then there are three versions of Mobiefit, an app which has fitness buffs Milind Soman and Gul Panag onboard as trainers. There's Mobiefit Run, which trains you to run 5km in 30 minutes, Mobiefit Walk for people starting their fitness journey or recovering from an injury and Mobiefit Body which helps to work out the entire body with zero equipment. Hatim Kantawalla, co-founder and chief product officer, Mobiefit Technologies, says: "Studies suggest that about 60 per cent gym members don't use the facilities regularly. The motivation, costs and logistics are the main hurdles. The idea was to stay fit without spending money."
Mobiefit's tools calibrate activity — including how many kilometres you walked/ran and the calories burned during this period. There are videos for indoor workouts and a provision to log the food that you eat to calibrate the calorie intake. The app has been downloaded 350,000 times since April last year when it was launched and has 35 per cent active users. The paid version of Mobiefit Run is its 10k Programme in which one trains to run 10km in 60 minutes non-stop over three months at just Rs 299.

But if online training doesn't really hold appeal, try the Bangalore-based Housejoy, an app which sends trainers home depending on the your fitness goals. The app registers your vital statistics — weight, height, BMI as well as the problems and goals. Saran Chatterjee, CEO at Housejoy, says: "The trainer is sent home or to a nearby gym while the app tracks statistics like calories lost or the kilometres one runs." A course of 12 sessions with the trainer costs Rs 6,000.

Manesar-based Sachin Malik, a 35-year-old businessman, vouches for the efficacy of the apps. In February this year, Malik tipped the scales at a hefty 96kg, had high cholesterol and other weight-related health issues. He dropped out of the gym, connected with a personal coach on Fitso who helped him crank up on his fitness goals. Today, Malik weighs 80kg and in the seven months that he's been on the app, has run two half marathons and cycled 127km from Delhi to Murthal in Haryana and back. He's also enrolled for the half Ironman Triathlon scheduled to take place in February next year!

Each app comes with its own special features. Fitso's paid version allows the user to upload videos of his/her workout for the coach to see. And Mobiefit regularly hosts competitions like squat, crunch or push-up challenges and users can upload their videos and the winner is rewarded by Mobiefit. Housejoy offers a trial run with the trainer so that the user knows what a session will be like.
Obino helps you count the calories down to the last detail as it has the second largest Indian food database with calorie counts. "If you travel, it can list the options as the nutritionists checks the menus of the restaurants where you'll eat and even suggests a meal through an email," says Srivastava.

It also creates a chat group with a main and a back-up coach, a nutritionist and your spouse — if one so wants.

So, no more excuses for not keeping fit. The power to up the levels lies in your hands.