Tend a butterfly, save a tiger
Bengal is growing wings, many splendoured wings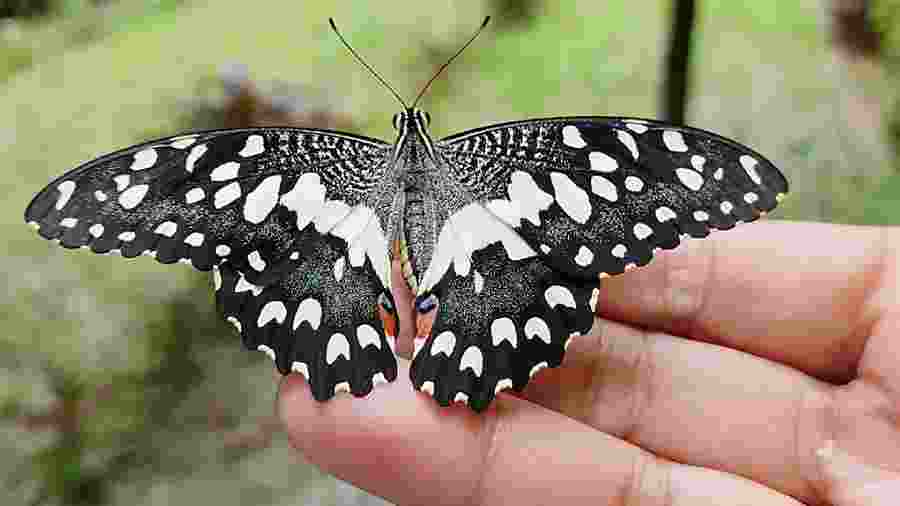 courtesy, Rima Mitra Ghosh
---
Published 08.01.23, 03:37 AM
|
---
Over the last seven to eight years, butterfly watching and rearing have come to be serious trends in Bengal. Butterfly conservatories, butterfly laboratories and butterfly gardens have come up in many places. Would you believe that?
Arjan Basu Roy is the founder of Nature Mates, a not-for-profit organisation that works towards the preservation and conservation of butterflies and other wildlife. He got "butterflied" in 2000 during a trip to Garpanchkot in Purulia district. Great egg fly, purple leaf blue, grizzled skipper, common wanderer, yellow orange tip, white orange tip, golden angle — the names trip off his tongue like some fanciful incantation. The man even has a book to his name — Butterflies of Bengal Plains.
Basu Roy's Nature Mates works closely with the West Bengal Forest Development Corporation in nursing these butterfly zones. A conservatory in Salt Lake's Central Park — Banabitan Biodiversity Park — came up in 2009. Another one came up in 2013 in Eco Park in New Town.
"I learned about butterfly watching in Japan in 2009," says Basu Roy. He continues, "I have been seriously interested in butterflies since 2000, but the Japanese way of knowing a butterfly is different. The crux of it was this — if you want to watch a butterfly, do not run after it with your camera. Wait and watch. It will come to you."
In Japan, there are around 250 species of butterflies and India has 1,500 species. "My Japanese friends come to India every year in search of these," adds Basu Roy.
In 2013, Ramsai in the Gorumara National Park in Jalpaiguri district got a conservatory. Two more came up in Buxa in Alipurduar and Kulik in Raiganj in 2015. "We tied up with schools, colleges and even the US Consulate to develop gardens in their premises," says Basu Roy.
At Nature Mates they say, if you want to save the tigers, conserve butterflies first. It is a euphemism for the fact that butterflies are an indicator species. Says Basu Roy, "If a fragile thing like a butterfly can survive in a certain area, other flora, fauna including mammals would surely be able to survive there. Besides, butterflies are also a part of the greater food chain. They are food for lizards, chameleons, frogs and some mammals."
While Basu Ray is an engineer in printing technology, Kurban Khan is a tourist guide in Alipurduar. He spends days following a certain species of butterfly; tries to find out everything possible about its habitat, takes pictures and documents it. Says Khan, "These days, whoever comes to the Buxa Tiger Reserve, I make it a point to take them to the butterfly conservatory. It is exciting to watch tourists take an interest in them." Khan has spotted at least 400 different kinds of butterflies in the Buxa forest. He regularly collects larvae for rearing in laboratories. For Rima Mitra Ghosh, who teaches botany at Calcutta's St. John's Diocesan Girls' Higher Secondary School, butterflies became an obsession when she started looking after the school butterfly garden and laboratory. She says, "In our laboratory, we breed larvae in test tubes. Students watch them grow, clean them." Mitra Ghosh adds that in 2022 alone students have introduced over 100 butterflies to the existing garden.
"I never knew when my profession turned into my passion. My students are also dedicated to it. Often, they bring back larvae from vacations and try and see if they will grow," says Mitra Ghosh, who now maintains a garden at home as well. "A larva feeds only on the leaves of the plant on which it was born. There are specific trees that attract butterflies — curry, lemon, litotes, calotropis, deodar. So, to attract different kinds of butterflies to my garden, I have planted a variety of plants. In the process, the number of trees in my garden has gone up alongside the number of butterflies," Mitra Ghosh tells The Telegraph.
Meet Kalyan Mukherjee, who is a veterinarian in a government hospital in Amta in Howrah district. He has 60 to 70 species of butterflies in his own garden. "My quest for understanding butterflies started during my first job posting in Coochbehar," he says. He is now completely into butterfly rearing.
At Calcutta's Eco Park, primary school students participate in butterfly-keeping activities. "The activities of the insects attract children. Two butterflies are often involved in dogfights. It is almost as if they are boxing each other," says Basu Roy.
When in 2009, Nilanjan Mallick, the then deputy conservator under the urban recreation forestry division of West Bengal, was planning to set up the first-ever conservatory in Salt Lake, he was told that butterflies flock to localities where they find new plants and trees.
Mallick, who is now the additional principal chief conservator of forest (finance), says, "It is important to engage the citizen in conservation. More often than not, by conservation of biodiversity, we mean preserving big cats, deer, bears, lions and ignoring urban biodiversity which is home to small animals, moths, a variety of insects and, of course, butterflies."