What makes 'Asha — Help India' a song of hope
Donations made towards the music video will be sent to the underprivileged, in need of aid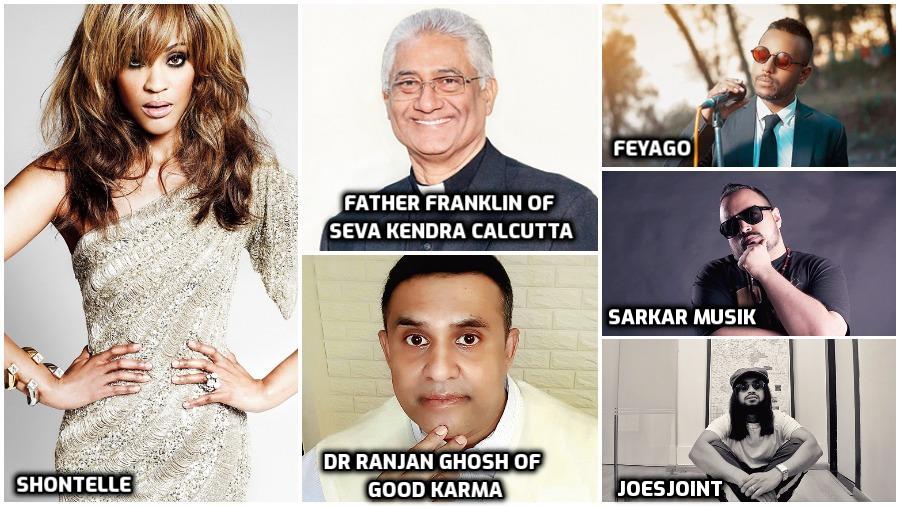 ---
---
Covid-19 continues to wreak havoc and people are continiously looking for vaccination appointments and, many a time, oxygen cylinders as well as hospital beds. For this reason, Dr Ranjan Ghosh of Good Karma joined hands with Father Thomas D'Souza and Father Franklin at Seva Kendra Calcutta to offer solutions to the problem around oxygen supply and vaccination distribution. It was done with the help of a music video with Grammy-nominated singer-songwriter Shontelle (Barbados), award-winning rappers Feyago (India) and Sarkar Muzik (US), and producer Joesjoint.
The music video Asha — Help India was launched on May 29 and the song is one of hope, highlighting the many needs we are constantly talking about.
The rapping delivered by Feyago and Sarkar Music, clubbed with Joesjoint's production and Shontelle's melodious voice, makes the track memorable. Donations made towards the music video will be sent to the underprivileged, in need of aid. Here's what the team told us.
How was Asha — Help India  conceived?
Ranjan Ghosh: It was the Mental Health Awareness month and I know we had oxygen cylinders and vaccines that needed to be distributed. We thought the best way to reach out to people is through music. So we all got on a call and Asha was conceived by me but they didn't take any of my songwriting, other than the word 'asha'.
Can you describe the sound of the track?
Joesjoint: When I came upon the sound while keeping in mind that the track is for people around the world, I wanted to keep the narrative in focus... that we are in trouble and what we have right now is not enough. I wanted to show that it's a message which needs to be shared. It had to represent us and bring people together.
Feyago: We have used the ektara with other musical instruments; it's an instrument that we don't associate with rap songs. But somehow we've managed to curate a kind of folk-rap. We can probably come up with an album because the amount of content we have... all thanks to this song.
Shontelle: What I think is cool about the sound is how smart you all were in approaching it with instruments from India. But then again, you want the message to go global because the diaspora is all over the world. In Barbados, a big portion of our population, is Indian, so the best way to reach out to people is by fusing Indian music with whatever is popular because Indians are almost everywhere. The way the song was approached, it can reach non-Indians and encourage them to help.
Being scattered around the world, you had to share audio files back and forth....
Shontelle: It was pure insanity; we were always on our phones.
Ranjan Ghosh: But when we heard Father Franklin was on board, we knew our goals will become a reality.
Father Franklin: After listening to all the "heartistes" (laughs), I would like to say that in the worst of moments, the best in us comes out. As they (the artistes) mentioned, they relate to this... poor Joe had Covid while making the song. And from pain comes the spark of hope.
How was the video shot?
Ranjan Ghosh: We wanted our section to be angst running into hope and ends up running into Shontelle — a breath of fresh air.
Feyago: In the video it was important to highlight a few things. First, we are going through one of the deadliest pandemics in human history. Second, we need aid. Third, we wanted the video to look good.  The footage collected by the doctor and Joe were powerful. Then Shontelle sent us three sets of footage while Barbados was going through a hard time. Sarkar also sent some fantastic footage and we were all able to cover what's happening in different parts of the world.
Shontelle: Barbados itself is going through a lot, we are going through the same issues with Covid. Now we do have the vaccines and luckily our government is not making us having to pay for them, so poor people can access it. It breaks my heart to know that a lot of people have to pay for vaccines, so I got cameras, videographers... some of the footage was made on a phone. Other than Covid, there was also a volcanic eruption on a neighbouring island and it dumped a lot of ash on the country.