Who's the Ugliest of them All?
Low blows is what this battle for Bengal has been about. Putting together a catalogue of the filth that has frothed about the campaign trail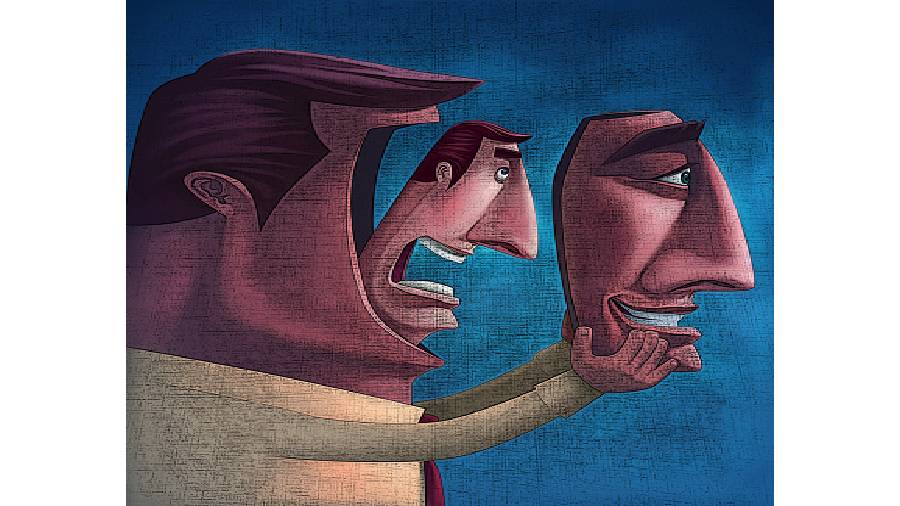 ---
Published 25.04.21, 12:56 AM
|
---
The official unravelling began on January 23 at Calcutta's Victoria Memorial Hall. When the incumbent chief minister of West Bengal, Mamata Banerjee, got up to address those gathered on the occasion of Subhas Chandra Bose's 125th birth anniversary celebrations, some men in the audience raised a chant. Banerjee took umbrage; refused to deliver her address. As for Prime Minister Narendra Modi, he looked on.
That day, the belligerence of those who took god's name, the spirit with which it was received and the non-committal silence of the highest elected office in the country were all indication of the greater act that came to follow.
Not policy, not polity, not development, not employment, not security, not progress, not education, not science, not Covid-19 and the negotiation of it, but offence and counter-offence was going to be the theme of the 2021 Vidhan Sabha elections in Bengal.
By the end of last year, Bengal was already eddying in a new brand of political offensive. The air swirled with the following — chaddha nadda fadda bhadda; hodol kutkut; kimbhut kimakar; ravan danav; humba humba rumba rumba kamba kamba dumba dumba bumba bumba; mithyebaadi, dhandabaaj, bhautabaaj; bahiragata, gunda, mafia; tolabaaj; syndicate raj; bhrashtachar; goli maro; bhaipo, bhaipo, bhaipo, bhatija.
"Trinamul only wants bhatija kalyan, Modi government committed to jan kalyan," drawled Amit Shah in East Midnapore's Egra. Meaning, Trinamul wants the nephew to do well, while the Modi government wants the citizenry to prosper.
"I dare you to name me," said Mamata-nephew and Trinamul MP from Diamond Harbour, Abhishek Banerjee, in Muchisa in South 24-Parganas.
"Aapka ladka kya... What about your son," the CM shot at Shah in South 24-Parganas.
"Mir Jafars" was Banerjee's chosen name for Suvendu Adhikari and his father, the senior politician, Sisir Adhikari. She called herself a "donkey" for apparently not recognising them for what they are.
"And do you know what the people of Bengal think of you?" Suvendu Adhikari asked of Banerjee in Asansol. "Anuprobeshkarider phuphu aar Rohingya der khala," he went on to add. Phuphu and khala are the words used by Bangladeshi Muslims for paternal and maternal aunts, respectively.
Actor-turned-politician, erstwhile Trinamul sympathiser and now BJP's Bhowanipore candidate Rudranil Ghosh spoke about the Trinamul's dhopbaaji, iyarki and addressing crowds said outright — "The chief minister is lying…"
In the meantime, the retinue of non-Bengali speaking BJP karyakartas started to practise raising slogans such as "asol poribartan" and "amar sonar Bangla", even as Adhikari mocked his former boss for "murdering" Sanskrit, Hindi and English alike with every utterance. "Poblem, not problem," he lamented. "Gorment, not government. As for Bengali, (she says) onka bonka shonka… phatush phutush, kutush katush, nadush nudush… Can you imagine, in Vidyasagar's own land?"
Had this been a graph of some sort, if you could plot every affront, you would see the line that is the electoral narrative dangling perilously close to the Y-axis. But then came the wheelchair moment and all tumbled further down, deep into the negative plane.
While campaigning in Nandigram, Banerjee suffered a leg injury. She cried conspiracy, the BJP denied any role. There was, of course, expected and greater-than-expected procedural hustle bustle on both sides — a six-member group of Trinamul leaders met with the Election Commission (EC) and demanded a high-level probe into the alleged attack, a BJP delegation comprising Union minister Piyush Goyal and party general secretary Bhupender Yadav met EC officials and demanded an independent inquiry into the incident.
Shah said, "I pray you [Mamata Banerjee] get well soon but…" The others left out the good wishes, took off from the "but".
Leader of the Indian National Congress Adhir Ranjan Chowdhury said Banerjee was indulging in "siyasi pakhand".
At some point, a video of the CM surfaced. She was seen sitting in a wheelchair and shaking her injured plastered leg. The video went viral. Tweeted BJP's S. Vishnu Vardhan Reddy, "… her leg is broken but this video tells a different story…"
Rahul Sinha of Bengal BJP said, "The more she is losing confidence the bigger her bandage gets."
The BJP's Midnapore MP Dilip Ghosh went a step further. He said, "People don't want to see her face, that's why she's showing her broken leg…" And then, "If you want to show your leg, then wear bermuda."
Later when in ABP Ananda's Mahajuddho actress Monalisa Pal inquired of Ghosh why he was determined to so offend, he explained that he was speaking for society, for societal decorum and did not mean to get personal. But when the questioner persisted, he called her out for her "nyakami", one of those Bengali words that just won't survive translation, but suffice to say, rarely used in any sense complimentary.
There was music too, especially composed for the elections, but good notes could barely rescue such a discourse.
"O pishi, jao jao jao," sang the BJP.
The Communists adapted a popular song. "Bobby gelo sando pore/Mukuler Mirjapure/Sovaner toyale jure/Kal-baisakhir shure.../O Tumpa sona ki bolbo mairi/Oder bhaloi setting..." Tumpa's loverboy, in whose voice the narrative has been cast, doesn't stop at attacking Bobby (possibly Calcutta Mayor Firhad Hakim), BJP's Mukul (Roy) and the formerly Trinamul, formerly BJP duo of Sovan Chattopadhyay-Baisakhi Bandopadhyay. Loverboy also sings out in criticism of "Modiji"; words such as "fail", "chor", "ghoosh (bribe)" pepper the lyrics, and there is a rather catchy trippy loop that goes — "BJMul, ora shob BJMul". His own aspirations of a job and a wedding seem distant and secondary, and apart from "Brigade chol" or heading for the Brigade Parade Grounds, he appears to have no concrete plan.
A group of celebrities from Bengal sang out their own protest to the whole situation to which Dilip Ghosh reacted, upon being asked by Sangbad Pratidin, saying: "You (shilpis) sing, you dance, it suits you. Don't get into politics. Leave it to us. Or else, rogre debo..."
In the meantime, at the Brigade Grounds, yesteryear actor Mithun Chakraborty hissed at potential BJP voters, apparently in reassurance of better governance, "Ami ekta cobra… Ek chhobolei chhobi… I am a cobra. One bite is deadly enough… Dada will never abandon you. You will always find me by your side."
The Brigade Grounds also saw another brother, Bhaijaan or Abbas Siddiqui of Furfura Sharif, come into his own and also into his ambition. "We have to take a vow that we will have to smash the black arms of the BJP," he thundered. "In the coming days, Bengal will slip out of the hands of Didimoni and we will rule here," he continued. And then, "I have not come here to appease anybody. I have come here for bhagidari… my share…"
This was the same man who said some months ago, while launching into a vicious tirade against Trinamul MP Nusrat Jahan, "You want to go to a mosque and also visit a temple? Islam is nobody's father's property. If you don't like it, get out. Become a Ghosh or Dule, become a Hindu or a Christian…But don't you dare trivialise Islam. If I ever come to power I will tie you to a tree and whip you…" Yes, this came from the same man who calls himself leader of the Indian Secular Front and has the support of the Left Front and the Congress.
The slogans also quarrelled. To the Trinamul's paribartan, BJP promised asol paribartan (real change). To the Trinamul's Bangla nijer meyeke chay (Bengal wants her own daughter), BJP released — Bangla tar meyekei chay, pishi ke noi (Bengal wants the daughter, not the aunt). BJP's Asansol MP Babul Supriyo retorted with a meme featuring an image of Amit Shah and a quote saying, "Beti paraya dhan hoti hai, iss baar vida kar denge... a daughter is someone else's wealth, will give her away this time."
To the Trinamul's paribartan, BJP promised asol paribartan. To the Trinamul's Bangla nijer meyeke chay, BJP released — Bangla tar meyekei chay, pishi ke noi
-
BJP knowingly or unknowingly appropriated an Awami League (the political party ruling Bangladesh) slogan — Khela hobe. Simple meaning — there'll be a game. Undertone — there'll be a face-off.
This was then popularised in Bengal by the Trinamul president of Birbhum district, Anubrata Mondal, who promised, "Khela hobe. Bhoyonkor khela hobe."
And Cabinet minister Smriti Irani commented, "Banglar ghorer meye bairer loker sathe khelchhe?" Something about the daughter of the household playing with outsiders.
Everyone has been trading insults.
What have you done for the Hindus?
You did not allow Durga Puja to happen.
You did not permit Saraswati Puja.
Thundered one and all in the BJP.
Banerjee took to reciting mantras from the stage. Chandi Path. Saraswati Bandana.
"Wrong mantra," called out Suvendu Adhikari.
"Why does she feel the need to recite all this all of a sudden," questioned Irani.
BJP national secretary Kailash Vijayvargiya said, "A CM of 10 years, who should talk about development in the state, is doing the Chandi Path to prove she is a Hindu."
And then the tapes started to come out of the woodwork.
The BJP released an audio clip of Banerjee wherein she is apparently persuading Suvendu Adhikari's aide to rejoin Trinamul and help her win the Nandigram seat.
Next, the Trinamul released an audio tape of BJP's Mukul Roy wherein he can be heard discussing ways to "influence" the EC.
Another tape. Addressing a rally in Asansol, PM Narendra Modi says, "An audio tape has come out, which shows how Didi is doing politics over it [the Sitalkuchi firing incident]. Didi is asking to take out a procession with dead bodies. Mamata is doing politics over the dead body."
Five persons were killed reportedly in firing by central forces during the fourth phase of polling in Bengal — at Sitalkuchi, a village in Cooch Behar district, on April 8.
A video. Firhad Hakim is heard abusing the BJP and Central Industrial Security Force (CISF). "Suar ke bachche CISF."
And then Dilip Ghosh famously said, "The naughty boys, who had presumed that the rifles of the central forces were just for a show during election duty, will not dare repeat the same mistake after seeing what happened in Sitalkuchi."
Hiss, hiss, hissss…