Welcoming the festive season with Tagore songs
SB park presents Sangitanjali was held in association with The Telegraph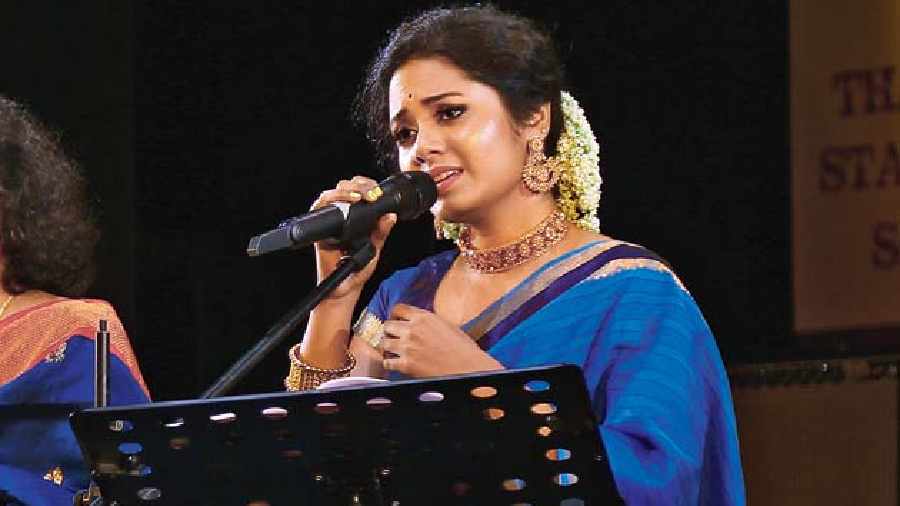 Anweshaa's performance, in a trained, classical voice, was met with thunderous applause by the audience. "I am very excited to perform here today as it is the first show in which I have been told to sing Rabindrasangeet before an audience," she said.
---
Published 12.09.22, 06:10 AM
|
---
Held on September 4 at Rabindra Sadan, SB Park presents Sangitanjali, in association with The Telegraph, was an evening devoted to songs of Rabindranath Tagore and celebrated the onset of the festive season.
Rabindrasangeet exponent Adity Mohsin of Bangladesh, who was the first to take the stage, enthralled the audience with her selection of songs from the 'prem parjaay' from the Bard's musical oeuvre. Known for the traditional purity and grace of her sstyle of singing, her presentation included Shedin dujone dulechhinu boney, Je chhilo amar swopon charini and Ogo amar chiro achena porodeshi (dedicated by Tagore to Argentine author Victoria Ocampo).
Singer-songwriter Anweshaa captivated the audience with renditions of popular, evergreen Tagore numbers like Chander hashi bandh bhengechhe, Chokhye amar trishna and Amaro porano jaha chaay. She also performed a contemporary Bengali song as tribute to legendary singer Sandhya Mukhopadhyay.
The popular pianist-vocalist duo of Sourendro-Soumyojit also performed Tagore's compositions in their distinctive fusion style. Inspired by world music, their songs bore traces of diverse influences, from devotional and inspirational (Anandaloke mongolaloke) to the revolutionary (Kharabayu boy bege). Their free-flowing, innovative style of presentation underlined the universality and timelessness of Tagore's appeal.
"This was our first attempt at organising a cultural programme and we are very grateful for all the support we received. We are pleasantly surprised to know that the people of this city are fond of listening to Rabindrasangeet even today," said Sanjoy Majumdar, an organiser.
Snapshots: