'We were called the two sundaris'
Chaitali Dasgupta and Saswati Guha Thakurta represent a television culture that is the stuff of archives. But their names still conjure the flavour tête à tête of a golden period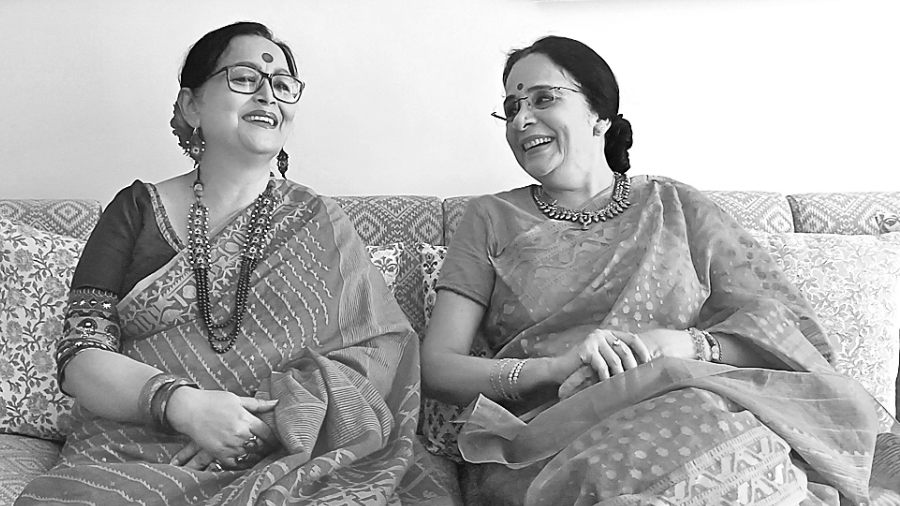 ---
Published 09.10.22, 03:49 AM
|
---
I am meeting them days before Durga Puja. All of Calcutta is in deck-up mode. The two of them are, as always, dressed with the great joie de vivre generations of Doordarshan Kolkata viewers must be familiar with. "I thought it was a video recording. So I wore flowers in my hair," says Chaitali Dasgupta upon entering colleague and friend Saswati Guha Thakurta's south Calcutta home. The duo is known as just Chaitali and Saswati to their audience, Keya and Rani to each other.
Chaitali continues, "But I love flowers and I wear them as often as possible." Saswati adds, "Both of us love flowers. Once Abhijitda, who was behind the camera, started yelling, 'Please remove the plant'. I looked around but there was nothing. And then he said, 'You have put a whole bunch of flowers with leaves. It looks like there is a plant in there.'"
The two 60-something women exude a festive spirit and poise that possibly comes from oldschool television culture. A culture wherein the presenter was aware that she or he was entering the drawing room of the viewer and carried herself or himself accordingly, with appropriate demeanour.
Four decades ago, both Chaitali and Saswati joined Doordarshan Kolkata as announcers and programme coordinators. "The coming of television was almost like a festival," says Saswati. Chaitali eagerly shares her experience of "going live" on August 15, 1975. "Live recording was tough. It is not like these days when you can pause and redo. A Manipuri dance programme was on, the news editor was at his desk and I was inside the announcement block."
Those days, if the presenters were respectful and spontaneous in their approach, the audience was also warm and embracive.
In the following years, as TV became a part of Indian life, so did they. Chaitali talks about one day in the early Eighties when she was taking a minibus from Tollygunge to Rashbehari. She says, "There was a little girl who kept staring at me. And when I finally said something to her, she gasped and said, 'You are human? You talk? How do you get inside our TV set every day?" And Saswati remembers Amaravati Dutta, a 90-plus woman from Durgapur, who knew her only from her TV appearances and sent her a carefully saved amount — Rs 1,700 — by money order to say hello and bless you.
Even recently, says Chaitali, a young woman took her photograph because she said she knew the two of them only from their work in TV serials. "So why do you want my photograph, I asked. She replied, 'My grandmother is a fan.'"
Saswati and Chaitali. The two names came to represent for a generation or more something of Bengaliness. The way they spoke, their diction, their style and spirit of enquiry and delivery, their unobvious erudition…
"No, I never felt I was representative of Bengali culture," says Saswati. Chaitali says, "You see, we were lucky to have worked in that golden period. The medium was new, Doordarshan was the one and only channel, society was not so intolerant as it is now, and there were giants in every field." She rattles off the names, "Ajitesh Bandyopadhyay and Utpal Dutt in theatre, Kanika Bandyopadhyay, Suchitra Mitra, Manna Dey, Salil Chowdhury in music… Once Hemanta Mukhopadhyay visited our studio. He was such a big name and yet so…" Saswati completes the sentence, "So warm and spontaneous. He treated us like his daughters."
Doordarshan and its audience, according to the two, felt like a huge close-knit family. Viewers wrote letters for the programme Darshaker Darbare with requests to play this song or that.
Chaitali and Saswati, the two names were often used interchangeably. "Even now many do not know which of us is Chaitali and which Saswati," says Saswati. She adds, "The other day we were out, when a woman in her 20s passed by. She came back in a minute, only to say, 'Oh, you two are two different people?'" Chaitali recalls how they would get letters every week from viewers asking if they were sisters. 
And yet they were contemporaries, rivals, no? Before anyone can answer that one the pressure cooker goes off in the background, insistent, deafening. Saswati replies, "We were competitors and always tried to outdo each other in our work. But we did not envy each other. Our competition made our programmes better."
Programmes such as Darshaker Darbare were a success because of their close coordination. "People saw that on the screen," says Saswati. But what's the kind of work that may have gone on behind the screen to achieve this? "We would sit together and sort letters, discuss how to begin a programme and end it; we never interrupted each other," says Chaitali.
Both seem to think that their task was easy — in that they did not have any precedent to follow. "Our only brief, we were not to speak like radio announcers," says Saswati. Chaitali adds, "Ours was an informal adda session."
From competitors the two became friends.
Is that really possible? "Of course," says Chaitali, "You have to remember that those days Doordarshan Kolkata was a close-knit family. Going to the office was like going to the next room. We were called the two 'sundaris'," says Chaitali with a glint in her eyes. Saswati adds warmly, "Much has changed but not the love and respect we got. Or else you would not have come to meet us after so many years."
When I step out of Saswati's house, it is raining heavily. I look back. Chaitali is standing at the door watching me leave...
Tetevitae
1954: Chaitali is born to Anjali and Asit Kumar Sen
1976: Completes her master's degree in Bengali from Jadavpur University
1950s: Saswati is born to Bhakti and Shibdas Bandyopadhyay
1973: Completes bachelor's in English
1975: Both join Doordarshan Kolkata as announcers and programme coordinators
2012: Saswati retires, followed by Chaitali in 2016