Walking a thin line
Slacklining's a whole body workout that's a heap of fun and it can also improve concentration levels, says Susmita Saha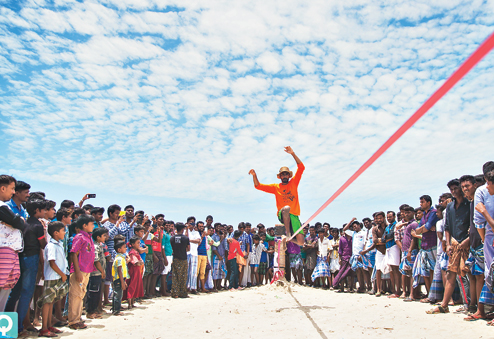 ---
Published 09.08.15, 12:00 AM
|
---
As the clock strikes 1pm, a band of youngsters gathers for an unusual workout in Delhi's Hauz Khas District Park. Barefeet, they hoist themselves on to a flat, two-inch wide strip of nylon/polyester that has been suspended between two trees at knee-height above the ground. After steadying themselves, arms raised above their heads, they balance themselves on the narrow strip in a swaying motion and walk across the length of it taking tiny steps.
Say hello to the latest fitness regimen called slacklining that's catching the fancy of youngsters. Although the routine may look like a walk in the park, it's really not so. "Slacklining involves coordination between all body parts and doing a skilled balancing act," says Samar Farooqui, founder of the slacklining company called Slacklife Inc., which offers both individual and group training as well as organises slacklining events and performances.
So, all you need is a slackline that's rigged up between two trees and you are good to go. In case there aren't trees around, there are other methods — like using pillars and poles — to rig up slacklines, except these are complex and need to be set up with extreme caution.
This fitness drill has its roots in the sporting activity of rock climbing in Yosemite National Park in the US dating to the '60s and '70s. It's said on their days off, rock climbers at the campsite tried balancing their bodies on car parking chains. Slacklining was born when they found this extremely engaging and switched the car parking chains with webbing.
The best part about slacklining is that it can be performed by anyone — even those without the basic fitness levels. "Anyone who can walk can also walk on a slackline," says Enrico Fabian, a German freelance photographer based in India. Fabian was introduced to the activity at an Indian friend's birthday picnic in Delhi's Lodi Gardens. The 33-year-old photographer was so fascinated by the routine that he started practising it regularly with his friend at the Hauz Khas District Park and eventually formed the group called Slacktivism about a year ago. Currently Slacktivism holds regular sessions over weekends.
There are several styles of slacklining that are doing the rounds among fitness enthusiasts. Tricklining is high up the pecking order where practitioners do an assortment of tricks (read bounces, jumps, flips) on the webbing. Then there's longlining, where you use webbing that's at least 40m to 50m long instead of the stock slackline which has
a length of anything between 12m and 15m.
Or you can opt for waterlining, in which a slackline is set up over any waterbody like a swimming pool, river or a lake while yogalining is all about performing Yoga poses on the webbing. "The extreme version of the discipline is highlining, when you rig up the webbing between really high buildings or mountains," says Farooqui, who cautions that one needs a back-up or an additional rope to harness oneself to prevent a fall.
Make no mistake. Like any other fitness discipline, there's a list of dos and don'ts that beginners need to adhere to. The ground on which the webbing is set up should be completely flat, minus any rocks. "Ideally softer surfaces like sand, grass and mud work well while slacklining over slippery surfaces has to be avoided," says Farooqui.
Obviously, there's a bouquet of physical benefits that make slacklining an attractive proposition. It's a strength workout for the core muscles and abs. The routine also works wonders for thighs, shoulders and hands. "It's a whole body workout," says Fabian.
Says Bhupesh Patil, a member of the Nasik-based rock climbing gym called The Climbers' Den: "Since I started performing tricks on the slackline, my reflexes have become much better."
But crucially, the routine has several psychological gains. It goes a long way in increasing focus and concentration. It's also a stress-buster. Says Shreya Talwar, who comes for sessions at the Hauz Khas District Park: "It helps lift my mood."
Says Delhi-based Adarsh (he doesn't use a surname), who started slacklining nearly eight months ago and now gives free training to those who are keen to pursue it: "Slacklining requires a heightened sense of awareness. Therefore, it makes you more attentive and helps improve concentration," he says.
There's no denying that slacklining has a coolness factor associated with it. Says Bangalore-based Aalok Bharadwaj, a rock climber who came to know about the routine when he met international rock climbers who carried a slackline with them when they visited India: "It constantly challenges you. Once you learn how to walk, you want to know what else you can do on the line."
Even complete newbies like Shivam Aher, also a member of The Climbers' Den, agree that slacklining is a form of meditation, one that aids you in your daily life.
In addition, the drill generates synergy between the mind and body. "Every time you walk on the line, you only get better at creating this synergy," says Aher.
So, don't let boredom keep you from following a regular workout regimen. Start this spunky new routine to be fighting fit this season.